Disc Reviews
Criterion Collection: Bitter Rice | Blu-ray Review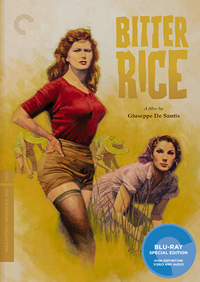 Criterion digs Bitter Rice out of obscurity this month, a pulpy mix of social drama and dime store pathos from director and screenwriter Giuseppe De Santis. Premiering at the 1949 Cannes Film Festival, the title was also nominated for an Oscar in 1950 for Best Story. Lumped in with the neo-realism movement, it's been a well-regarded minor title, but its problematic noir elements seem to have denied it prominent classification, at least compared to De Santis' contemporary, Roberto Rossellini, whose Rome, Open City (1945) birthed the movement (and had just finished his notable war trilogy the year prior to release of this title). But De Santis creates something a bit stranger with this hybrid, a darker examination of sex and violence from the perspective of two central female characters. In its native language, the title is a pun since the Italian word for rice can also be substituted for the word laughter, and hinges on criminal lovers suffering a rift when one of them has a change of heart while hiding out with field workers during harvest season. But as one woman conquers the temptation of lust and greed, another acquiesces to her passions in this moralistic tale of just desserts.
Walter (Vittorio Gassman) is a petty thief eluding authorities thanks to his bungling of stolen jewelry with girlfriend Francesca (Doris Dowling). They fall in with a group of field workers on their way to the rice fields of Northern Italy's Po Valley, where the women harvest the crops over several weeks. Inadvertently, Francesca becomes a scab and is involved in a conflict between the contracted employees and the underpaid illegal workers. During their escape from the authorities, the voluptuous field hand Silvana (Silvana Mangano) observed the duo, and ingratiates herself upon Francesca, jealous of the other woman's exciting experiences and worldly goods. When Walter returns to Francesca, he becomes enamored with Silvana and eventually plans on stealing the entire crop at the end of the harvest season.
De Santis is best remembered as a director for this sophomore effort, but his most notable credit remains is participation as one of several screenwriters on Luchino Visconti's 1943 film Ossessione, the first notable adaptation of James M. Cain's novel The Postman Always Rings Twice. De Santis reunites with some of the writers of the Visconti adaptation for the original treatment of Bitter Rice, which inverts the masculine perspective from Ossessione and its two opposing suitors and fashions the narrative around two women and their attraction to a toxic man.
De Santis (who was the older brother of DP Pasqualino De Santis, known for the exquisite A Special Day, recently added to Criterion) utilizes Otello Martelli as cinematographer, who worked with Rossellini and Fellini on some of their most iconic works. The framing of the women and their evolving relationship to men (and crime) becomes an important motif, which comes to a head during one spectacular, sexually charged moment where Dowling shares her tragic history with Mangano on a bed.
The barracks are shot with the claustrophobic sweatiness akin to a women's prison film, the stolen necklace like an evil talisman burning between them. Dowling's bitter remonstrance of her ordeals as an employee of the privileged class and the conflicts which brought her to her current demeaned state also recalls the titular character of Octave Mirabeau's Diary of a Chambermaid.
A quartet of notably enjoyable cast members add to the film's profile, specifically Hollywood actress Daisy Dowling (who later appeared in Orson Welles' 1952 production of Othello as Bianca), perhaps the performer who seems most obviously dubbed. She's a perfect foil for the young, hyper sexualized Mangano, who hadn't yet reached twenty years of age here, and Martelli's camera drinks her up as if she were Rita Hayworth (by the time Mangano would become a grand dame of Italian cinema in the 1970s she'd come to resemble Meryl Streep).
Raf Vallone, who stars as the baxter here, represents a lifeline for Francesca, the possibility of redemption despite her history of poor choices. It's only his third onscreen appearance, outshone by a malignant Vittorio Gassman in his first big break—together they seem like the respective angel and devil sitting on the women's' opposing shoulders.
Bosley Crowther crowned the film a "gamey peasant stew" in his New York Times debut, but De Santis scores more than a mere portrait of working class woes boiled into paltry, base passions. A glance at the exploitation of the working class (it's quite bizarre to see gaggles of women stooped in the fields as foreman bark from afar like slave drivers), it's also a significantly gendered examination of labor division.
An early notable credit for famed producer Dino De Laurentis, its social commentary seems incredibly progressive. Women are double timed at every angle, from Francesca's forced abortion to the stolen rice harvested through the backbreaking labor of women. Couched by a journalist reporting a story on this particular labor force, his closing comments suggest there's nothing innately unique about these exploited women, hailing from and existing everywhere.
Disc Review:
Criterion's new high definition restoration is presented in 1.33:1 and the film's black and white palette remains incredibly striking (despite slight fuzz between several scene transitions). While dubbing is certainly evident in several spaces, Martelli manages to find beautiful focal points even in the midst of the drab fields and crowded barracks (with the women a visual counterpoint to the gleaming rhinestones, eventually revealed to be a necklace of chintz). Criterion includes two special features on the disc.
Giuseppe De Santis Interview:
A 2008 documentary conducted by Carlo Lizzani (the primary screenwriter of Bitter Rice) covers the career of De Santis. The near hour long feature aims to be a comprehensive portrait of Giuseppe De Santis, which includes footage of the director speaking before his death in 1997. Actors and screenwriters and De Santis' daughter share memories of working with him and his craft.
2002 Lizzani Interview:
This 2002 interview finds screenwriter Carlo Lizzani discussing the process of writing the script for Bitter Rice and working with De Santis. The brief six minute feature finds Lizzani beginning with De Santis' experiences following the success of his first feature with his 1947 debut, Tragic Hunt.
Final Thoughts:
Criterion's excellent recuperation seems crafted especially for fans of Italian neorealism who enjoy a bit of genre spice because Bitter Rice is a steamy dish.
Film Review: ★★★★/☆☆☆☆☆
Disc Review: ★★★★/☆☆☆☆☆