Disc Reviews
Criterion Collection: Blood Simple | Blu-Ray Review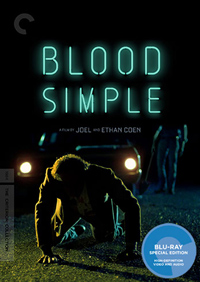 Now among the most distinctive of American auteurs, it's hard to believe Joel and Ethan Coen had a difficult time getting their first film, the sweaty, brilliant neo noir Blood Simple (1984), shown publicly. The hardboiled Texas thriller retools classic tropes of noir, infidelity, the smarmy private investigator, and creates a mystery hinging on the fateful hand played by miscommunication. Passed on by major film studios, the independently financed film was accepted by the Toronto International Film Festival (then called the Festival of Festivals), where the title secured distribution, followed by New York and Sundance (where it won Best Dramatic Feature) and landed a couple of Indie Spirits in 1985, including for character actor M. Emmet Walsh.
Julian Marty (Dan Hedaya), the smarmy bar owner of Texas watering hole Neon Boots, has just confirmed his wife Abby (Frances McDormand) is having an affair with his employee, Ray (John Getz). Repulsed by the PI he's hired, the bemused Loren Visser (M. Emmet Walsh), Julian decides to retain the detective for something a bit more insidious and illegal—kill his wife and her lover, dispose of the bodies, and provide him with evidence. Visser obliges the jealous husband, or so it seems. Meanwhile Abby and Ray seemingly have plans of their own.
Those accustomed to the Coen Bros. and their particular brand of bemused cynicism will most likely find Blood Simple a lot darker than their later fare. Many of their films feature grisly violence (it's hard to think of something more grotesque than the wood chipper sequence of Fargo, for instance), but their rendition of rural Texas makes the southern fried state seem like one notch north of the sooty entrance to hell. Walsh's drawn out drawl perfectly captures the film's essence as he narrates the opening credits, dusk and darkness falling over the picturesque Texan landscapes. "Down here, you're on your own," he wheezes, setting us up with a comparison to the cultural calibrations of communism across the ocean in Russia. Over here, behind the free and the brave are the greedy and depraved, two words which rather describe Hedaya's jealous cuckold, who we meet sweating off his anger while Walsh's sleazy PI matches his client's anger with familiar amusement.
We get less a sense of McDormand's Abby (the actress would eventually marry Joel Coen, though the part was initially considered for Holly Hunter, whose voice can be heard on an answering machine here and would star in their next feature, Raising Arizona, 1987), who isn't so much a femme fatale but a woman married to a man who doesn't seem much of a treat, and responds quite warmly to Getz's blunt advances. Their initial conversation in the car hints they've only just begun their affair, but Julian seems to have been suspicious for much longer (as Walsh points out, Julien thought it was a black guy, most likely his other employee, Meurice, played by Samm-Art Williams, whose entrance also introduces us to the film's repeated playful theme, "The Same Old Song" by The Four Tops).
Several other subtle touches in the frames of the Neon Boot's eerie glint enhance the film's essence of fate, like a glance at a video game called the Pleiades, a reference to the seven Greek sisters, supposedly daughters of Atlas, the father of suffering. The initial interaction between Walsh and Hedaya invokes Greek mythology, as Julian threateningly suggests the bearer of bad news was also destined for execution according to ancient Greek customs. These characters (Abby and her two lovers) are marked already, each pursuing an outcome or deliverance from their current situation, but acting on impulses not in conjunction with their current scenario. The fourth character, Visser's wild card, attempts to usurp control, thus prolonging a charade of mistaken identity right until the very end, where the absence of light symbolically suggests the blanket of ignorance allowing for continued bloodshed, or, rather, the 'blood simple' of the title, a term coined in 1929 by Dashiell Hammett in Red Harvest.
Disc Review:
Criterion presents Blood Simple in a brand new 4K digital transfer in the original aspect ratio of 1.85:1 from the original 35mm negative with 5.1 surround DTS-HD Master Audio. Composer Carter Burwell's magnificent piano driven score (sometimes recalling the "House of Cards" theme) sounds phenomenal in the transfer. Already the Coen Bros. displayed a particularly singular knack for visual language in their first outing, editing, alongside Don Wiegmann, several pronounced sequences, such as a beautiful segue of McDormand as she retreats from the scene of a crime and falls backwards into a pillow on her bed. Likewise, DP Barry Sonnenfeld also has several extravagant moments, perhaps most notably with a tracking zoom hectically featuring McDormand and Hedaya during a physical altercation. As usual, Criterion stocks up on notable extra features. Best of all is an expressive essay from Nathaniel Rich in the insert.
Shooting Blood Simple:
In this selected-scene discussion, shot for Criterion in May, 2016, Joel and Ethan Coen sit down with Barry Sonnenfeld, their DP on Blood Simple, who shot on 35mm for the first time with this feature. The trio discusses the lighting choices and production design of a sequence to comprehensive detail in this one hour and ten minute feature.
Conversation with Dave Eggers:
Author Dave Eggers (A Hologram for the King) interviews Joel and Ethan Coen in this thirty-five minute interview filmed in May, 2016 to discuss their debut film. Informative and entertaining, the filmmakers reveal the significant process behind financing and finally securing distribution.
Frances McDormand:
The actor relays how she came to score the part of Abby in Blood Simple, auditioning on the recommendation of Holly Hunter, and how the film changed her life personally and professionally in this twenty-five minute interview filmed in June, 2016.
M. Emmet Walsh:
Walsh relays some interesting tidbits in this sixteen minute interview recorded in June, 2016, revealing the Coens had written the part of PI Visser with him in mind.
Sound and Music:
Composer Carter Burwell and sound editor Skip Lievsay are interviewed by Criterion in this twenty-three minute segment filmed in May, 2016. Having first collaborated with the Coens on Blood Simple, they've continued to work with the directors throughout the years and discuss how they approach music and sound design.
Final Thoughts:
Walsh's stellar opening narration warns us, among other things, that 'something can always go wrong,' and in Blood Simple, basically none of these characters' best laid plans go right. Moody, tenacious, and sweaty, it is the earliest, and one of the best films from the distinctive duo.
Film Review: ★★★★/☆☆☆☆☆
Disc Review: ★★★★/☆☆☆☆☆