Reviews
The Color of Lies (1999) | Review
The Hole Truth: Chabrol Explores What Lies Beneath the Chilly Idyll in Brittany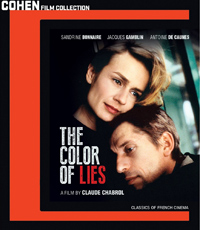 The continually clever and constantly rueful Claude Chabrol ended his stretch of 1990s thrillers with the unassuming and playful murder mystery The Color of Lies (1999). Competing at the Berlin International Film Festival (the venue, along with Venice, often coddled France's Hitchcockian master), where Malick's The Thin Red Line overshadowed everyone else, the legacy of the film was also hampered by being sandwiched in-between a trio of Chabrol's titles starring his perennial muse Isabelle Huppert (with whom he collaborated on seven features), which tend to dominate conversations of his work regarding the period ranging from the late 80s to early 2000s. A capable cast of classy performers make up the gossipy stranglehold overshadowing a rural Breton sanctuary, where a murder (or two) turns the community upside down, particularly for a struggling, mentally fragile artist who seems to be the obvious scapegoat. At turns droll and satirical, it isn't ultimately one of the auteur's strongest skewering of the idly privileged, but it is a decent procedural populated by enough familiar faces to make its less engaging stretches watchable.
In the quaint seaside fishing village of St. Malo, a young school girl is found raped and murdered shortly after leaving her lesson with local art teacher, Rene Sterne (Jacques Gamblin). Sharing a childless marriage with wife Vivianne (Sandrine Bonnaire), Rene struggles to maintain integrity as a painter, but self-doubt and lack of success seem to have taken a toll on his mental state. The new chief inspector, Frederique Lesage (Valerie Bruni Tedeschi) believes Rene is the prime suspect since he has the weakest alibi and acts suspiciously, while the young girl's last portrait is strangely missing from the scene of the crime. Distressed by the inspector's accusatory asides, which has resulted in the depletion of Rene's students, Vivianne nevertheless decides to distract herself with the other local celebrity, famed author and TV journalist Desmot (Antoine De Caunes), who arrived in town the day before the girl died just as Vivianne received a personally signed copy of his new book (since they share a certain history). To escape the mounting tension in town, Vivianne takes a private trip, where she meets Desmot for a clandestine rendezvous. But when they all return to St. Malo, the death of another prompts more suspicion and discomfort amongst the townsfolk.
Like many of Chabrol's films, he's assembled many of his frequent collaborators behind the scenes, such as screenwriter Odile Barski (who began working with him as early as 1978's Violette), and scored by son Mathieu Chabrol, while his other son Thomas pops up in a supporting role (his second wife Aurore is also on hand, per usual, as script supervisor). Several minor aspects of this scenario still seem quite topical today, the grotesque rape and murder of a young child still stings in the resurgence of interest in the Jon Benet Ramsey case, while references to a 1986 bombing in France (which assisted in twisting Gamblin's Rene into the emotional wreck he is in the film) also seems an overtly prescient flourish in a film where characters play cassettes and hock VCRs.
In keeping with many of Chabrol's humanist dramas, the devil's in the psychological shadings of his characters, perhaps most astutely here in Tedeschi's bemused, eternally suspicious inspector, who, for unknown reasons has been assigned to this inconsequential berg in Breton, and usurping a promotion intended for the town's veteran inspector, Loudon (Bernard Verley), a man more fascinated by snacks and an impending retirement. "Teachers subconsciously seduce their students," she asserts in a conversation with Rene, doing her best to unsettle him into an admission of guilt.
Like all of the characters in this moral exercise, we can't quite believe she holds this to be true (much like a sequence where she tries to ruffle Bonnaire's feathers concerning a suspected affair). But, The Color of Lies doesn't directly inform the audience of the untruths told by its virtuous characters, such as Tedeschi and Gamblin (who eventually we learn, also has told a lie, but only after ruined by the gossip of others).
Unfortunately, the presence of Bulle Ogier as a loose-tongued shopkeeper tends to project a little too much attention on a character supposedly so minor, but by the time the film unveils its morbid secret, it hardly seems to matter. The smarmy TV personality played by Des Caunes puts it best in several tirades about lying, a concept without which "society would go to hell." A tongue-in-cheek dinner at the Sterne residence involves an exchange where he quips, "The best lie is when you make a liar believe that you believe him." The implication of this regarding not just Tedeschi's wily inspector but the audience as well is a prime Chabrolian smirk, along with another character remarking after a significant reveal, "You never know who you live with."
★★½/☆☆☆☆☆