Disc Reviews
Criterion Collection: Downhill Racer | Blu-ray Review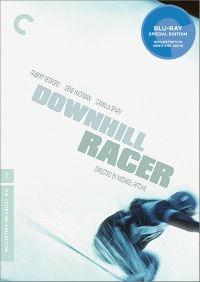 The Hollywood sports drama has long been an indubitable cinematic staple, albeit a genre trapped in its own particular movements and formulaic flourishes. Tendencies for melodramatic exaggerations are often utilized to enhance and manipulate our emotional investment in these depictions of physical glory, where everyman underdogs are transformed into American heroes due to the very nature of their conquests. But while these dramas prime our tear ducts for a rinse, they inadvertently miss out on the realistic human characteristics which assisted in its subject's ability to beat all the odds. During Hollywood's golden era of studio financed auteur projects, a short-lived movement credited to a number of classic titles ranging from the late 60s to the late 70s, director Michael Ritchie inducted two iconic titles into the sports subgenre canon, beginning with his 1969 directorial debut, Downhill Racer (the other being The Bad News Bears in 1976). Written by acclaimed novelist James Salter and starring Robert Redford and Gene Hackman both at the beginning of their lucrative film careers, it's a surprisingly unfussy character study of a man consumed by his desire to be an Olympic champion. By today's expected standards, Ritchie's film has the tendency to feel like a denuded drama, stripped of its manipulations in favor of embellishment accredited to modern day docudramas.
David Chappellet (Robert Redford) is an ambitious young skier with only one goal in mind—to win an Olympic gold medal. He manages to earn a spot on the American team in Europe, despite major personality differences with Coach Claire (Gene Hackman). Though the team is initially considered a black horse, Chappellet wows the pundits with his first showing on the team. But his arrogance is tempered following his next outing. Despite minor setbacks and increasing tension amongst his coach and teammates, Chappellet maintains his singular vision, no matter what personal or emotional costs are incurred.
Roger Ebert credited Downhill Racer as "the best film ever made about sports—without ever really being about sports at all." The statement touches on Ritchie's universal appeal with the film, which is more about one man's obsession than it is about skiing or the Olympics. Both the sport and its breathtaking venue are treated like the unwanted guests at a poorly prepared birthday party. And just what kind of a man is Redford's Dave Chappellet? He's cocky, endlessly arrogant, but not wholly likeable. In fact, he's a bit dull, and Salter's screenplay does what most character studies don't dare to do by portraying a difficult, isolating character in starkly realistic detail. When a journalist asks what his plans are after the Olympics, he shrugs, "This is it."
Sure, he shares heated words with Hackman's onerous coach, but the more time we spend with Chappellet, the more we begin to find Hackman's frustration warranted. Tellingly, Salter includes an incredibly cold reunion between Chappellet and his father (Walter Stroud). At this point in the film, we've yet to determine our protagonist's severe limitations, at least as far as his interactions with other humans. As the narrative progresses, another frosty interaction transpires between Chappellet and love interest Carole (Swedish actress Camilla Sparv) and we begin to understand a pattern in his enduring selfishness and the (arguably) necessary sacrifices in the pursuit of such renown. Of note, though women don't factor significantly into this particular narrative's fabric, Sparv's ski-groupie is one of many peripheral females in Ritchie's filmography, in his earlier titles women generally appearing as ornamental ciphers (though perhaps most problematically in Prime Cut).
Redford is rather striking as the lonely skier, and it's no surprise to see the only real human friction occur between himself and Hackman. Both stars were at the beginning of an acclaimed career, with Hackman having snagged his first Oscar nod for 1967's Bonnie and Clyde. 1969 would prove to be a watershed year for Redford, starring in three features, one being his most iconic role with Butch Cassidy and the Sundance Kid. Both actors would return to work with Ritchie in 1972, Hackman in the underrated crime drama Prime Cut (which was also recently released on Blu-ray in 2015) and Redford in the political comedy The Candidate.
The year was also an important one for writer James Salter, in a cinematic sense. Besides penning the screenplay for Downhill Racer, he wrote Elia Kazan's The Appointment and directed his own solo cinematic effort, Three, which starred Charlotte Rampling, Sam Waterston, and Robie Porter as part of a European ménage-a-trois. But beyond Salter's subtleties, Downhill Racer owes its tense visual accomplishments to some superb camerawork from Brian Probyn (who would go on to work with Terrence Malick on his debut Badlands in 1973) and editor Richard A. Harris (who would collaborate with Ritchie on several other features). If Kenyon Hopkins' score seems more appropriate for a murder mystery than a sports drama, we forget its intrusions on the multiple downhill ski sequences, leading up to a finale as comical as it is tense.
Disc Review:
Previously added to the Criterion Collection in 2009, this newly restored high-definition digital transfer looks superb, especially considering its numerous sequences utilizing location photography on the Swiss Alps. Featuring an uncompressed monaural soundtrack and presented in 1.85:1 aspect ratio, it's a masterful new package from Criterion's continuing restoration of back-catalogue titles. Features from the 2009 disc are also included.
Redford and Salter:
This 2009 interview features Robert Redford and James Salter as they discuss the film's origins and production. Redford wanted to do a trilogy about winning. The half hour feature has some fascinating tidbits (such as how Redford cobbled together funding to meet with Salter for the project).
Coblenz, Harris, and Jalbert:
Also from a 2009 interview, production manager Walter Coblenz, editor Richard Harris, and technical adviser, ski double, and cameraman Joe Jay Jalbert discuss the making of the film. Jalbert claims the dynamics of the film are still being used today.
Michael Ritchie at AFI:
Excerpts from a 1977 AFI seminar Ritchie gave discussing his career and filmography is included. The hour long feature is audio only and worth a listen, and Ritchie shares his thoughts on the works of several peers.
How Fast?:
A twelve minute promotional feature from 1969 features rare making-of footage from Downhill Racer.
Final Thoughts:
Excitingly adept in its presentation of potentially ruinous ambition, Downhill Racer continues to exceed expectations of formula and tone.
Film Review: ★★★★/☆☆☆☆☆
Disc Review: ★★★★/☆☆☆☆☆