Disc Reviews
Criterion Collection: Hiroshima Mon Amour | Blu-ray Review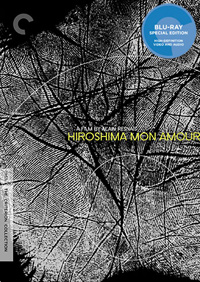 Criterion digitally restores its previous edition of Alain Resnais' landmark directorial debut, Hiroshima Mon Amour, a jagged cornerstone of the French New Wave, which forever associated the reluctant auteur with one of the most acclaimed cinematic movements to date. Roughly preceding the renowned debut of Jean-Luc Godard and released the same month as Francois Truffaut's The 400 Blows (they competed against one another at Cannes), Resnais' contribution changed the way we regarded linear narrative and flashback sequences, and much like those iconic works of his peers, now bears several decades worth of critical acclaim on its shoulders. Tragic, moody and ultimately a poetic exchange of present interludes shattered by ghosts of the recent past, Resnais begins with motifs he would remain fascinated with throughout his career, the nature of remembrance and recollection, instances as shattered as the narrative chronologies in his films.
Fourteen years after the atomic bomb laid waste to Hiroshima, Elle (Emmanuelle Riva), a French actress, is visiting the city to star in a film about peace. She has a brief but intense affair with Lui (Eiji Okada), a Japanese architect. Both married but significantly enamored with each other, her time in Hiroshima is about to come to an end. On her last day of filming, Lui attempts to convince her to stay just a bit longer, so they can determine if theirs is a relationship worth pursuing. Unable to sway her, he asks her to expound on a significant period of her life, namely where she was on the day the bomb dropped on Hiroshima. Elle relates a tragic story about her first love with a German soldier in Occupied France. During the liberation, he was murdered in the streets, with a raving Elle disowned by her parents and locked alone in a basement until she regained her senses. It's because of this experience she literally chooses to kill their love before it has the chance to grow to greater heights and die.
Resnais originally meant for Hiroshima to be a documentary, but decided to make this a fictional narrative and angle the subject through the experiences of a foreigner, a French actress. Written by celebrated French novelist Marguerite Duras, the film became a document of abstract anguish, a landscape where the omnipresent past shadows the bright lights of the present.
The film was Emmanuelle Riva's feature debut, and she exudes a sad anxiousness in a performance standing as a devastating precursor to her acclaimed role decades later in Michael Haneke's Amour (2012). Reportedly, Japanese actor Eiji Okada learned his dialogue phonetically, though this is hardly apparent in his fascination and pursuit of the melancholy actress.
The film famously opens on two bodies locked in embrace, a close up on her well-manicured hand as she clutches his shoulders, first seen covered in a lazy drift of ashes, transposed moments later by sweat. It's a visual precursor to the state of their affair, a flame already blown out before it may even begin, thanks in part to the tragic circumstances they've lived through. She keeps remarking on the nature of the re-built city, a place "tailor made for love."
Only, fourteen years prior both the city and Elle's paramour were literally obliterated by violent acts of man, moments both massive and minute. The exchange of dialogue equally teases the disparity of perception. "You have seen nothing in Hiroshima," he says. She replies, "I have seen everything in Hiroshima," a famous exchange also contradicted by their continuing discussion. "People notice what they want," she muses, but ultimately, before her last day on set, she remarks, "looking closely at something has to be learned." Resnais' experimental depiction of time and memory would eventually leak out into cinematic tradition, but this observation also seems useful in deliberation on his work.
Disc Review:
Criterion's 4K digital restoration is beautifully rendered in this prized title's ascension to Blu-ray. Famed cinematographer Sacha Vierney (who worked on Night & Fog and would reteam with Resnais on seminal titles like Last Year at Marienbad and Muriel) shares credit with Japanese DoP Michio Takahashi, and the film is a mix of expressive montages set to a magnificent score by George Delerue and Giovanni Fusco, and stark close-ups of Riva and Okada's increasingly haunted faces. Extra features included on the film's original inclusion with Criterion are available, as well as an additional component concerning the film's restoration.
Resnais Interviews:
Two interviews with Alain Resnais are presented here. The first is an excerpt from a 1961 episode of the French television show Cinepanorama, with the director speaking with Francois Chalais on his early career. The second excerpt is from a 1980 broadcast of the French radio program Le cinema des cineastes, where Resnais speak about the making of Hiroshima Mon Amour.
Riva Interviews:
Two interview excerpts are also presented with star Emmanuelle Riva. The first is a conversation with Francois Chalais during the 1959 Cannes Film Festival, where it premiered (it lost the Palme to Black Orpheus), The second interview was shot in 2003 courtesy of Criterion, which finds the actress discussing the title and her lengthy career since.
Francois Thomas Interview:
This 2015 interview conducted by Criterion in March 2015 is with film scholar Francois Thomas, author of L'atelier d"Alain Resnais. Thomas discusses the origins of the film, with Resnais approached to make a film about the atomic bomb, which would be the very first French-Japanese co-production. Thomas is a very informed subject in this half hour segment.
Memory and Meaning:
Tim Paige, professor of music and journalism at USC, discusses the contributions of composers Giovanni Fusco and Georges Delrue to Hiroshima Mon Amour in this 2015 Criterion interview, which runs about ten minutes.
Revoir Hiroshima:
Davide Pozzi, director of L'immagine Ritrovata, the CIneteca's di Vologna's restoration lab, speak with cinematographer Renato Berta, a consultant on the project, about the restoration process in 2013. The feature is about eleven minutes.
Final Thoughts:
In the decades since it arrived, we are still operating with the paradigm Resnais and Duras formulate within the film. We've seen everything and yet, perhaps we've seen nothing, depending on what refracted platform we've glanced at. A stunning piece of cinema, Hiroshima Mon Amour is also one of Resnais' most emotionally affecting pieces, for one cannot help but be moved by these lovelorn people, struggling hopelessly against the onslaught of time and the doom of being forgotten.
Kent Jones' insert essay quotes Eric Rohmer's pondering about the legacy of Hiroshima. The year it premiered at Cannes, German director Konrad Wolf won the Grand Jury Prize for Stars, a love story about a Nazi officer and a Jewish Woman. While Wolfe's film has languished into obscurity, the broken, shattered couple at the center of Resnais' troubled love story lives on, considered by many to be one of the most important films of the last century.
Film: ★★★★/☆☆☆☆☆
Disc: ★★★★/☆☆☆☆☆