Disc Reviews
Criterion Collection: Here is Your Life | Blu-ray Review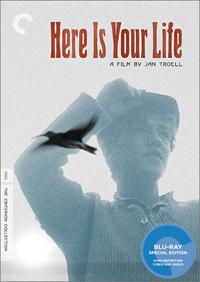 Criterion brings Jan Troell's masterful debut feature Here is Your Life into their fold. It's the Swedish auteur's second film to join the collection, following his beautiful 2008 film, Everlasting Moments, the title many contemporary audiences may recognize. Though his narrative features are rather few and far between, generally based on expansive novels or real life events (his last work to date is 2012's The Last Sentence documenting a journalist's quest to inform the Swedish public on Fascism in the 1930s), his expressive debut would launch his career as a notable European auteur in the 1970s, with his Oscar nominated epic The Emigrants (currently slated to be remade by Daniel Espinosa) leading a pack of titles finding Troell working continually with Max Von Sydow and Liv Ullmann, while crossing over internationally with films starring Gene Hackman and Mia Farrow.
Regarded as a masterpiece in Sweden, Troell based his first feature on semi-autobiographical novels by Nobel Prize winning novelist Eyvind Johnson. In the tradition of the familiar bildungsroman, we follow a naïve youth, Olof (Eddie Axberg, who would go on to star in a number of Troell's films) as he grows into his own through life's circumstances. Forced to leave a foster home of sorts because they can no longer care for him, young Olof has nowhere to turn since sickness has tainted the home of his biological parents. Smalands Pelle (Von Sydow), a friend of the family, helps the boy secure a job as a logger. Following the accidental death of another youth on the job, Olof begins to develop a sense of self and realizes he doesn't necessarily have to stay employed as a logger, especially as he desires to be a writer. He lucks out with a job working for a movie theater where he sells bon-bons and runs the projection booth, and these experiences eventually awaken his thirst for politics as well as a desire for the opposite sex.
Olof's development mirrors the country's entry into industrialization leading up to and into World War I. Though set in the early 1900s, Troell sports a visual ingenuity akin to the spirit of the 60s, with fleeting, whirling color sequences, such as a blue tinted bird speeding over the orange glow of a horizon, or the grainy color of another character's memory as he relates it to Olof.
Troell serves as his own cinematographer and editor, and he focuses on the striking faces of his actors when the camera isn't racing over the boundless outdoors, often melding juxtaposed images on top of one another, sometimes jarring us with a pause of the frame. It's an arrestingly vibrant black and white design, making an odd comparison to Troell's 2012 title The Last Sentence, featuring a man at the opposite end of his life framed in much less energetic sequences by Troell's eventual regular DoP Mischa Gavrjusjov.
Disc Review:
Here is Your Life looks outstanding with Criterion's 2K digital restoration. In its original 1.66:1 aspect ratio, its close-ups look wonderful, with only minor fading barely apparent in brief moments from time to time. Criterion stockpiles the extra features, including a glowing introduction from director Mike Leigh.
Mike Leigh Introduction:
Recorded by Criterion in New York in December, 2014, director Mike Leigh provides a four minute intro, discussing how complex and remarkable Troell's debut is.
Troell and Cowie Conversation:
Recorded by Criterion in March, 2015, Troell discusses his working methods and beginnings in film with film historian Peter Cowie in this half hour feature. Troell begins by stating he didn't originally imagine a life in film.
Eddie Axberg Interview:
Conducted by Criterion in Stockholm in March, 2015, this fifteen minute feature finds the actor discussing his career and work on Here is Your Life, which he filmed when he was only 17 years old.
Bengt Forslund Interview:
The producer and co-writer of Here is Your Life, Forslund is considered a major contributor to Swedish cinema of the 1960s. This interview was also conduced in Stockholm in March, 2015, and Forslund discusses the changes going on in the country at the time the film was being made. The feature is about fifteen minutes in length, beginning with his early career writing about cinema in the 1950s.
Interlude in the Marshland:
A 1965 omnibus film called 4×4 was comprised of four short films, each from a different Nordic country. Troell supplied the Swedish entry, Interlude in the Marshland, which starred Max Von Sydow, and was based on a story by Eyvind Johnson, the same author who inspired Troell's Here is Your Life. The half hour short features similar techniques seen in the later feature.
Final Thoughts:
Restored to its original running time of nearly three hours (it received an altered 1968 US theatrical release) Criterion presents a masterful title available for the first time (even though it was available via digital platforms even earlier). It's an excellent introduction to those unfamiliar with Troell's sublime filmography, a taste of heights to come.
Film: ★★★½/☆☆☆☆☆
Disc: ★★★★/☆☆☆☆☆