Disc Reviews
Criterion Collection: The Killers | Blu-ray Review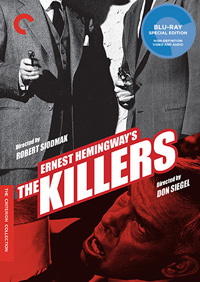 Criterion digitally restores this earlier release, a combination offering of Robert Siodmak's 1946 film noir masterpiece The Killers paired with Don Siegel's retro 1964 remake. Famed adaptations of Ernest Hemingway's short story, both filmmakers take liberties with the original material to create aggressively different products. Siodmak's version is not only the German ex-pat's enduring masterpiece, it's a definite cornerstone of classic American film noir. Though Siegel's 60s rehash is considered tacky pastiche of the era, it's brutal, hard boiled B-grade pulp, notable for its own significant instances.
Siodmak's version arrived during a golden era of noir, premiering a year after WWII officially ended, with cinematic masculine representation on the eve of an overhaul as method acting would soon reign supreme. Hemingway's spare story gets a face life from Anthony Veiller (The Stranger; Night of the Iguana), using the murder as a jumping off point into a mystery revealed in flashback, fleshed out with tropes synonymous with noir. The film would catapult stars Burt Lancaster and Ava Gardner, the former in his screen debut, previously an acrobatic performer in the circus and prior to his glory days as a dashing matinee idol headlining various feats of one-note masculine bravado. The latter had floated around in uncredited and supporting roles for several years before appearing here, in a role that would be representative of the femme fatale.
Two smooth talking hit men (William Conrad and Charles McGraw) alight in a sandwich shop, commandeering it from the owner to lie in wait for their target, an ex-boxer known as The Swede (Lancaster). He doesn't show, but Nick Adams (Phil Brown as a character often featured in Hemingway's writing) flies to warn the man, who happens to be his co-worker at the local automotive repair shop, leading the killers directly to their target. The resigned Ole 'the Swede' Andreson accepts his fate, failing to attempt to escape. Life insurance investigator Phil Reardon (Edmund O'Brien) is tasked with finding the man's beneficiary, and begins to unravel a history of crime leading to Andreson's assassination. With the help of a police lieutenant (Sam Levene), Reardon tracks down associates involved in a robbery, including Big Jim Colfax (Albert Dekker), and his good time gal, Kitty Collins (Gardner).
For the 1964 version, Siegel turns to the world of race-car driving and tells the tale from the perspective of the killers (Lee Marvin and Clu Gulager). Stumbling upon their target, defamed driver Johnny North (John Cassavetes), now teaching at a school for the blind, they wonder why their victim makes no effort to run. In an effort to find out why, they do their own investigating, and are lead to North's ex-flame, Sheila Farr (Angie Dickinson), who roped North into a robbery orchestrated by her beau, Jack Browning (Ronald Reagan).
It seems impossible to extract Hemingway's original text from the tone of noir, and Siodmak's version is clearly the more noteworthy endeavor. Interestingly, Siegel's version was meant to be the first made-for-television feature, but it was deemed too violent, especially considering the cultural climate of the time, following the assassination of JFK, an event which actually halted production.
Siegel opens with the killers terrorizing blind folks (the first being a secretary played by Virginia Christine, a character actress who appeared in the original as an early love interest of Lancaster's character), and the violent and aberrant misogyny goes on from there, especially considering Dickinson's character is more of an accessory than a character with actual agency, culminating in a vicious punch to the face at the hands of Gulager's boyish psychopath.
Marvin is effectively commanding in an early lead role, somehow immune to the garishness of the farcical sets and tacky backdrops, elements swallowing Cassavetes and any intensity he can muster (an early flirtatious sequence with Dickinson finds them racing against one another in a courting ritual we'll surely continue to see recycled, though the loopiness here somehow recalls a water bound instance between Will Smith and Eva Mendes in 2005's Hitch).
In the years to follow, Marvin would become an Oscar winner (Cat Ballou) and eclipse his persona here with a more memorable man of vicious mystery in John Boorman's Point Blank (1967). Of course, Siegel's greatest accidental coup would be the casting of Ronald Reagan as the bad guy, the role previously inhabited by character actor Albert Dekker. Not only was it Reagan's last film before entering the political arena, it was his only villainous character (purportedly, he hated the role). It's a fascinating perfect storm considering his eventual poisonous, if economically celebrated, ascension as the eventual US President.
Disc Review:
There's much to admire in Criterion's high-definition digital restoration of both titles, specifically with Siodmak's, featuring DoP Elwood Bredell's framing (who was not known for noir, but would only lens seven more features including Michael Curtiz's The Unsuspected), and Miklos Rozsa's defining score, present only when the actual killers are on screen (it would late be used in the television series "Dragnet"). It's a title hard to beat, especially considering the youthful beauty of Lancaster and Gardner, whose later counterparts, Cassavetes and Dickinson, do not vanquish them.
As evocative as Siodmak's version feels, Siegel's zippy remake feels like a tacky, cardboard bauble with jagged edges, delivering shocking paper cuts in its grim and sometimes surprisingly violent sequences. It's a gaudy remake, and Richard Rawlings' cinematography seems calibrated for television, prizing snazzy, unnecessary zooms, and often featuring ungodly lighting on ill-prepared sets spliced with footage of actual race cars.
1946 Supplements:
Andrei Tarkovsky's Killers:
Perhaps the most notable extra feature is this 1956 short film co-directed by Alexander Gordon, Marika Beiku and Andrei Tarkovsky at the All-Union State Institute of Cinematography. Standing as Tarkoksy's first film, the nineteen minute short if divided into three parts, one of the very first adaptations students at VGIK were allowed to base projects on foreign material. The roles were played by students and it is a striking short.
Kaminsky Interview:
A 2002 Criterion interview with screenwriter Stuart Kaminsky is about seventeen minutes, and the discussion includes reference to how the producers wanted Don Siegel to originally direct the film, but were unable to attain him due to Siegel's contractual obligations.
Stacy Keach Reading:
Actor Stacy Keach reads aloud Hemingway's original story, originally recorded for the Simon & Schuster audiobook Ernest Hemingway: The Short Stories. An intriguing extra, especially if you've neglected to read the source material.
Screen Directors' Playhouse:
Burt Lancaster, Shelley Winters, Tony Barrett, and William Conrad were part of the original radio broadcast of The Killers, which aired on June 5, 1948 as an episode of the series Screen Directors' Playhouse. The program is about half an hour in length.
1964 Supplements:
Reflections with Clu Gulager:
This 2002 Criterion interview with Gulager, filmed by the actor's sons in Los Angeles, is eighteen minutes in length. The actor discusses his reasons for finding the film to be 'significant.'
A Siegel Film:
An excerpt from Siegel's autobiography concerning The Killers is read aloud by actor/director Hampton Fancher. Nearly twenty minutes in length, it's an innovative glance at Siegel's investment in the material.
Final Thoughts:
With the original film version often referred to as the Citizen Kane of film noir, The Killers is required viewing. Siodmak's film would come to deftly approximate our ingrained notions of the slippery genre, and as presented in this stylish combo with its unnecessary but ultimately notable derivative version only proves to confirm its legacy.
1946 Film: ★★★★/☆☆☆☆☆
1964 Film: ★★½/☆☆☆☆☆
Disc: ★★★★/☆☆☆☆☆