Disc Reviews
Criterion Collection: I Knew Her Well | Blu-ray Review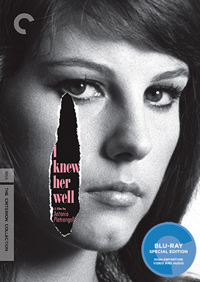 Love is most definitely not a many splendored thing in the bedazzled artifice of Rome's swinging 60s, at least as far as the good time gal depicted in Antonio Pietrangeli's obscure 1965 title I Knew Her Well is concerned. A director lost in the shadows of other 60s Italian auteurs, where names like Antonioni, Fellini, Petri, Pasolini, Risi, or Visconti dominate contemporary conversations of the cinematic period, Criterion enables the resuscitation of Pietrangeli, a director whose filmography, notable for his complex portraits of women (sort of like the Italian version of later period Mizoguchi), is deserving of wider renown.
Adriana (Stefania Sandrelli) is a young, beautiful woman who thrusts herself into the burgeoning social scene of Rome after fleeing her rural roots. A series of random lovers finds her elevating her occupational merits through a variety of professions before she begins to land opportunities as a model and budding actress, engaged in liaisons with writers, directors, and athletes all clamoring to be noticed and celebrated. Amused by nearly everyone she meets, Adriana doesn't seem to realize the social disease which develops around a woman considered easy or of independent means. A surprise visit back home to the country, where she discovers her sister died without her parents bothering to inform her, proves she may be liberated but no one seems eager to invest in her.
Effectively, I Knew Her Well is Pietrangeli's last outing as a director thanks to his accidental drowning while working on the film How, When and With Whom (completed by Valerio Zurlini in 1969). Drawing comparisons to Fellini's La Dolce Vita, at least as a journal of revolving lovers, but from a female perspective, the film is a darkening kaleidoscope of trysts. The indefatigable spirits of Adriana are initially irritating as we're forced to watch her ignorance when faced with constant debasement and increasing cruelty at the hands of her 'lovers.'
Pietrangeli effectively succeeds in making the film seem like being a trapped in a room which slowly shrinks in size while the oxygen level depletes. She's not the only victim in this merry-go-round landscape, as evidenced by an unforgettable sequence featuring Ugo Tognazzi, a faded actor forced to madly tap dance like a circus animal at a party—it's an addictive lifestyle with an insidious underbelly once one reaches their expiration date.
The title is obviously ironic, since no one seems to know Adriana beyond the superficial persona she effortlessly projects (one of her counterparts is French actor Jean-Claude Brialy). Instead, she's often misinterpreted, as evidenced by a chauvinistic writer's (Joachim Fuchsberger) dismissive judgment call on her frivolous nature. Her innocence objectified and eventually used against her, I Knew Her Well becomes a testament to the dangerousness of naiveté in the urban realm, where a devouring depthlessness touches all, and to partake necessitates consumption. Not all of her admirers are such louts, and there's a rather touching sequence with a failed boxer (Mario Adorf), who seems to enjoy her company even though she's completely oblivious. And then there's the lusty garage attendant (a young Franco Nero), a man she gives herself to in what seems a desperate attempt for attention when more notable lovers have disappeared.
The film was co-written by two other greats from the period, Ettore Scola and Ruggero Maccari (Il Sorpasso; A Special Day), and the film's narrative is significantly broken into moments and impressions, much like Armando Nannuzzi's cinematography focuses on glances and reflections. No one knows Adriana very well, including herself, never quite engaged or aware of how ridiculous she seems (as when a police inspector questions her about a criminal ex-beau and she requests law enforcement to relay an affectionate note to him). Stefania Sandrelli gives an effortless performance as the charming young woman who is interested in being desired but not quite sure of what is desirable. Ironically, her mistake is when she begins to feel something for one of her lovers, resulting in the film's greatest moment of cruelty.
Her character is a culmination of Pietrangeli's fascination with women in urban social settings, an understated companion piece to his earlier notable title, Adua and Her Friends (aka Hungry for Love), where four prostitutes are forced to consider reinventing themselves before being demeaned into less desirable circumstances.
Disc Review:
Criterion presents the title with a new 4K digital restoration in 1.85:1 with uncompressed monaural soundtrack. The film's particular design is mostly owed to editor Franco Fraticelli (who would later collaborate on many of Dario Argento's films), crafting a series of beautifully rendered snapshots from Adriana's various escapades, which plays with time in similar ways to many of Alain Resnais' titles. Picture and sound quality are superb on the release. New interviews conducted by Criterion and archival footage make up the bonus features.
Stefania Sandrelli:
Actress Stefania Sandrelli talks about her experiences playing Adriana and working with Pietrangeli in this interview conducted by Criterion on September, 2015. The nine minute finds the actress reminiscing about the audition and how she related to the character.
Luca Barattoni:
Film scholar Luca Barattoni, author of Italian Post-Neorealist Cinema examines the career of Antonio Pietrangeli in this interview conducted by Criterion in November, 2015. Barattoni focuses on Pietrangeli's beginnings as a film critic before evolving into a leading voice of Italian film known for his significantly innovative portrayal of women in the 1960s. The twenty-one minute segment features Barattoni referencing I Knew Her Well as a film propagating ideas of what it is to 'know' someone.
Sandrelli's Audition:
Archival footage of Stefania Sandrelli's audition for the role of Adriana is included here, a five minute segment of a recognizable sequence in the film where she is engaged with a weary author.
Final Thoughts:
Had Antonio Pietrangeli lived several more years and produced a more robust filmography, I Knew Her Well would most likely not have fallen into obscurity. A stellar portrait of an increasingly dehumanizing human landscape, both within and outside of the entertainment industry, Criterion's restoration should give the title and its filmmaker a deserving re-introduction.
Film: ★★★★/☆☆☆☆☆
Disc: ★★★★/☆☆☆☆☆