Disc Reviews
Criterion Collection: The Story of the Last Chrysanthemum | Blu-ray Review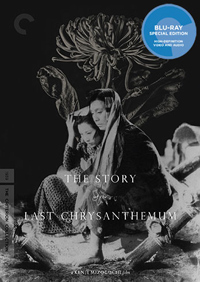 Kenji Mizoguchi's 1939 title The Story of the Last Chrysanthemum, championed by some as the Japanese auteur's masterwork (arguably, he had several), arrived shortly after his initial foray into independent filmmaking, with 1936's Osaka Elegy and Sisters of the Gion. Extolling many of the director's favored themes, particularly the societal subjugation of women as they're broken or cast asunder beneath the ambitions of their male counterparts, it's also an intriguing behind-the-scenes glance at Kabuki theater culture and was long unavailable prior to a 2014 restoration (followed by its inclusion in several Kenji Mizoguchi theatrical retrospectives throughout 2015). An elegiac portrait of longing, sacrifice, and the uneasy responsibilities demanded by fame and the yoke of social custom, it's a bleak exercise, to be certain (based on a novel by Shofu Muramatsu), and yet one with rich emotional rewards as regards the noble act of suffering for one's art.
Kikunosuke (Shôtarô Hanayagi) is the adopted son of a famed Kabuki actor in 1888 Tokyo, a man with a highly renowned reputation as a master of his craft. However, Kikunosuke isn't regarded as an equal talent, yet his association with his father's acting dynasty requires his public to respect and praise his performances despite wide reaching opinion dictating otherwise. Aware of the disparity in the reality of his talents vs. publicized criticism, Kikunosuke is instantly attracted to his young brother's wet nurse, Otoku (Kakuko Mori) when she reveals her true opinion of his abilities. Awed by her sincerity, his attraction to her immediately results in Otoku being fired from her position, and when Kikunosuke attempts to search for her, he is damned by his father for the pursuit of a woman from a lower social standing. Eventually, he is banished from his father's acting troupe, leaving Kikunosuke to freely marry Otoku, who welcomes him and throws herself into assisting her husband expand his talents as they travel the country under harsh working conditions. Eventually, this takes a severe toll on Otoku's health, but Kikunosuke is able to hone his craft, striving to perfect the art of performing female roles, to the degree where a chance gig grants him the opportunity to return to his father's fold…but he cannot take Otoku with him.
The Story of the Last Chrysanthemum may be one of Mizoguchi's most subversive portraits of the sublimation of women, a period piece demanding the sacrifice of a subservient female who pays with her own life in order for her husband to perform as a woman on the very stage where women aren't allowed a voice themselves. The double bind is enhanced by the flower motif of the title and all but demands the folksy battle cry of Pete Seeger's "Where Have All the Flowers Gone," except as a reference to gender role wars. From the very onset of their regular communication, Kikunosuke is warned of Otoku's intentions. "That's how women are," it's explained when he suggests she has no ulterior motives, while "popularity is everything" in determining one's viability as a famous star of the stage. Little has changed, it seems, as regards notions of celebrity (a moment where a traveling troupe is replaced by female sumo wrestlers is as devastating as it is subversively funny), the power of social mores, and the continued acceptability of nepotism in the entertainment industry, no matter the cultural or language barrier.
With this film, one sees Mizoguchi's preference for long, uninterrupted takes in full force. An impressive tracking shot roams through the back corridors and levels of the theater early on, as bitchy gossip follows the curtain call on one of Kikunosuke's performances. The audience becomes enveloped in this dimly lit universe of performance vs. sincerity, playacting vs. reality, and yet DP Minoru Miki (who worked with Mizoguchi on several occasions) keeps us at a distance from these key players, like a phantom gazing through the shutters and windows, or hovering above at off angles. This is partially a move to work around the age of Mizoguchi's lead star, Hanayagi, who was already well into his forties at the time the film was made and was a bit too old to be believable as the young, unseasoned Kikunosuke.
Disc Review:
Criterion presents the resurrected title in its original aspect ratio of 1.37:1, a new 4K digital transfer. Due to the deterioration from the original 35mm negative, much of the residual damage is sometimes evident in certain sequences despite the restoration procedures (which means despite valiant efforts, this transfer looks better on bigger screens). But the achievement here is worthwhile, and is a welcome artifact from Mizoguchi's mid period. The package is one of Criterion's more demure offerings, with a solo bonus feature interview with critic Phillip Lopate.
Phillip Lopate Interview:
Criterion conducted this twenty-minute interview with critic Phillip Lopate in June, 2016, who discusses Kenji Mizoguchi's style and why The Story of the Last Chrysanthemum as a turning point for the auteur.
Final Thoughts:
Comparable to the sterling output from Mizoguchi's most prolific period in the late 1950s, The Story of the Last Chrysanthemum is an extravagant restoration from a consistently underrated Japanese auteur unfairly obscured behind the more popularized filmographies of Akira Kurosawa and Yasujiro Ozu.
Film Review: ★★★★/☆☆☆☆☆
Disc Review: ★★★★/☆☆☆☆☆