Disc Reviews
Criterion Collection: Make Way For Tomorrow | Blu-Ray Review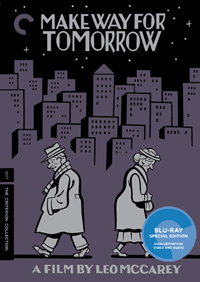 One can't ignore a certain irony that Leo McCarey, director of one of the most irrefutably sorrowful motion pictures with 1937's Make Way For Tomorrow, was actually well renowned for his comedic ventures, like that same year's The Awful Truth or the most beloved of the Marx Brothers films with Duck Soup (1933). In the decades since its release, the film has recently come to be recognized for its influence on several filmmakers, including Yasujiro Ozu's Tokyo Story (1953) and Ira Sachs' Love is Strange (2014). Filmed during the Great Depression, yet without specific references to the significant economic downturn, the film has a timeless resonance that feels particularly fitting for our contemporary existence.
Though not cemented in Western culture, there's a particular tendency for this depiction to transpire within the landscape of white, capitalistic peoples and their insistence on stuffing their elders into nursing home facilities. The film is based on a 1934 novel by Josephine Lawrence, an author that wrote a question-and-answer column in the Newark Sunday Call. And according to the included essay from Ted Gallagher in the film's insert, 'the most insistent question in her mail was "Must I support my father and mother?"
Married for fifty years, Barkley (Victor Moore) and Lucy Cooper (Beulah Bondi) gather their five children together to announce that the bank will be taking their home. With nowhere to live, it is up to their kids to put them up until better arrangements can be made. Lucy goes to live with her son George (Thomas Mitchell) and his wife Alice (Fay Bainter) while Barkley spends his time on another son's couch before illness sees them shipping him off to their distant sibling in Southern California. Meanwhile, the increasingly frustrated Alice consults George about placing Lucy into a nursing home. Through it all, both Barkley and Lucy attempt to remain resilient.
Quietly, plaintively humanistic in its portrayal of the callous selfishness of people, there is an inescapable doom to McCarey's poetic title. A failure at the box office, McCarey's career was rejuvenated later in the same year with the success of The Awful Truth, which made Cary Grant a star and earned McCarey an Oscar for Best Director. Famously, McCarey noted in his acceptance speech that the Academy was awarding him for the wrong film. There was no awards love for "Tomorrow," though arguably Beulah Bondi was certainly more deserving of such distinction over Irene Dunne in Truth.
It's surprising to learn that both Bondi and Victor Moore were actually much younger than their characters, with Bondi actually only a year older than actress Elisabeth Risdon, starring as their daughter Cora. It's box office demise and disparagement would be the cause of McCarey's highly publicized revenge against studio head Harry Cohn at Columbia Pictures, in retaliation for how he was treated during the filming of Truth (McCarey led Cohn to believe he would re-sign with Columbia, but the day before doing so took out an ad in Variety announcing he signed with RKO), and in turn it's become a film that's been praised by countless numbers of auteurs, including John Ford, Jean Renoir, Delmer Daves, Pete Bogdanovich, Orson Welles, and Bertrand Tavernier.
Disc Review
A high definition digital restoration of the title that became part of the Collection back in 2010, DoP William C. Mellor's rather straightforward cinematography looks incredibly refined in the transfer. The same extra features that accompanied the previous edition are included here.
Tomorrow, Yesterday, and Today:
A twenty minute 2009 interview with director Peter Bogdanovich finds the filmmaker discussing Leo McCarey's career and Make Way For Tomorrow. According to Bogdanovich, Orson Welles considered this film one of the saddest ever made, and speaks of McCarey's ability to obtain a sort of spontaneity in his works that always make them seem fresh.
Gary Giddens Interview:
A 2009 Interview with film critic and writer Gary Giddens runs about twenty minutes and goes into depth on McCarey's particular influences with the title, which originated after he drank unpasteurized milk on the set of his previous production, The Milky Way (1936), which resulted in an illness that prevented him from attending his father's funeral.
Final Thoughts:
There's a warm familiarity to the situation at hand, expertly depicting the awkwardness of hosting surprise guests and relatives for an unspecified amount of time. And initially it's easy to relate to the frustration of the in-laws, particularly of underrated character actress Fay Bainter's Anita, the eventual perpetrator of the film's most insidious action. Orson Welles' famously said of Make Way For Tomorrow that it 'would make a stone cry,' and it is indeed difficult not to be moved by the film's crushing finality, and a goodbye that's actually deserving of a hyperbolic description such as 'heartbreaking.'
McCarey executes something quite unprecedented by making the actions of the Cooper clan believable, and the film is an inadvertent example of the necessity of Social Security, or at least some kind of safety net that allows the elderly not to be infantilized by their own progeny. A rarity amongst studio films from that glorious age of black and white as well as today, Make Way For Tomorrow is resoundingly, beautifully compassionate.
Film: ★★★★/☆☆☆☆☆
Disc: ★★★★/☆☆☆☆☆