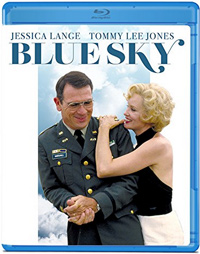 The 1994 film Blue Sky is something of an anomaly from the mid-90s. Filmed in 1991, it would be the last film feature of British auteur Tony Richardson's career, who had been working in television for several years prior, ever since his coolly received 1984 adaptation of John Irvine's The Hotel New Hampshire. Then, due to the bankruptcy of Orion Pictures, the film's distributor, the final product was shelved for three years, at long last released in the autumn of 1994, going on to snag actress Jessica Lange her second Academy Award. Now, twenty years later, it's a prestige that would seem near impossible to attain for a feature treated to the same fate in today's market. This distinction potentially sets the film up for failure, which perhaps explains the lack of continued enthusiasm surrounding it.
Nuclear engineer Hank Marshall (Tommy Lee Jones) is forced to uproot his family once again as he's reassigned to a remote testing facility in Alabama for atmospheric tests. His wife Carly (Lange), seems to be a bit haywire, her provocative actions often upsetting Marshall's chain of command wherever she goes. A period of two year calm is ended with this unwanted move to the South, and Carly almost immediately begins to act out, much to the embarrassment of their two daughters, Alex (Amy Locane) and Becky (Anna Klemp). Marshall's commanding officer Vince Johnson (Powers Boothe) is immediately attracted to Carly, and they engage in an extramarital affair, something that also disrupts the circle of base wives led by Vince's wife, Vera (Carrie Snodgress).
Indeed, it is Lange's performance that still holds this film together. A variation on her Southern Belle routine, Carly is the kind of woman that would've preferred to be Marilyn Monroe rather than a mother and wife to a military man. Prone to frequent emotional outbursts, we catch glimpses of the trapped woman held captive inside the strictures of a housewife within Lange's feral looks and uncomfortable tantrums.
Presented as a ferocious feline, Lange excels here at the small tics hinting at the madness always lurking below the surface, like a strange nose-rub with the younger daughter, or careening off into an ongoing parade. Reminiscent of other signature roles, such as her portrayal of wrongly lobotomized actress Frances Farmer in 1982's Frances (the year Lange lost to Streep in the Best Actress category, which many claim explains the compensatory supporting statue Lange received instead for Tootsie), it's the kind of performance that almost makes up for Blue Sky's shortcomings.
The film begins in the familiar vein of the domestic drama, evoking a particular period that Richardson captures with a sort of tony nonchalance. The film feels akin to a certain nostalgia explored in several early 90's title hailing from about the same period, including Richard Benjamin's Mermaids (1990), Jonathan Kaplan's Love Field (1992), and Michael Caton-Jones' This Boy's Life (1993). But it's exactly where Blue Sky abandons the madness of Jessica Lange's Carly and forges fitfully into a conspiracy theory film about nuclear bomb testing (topped off with a saved-by-the-media salve) that really makes the film ungainly.
It's a novelistic, even adventurous narrative, but one that needed to be fleshed out appropriately. However, its unpredictability also gives it a certain perverse edge. We get a few gloriously uncomfortable scenes from the likes of the excellent Carrie Snodgress and the smarmy Powers Boothe. Chris O'Donnell had previously played Lange's son in the underrated 1989 film, Men Don't Leave, though here isn't given much to do. Jones, reuniting with Lange after their 1985 television production of Tennessee Williams' Cat on a Hot Tin Roof (which may not be as electric as the Taylor/Newman version but is definitely worth seeking out), makes for a sturdy foil to Lange's unhinged protagonist. We somehow manage to empathize with both of them, and it's a portrait of monogamy terror amongst the heteronormative touched with a bit of the hysterical and bizarre that recalls the material of the great playwrights like Williams or Edward Albee (one of Lange's first lines is a withering "What a dump," remark, which has to be a direct allusion to Albee's Who's Afraid of Virginia Woolf?), though as adapted from a story by Rama Laurie Stagner, it feels too much like something crafted for television.
Disc Review:
A customary Blu-ray transfer from Olive Films, the title is presented in 1.85:1 Aspect Ratio sans an\y extra features. With both Lange and Jones still relevant performers, it would have been nice to see something a bit more included with the release, especially considering all the significant delays surrounding the film's initial denouement.
Final Thoughts:
With Lange's recent pop-cultural resurgence thanks to "American Horror Story," it is a great time to revisit or rediscover one of her most notable performances in this unpredictable and generally entertaining film.
Film Review: ★★★/☆☆☆☆☆
Disc Review: ★★★/☆☆☆☆☆