Disc Reviews
The Strange Case of Dr. Jekyll and Miss Osbourne | Blu-ray Review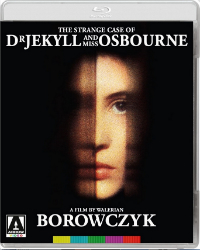 Robert Louis Stevenson's literary horror classic Strange Case of Dr. Jekyll and Mr. Hyde was published in 1886, just a decade before the birth of cinema and only two decades prior to its first screen adaptation (William N. Selig's now lost Dr. Jekyll and Mr. Hyde). Since then a lengthy list of cinematic interpretations have come to fruition, from the 1931 film directed by Rouben Mamoulian which earned Fredric March an Oscar for his performance in the starring role, to the 1941 remake that boasted of names like Spencer Tracy, Ingrid Bergman and Lana Turner, through a TV movie featuring Mickey Rooney in his very last screen performance. Despite the lengthy list, there is certainly no adaptation quite like Walerian Borowczyk's hyper sexualized The Strange Case of Dr. Jekyll and Miss Osbourne.
By 1981, the year of the film's release, Borowczyk had (somewhat unwillingly) been pegged as an art house pornographer for his willingness to indulge in the obscene while still delving into thematically rich territory too wonderfully weird and often too off-putting to just get off to, and his latest had done little to shake that description. Featuring a horrifically lustful Mr. Hyde in Gérard Zalcberg to Udo Kier's subdued Dr. Jekyll whose propulsions to wreak havoc and sexual savagery upon everyone in sight incites a fever dream of violence and vulgarities, it's no wonder the distributors tried their best to sell the film as a sexploitation romp by renaming it a series of ridiculous titles like Dr. Jekyll and His Women, or even better, Bloodbath of Dr. Jekyll.
In reality, the resulting film lies somewhere in between. There are certainly plentiful shots of gratuitous nudity and gory acts of bloodshed and brutality, but slyly concealed within this exploitation picture there is a true artist at work. The rich visual language Borowczyk so meticulously plotted (note Walerian also was credited as the film's production designer) within harbors a deeply seated appreciation for Baroque artworks, including the works of Johannes Vermeer, whose painting features not only as an actual artifact within the film, but as a major visual inspiration for how color is implemented and how women are framed throughout the film (flat, without spacial dimension from corners, ceilings or floors in the frame to accentuate their constrained social manner).
While Stevenson's original novella examined the duality within the nature of man and the inherent trepidation of those dealing with dissociative identity disorder, Borowczyk adapted this concept to encompass the duality of the sexes, the socially enforced differences between them and the primal similarities that have long been taboo. When Hyde emerges from the pivotal bath transformed from mannered aristocrat to blood thirsty beast, he is not the only one possessed. Marina Pierro's Miss Osbourne's own eyes glaze over in a fiery orange, bewitched by passion, while in a moment of disturbing bastardization of all social norms, the visiting general's daughter seductively invites Hyde to penetrate her in the presence of her father.
Borowczyk's film perverts and punctuates with knowing antagonism, even bringing on the experimental musique concrète composer Bernard Parmegiani to engineer an electronically assaultive score that erupts and collapses with the calamitous climax of The Strange Case of Dr. Jekyll and Miss Osbourne. In a way, the soundtrack stands a sort of precursor to works like the overtaking electro of the Safdies' recent Heaven Knows What, a film every bit as raw and bewildering. It's certainly not conceived with the masses in mind, but those willing to endure the outrageous will find a wild interpretation that extends, swells and explodes with the madness of man and women and the lawless desires that inhibit them both.
Disc Review:
It's hard to imagine a more stacked release for a single film. Arrow Video's treatment of Borowczyk's work has been no less than monumental, as evidenced by last year's limited Euro box set of the director's grade A features and this lovingly stuffed dual format release. Though the film has a quite soft appearance, that's likely more due to the 80s film stock and the choices in lighting than Arrow's meticulously restored transfer. Generally, textural detail has vastly increased over any previous release of the film, while color pops, especially reds. The film was filmed with actors of varying in nationality, and thus, oddly recorded in varying languages. Some dialogue was spoken in French or English and then re-dubbed into both complete English and French versions, both of which are included within in cleaned up mono tracks.
Audio Commentary
Moderated by Daniel Bird and assembled from an archival interview with director Walerian Borowczyk from 1981 and a series of new interviews with cinematographer Noël Véry, editor Khadicha Bariha, assistant Michael Levy and filmmaker Noël Simsolo, this commentary track dives into the making and the intentions behind this wild film of the duality of the sexes.
Happy Toy (1979)
A long forgotten animated short by Borowczyk that pays tribute to Charles-Émile Reynaud's pre-cinema praxinoscope. 2 min
Himorogi (2012)
A short directed by Marina and Alessio Pierro in tribute to Borowczyk and his use of photographic projection in his films. Quite a haunting piece of cinema thanks to its lurid black and white cinematography and experimental ambiant soundtrack. 17 min
Interviews
This series of four new interviews includes Udo Kier, who discusses his time working with Borowczyk and Patrick Magee on set, Marina Pierro, who talks about how she ended up becoming Miss Osbourne on screen, Alessio Pierro, who discusses Himorogi, and Sarah Mallinson on the animation of Borowczyk and Peter Foldes. 51 min
Appreciation by Michael Brooke
A long time admirer of Borowczyk, the frequent Sight & Sound contributor gives a rundown of both his personal history with the filmmaker's oeuvre and a history of the filmmaker's life. 33 min
Phantasmagoria of the Interior
Pieced together by film critics Adrian Martin and Cristina Álvarez López, this video essay uses the Vermeer painting in the film to illustrate how Borowczyk framed images to express the repressed world of women in his film. 14 min
Eyes That Listen
A short documentary by Daniel Bird that looks at the musique concrète composer Bernard Parmegiani and the partnerships Borowczyk shared with other avant-garde composers like Andrzej Markowski and Wlodzimierz Kotoński. 10 min
Return to Méliès: Borowczyk and Early Cinema
This brief doc centers around the filmmaker's life long fascination with cinema as animated imagery and its likeness to the early days of movie making. 7 min
Theatrical Trailer
A single trailer made up of stills from the film with three audio options (minus the original French audio track which was lost) – one featuring Parmegiani's score, one has the UK video trailer audio, while the last features a brief commentary by editor Khadicha Bariha. 1 min
Booklet
Brief but incredibly robust, this booklet includes a trio of insightful essays by Daniel Bird, one on Borowczyk's film, one on Happy Toy, and another on Himorogi, as well as a selection of reviews from the film's initial release, and an introduction to the script and a script excerpt.

Final Thoughts:
After sitting in awe of Borowczyk's bold, horrifying take on the Jekyll and Hyde tale and Arrow's monumental presentation and academic study of the film, I'm gutted to have missed out on the now sold out box set of Borowczyk's older work that Arrow released in Europe last fall. It's heartwarming and hopeful that a truly original, under-respected filmmaker is being cared for by a distributor that shows a deep appreciation for his work. Now, let's keep those domestic Borowczyk releases comin'.
Film:        ★★★/☆☆☆☆☆
Disc: ★★★★★/☆☆☆☆☆