Disc Reviews
Criterion Collection: Monsieur Verdoux | Blu-ray Review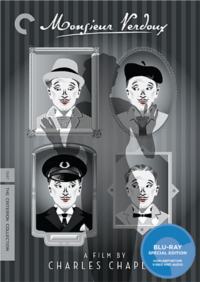 People tend to forget that Charlie Chaplin was more than The Tramp, his iconic mute character of physical peculiarity. Seven years after his baffoonic incarnation of Hitler in The Great Dictator, Chaplin bought the rights to a murderously bleak black comedy from Orson Welles and went to work on his most controversial work, Monsieur Verdoux. As a cunning killer of well-to-do middle aged housewives, Henri Verdoux showcased Chaplin's crisp, flamboyant diction by playing against type. Never before had he played a deceitfully murderous man, slyly articulate and devilishly selfish in his conquest for corpses.
Subtitled 'A Comedy of Murders', Chaplin's outspoken dark horse begins at the end, on Henri Verdoux's grave stone with him speaking frankly about his late life career as a bluebeard. After 35 years behind the counter as a banker, he lost his job to the depression and found himself in need of a new career to support his handicapped wife and growing son. Feeling empty and dejected, Verdoux developed a repertoire of aliases with the intent to woo, then whack, well off women not only for their money, but for kicks. Though he plays an artist, a seaman, a widower and a loving husband who can't seem to get time away from work to spend quality time with his family, it's the scientific plotting and stress of constant evasion that keeps him alive inside.
Chaplin paints his victims as deplorable rich hags, rightly skeptical of his suave chatter and fallible physicality. Plotting to choke them out with poisonous fumes, or in an extended attempt to off the most obnoxious of his bitties (played by the indomitable Martha Raye), send them off into a sleep never to wake from, Verdoux proves himself to be downright wicked, but it's in these moments before murder that he shows his Trampish lineage. Unable to hide his disdain of these women, he turns his eye to the camera, acknowledging the ridiculousness of his situation. In the heat of the hunt, his cunning voice collapses into physical ineptitude. Chaplin no longer donned his signature bowler, but with cane in tow, traces of his silent self remained, even in the dark.
Verdoux's motives finally falter when he meets his match, a young woman just out of jail, kicked to the streets with dreams in her head, virtue in her heart and a passion for her deceased husband that could kill. He spares her, but it's she who later breaks his spirit. On the brink of World War II and flat broke once again, they meet again. Now the wife of an ammunitions tycoon, she reveals her submission to the societal machine, and thus, repealing her own ideals in Verdoux's eyes. He decides to turn himself in, accepting his death as loose change in the business of murder. Seeing Chaplin orate on humanity's seeming obsession with war and then stoically shuffle off to his end is shockingly cold. No doubt was it a hard pill to swallow for audiences with war still fresh in their minds back at the film's release, but even today, the fearless comedian's dark turn is incredibly bold and bewilderingly bleak. Chaplin seemed to be asking us to fear the reaper while reminding us that we may be wielding the sickle ourselves, culturally preoccupied with murderous conflict.
Disc Review
Digitally restored from original 35mm negative, the film's transfer is squeaky clean. It's a well balanced image, the contrast allowing for much detail to unveil itself in the newly polished frame. Dust and other degradations have nearly all been removed, leaving Chaplin's on screen reinvention to present itself anew once more. The uncompressed monaural track presents us with a voice not often heard, but sounding crisp and clear. Accompanying that voice is Chaplin's own orchestral arrangements which also come across with restored vigor. The Blu-ray disc comes housed in a signature Criterion clear case.
Chaplin Today: "Monsieur Verdoux"
Plastered with disgraceful headlines about Chaplin's blacklisting at the hands of political witch hunts, this short documentary, directed by Bernard Eisenschitz in 2003, about the film's controversial release features interviews with director Claude Chabrol and actor Norman Lloyd. They dissect scenes, comment on script changes, discuss the auteur's technique and argue the importance of Chaplin's late film. 27 min
Charlie Chaplin and the American Press
The director of the Chaplin company Roy Export, Kate Guyonvarch, and Charles Maland, the author of Chaplin and American Culture, speak at length on the rise and fall of Chaplin as a public figure. Long a beloved star, worthy of rumor rags of promiscuity and the like, the filmmaker found himself under attack by the press with the release of Monsieur Verdoux. At the time he was under fire not only for his change in style, but unjustly for his political leanings. Through knowledgeable discussion and perfectly rendered photographs and news articles, his history unfolds. 25 min
Marilyn Nash
Matched against film clips and photographs, the actress that made her film debut in Verdoux speaks about meeting Chaplin and becoming an actress with Jeffrey Vance, a Chaplin biographer. 9 min
Radio Ads
With classic radio dramatic style, these are eight audio ads that promote not just the film, but specific screenings as well. 7 min
Trailers
This trio of trailers hail from France, Germany, and the U.S., all but throw the tone of the film to bring in audiences expecting the Chaplin of old. 9 min
Booklet
As with most Criterion releases this booklet features a critical essay on the film, this one by Ignatiy Vishnevetsky, as well as written pieces by Charlie Chaplin himself and Andre Bazin. There are also film credits and notes on the transfer.
Final Thoughts
Having become so familiar with Chaplin's mustachioed epithet, it's jarring to hear such eloquent articulation spring from a man who built his iconography as a towering titan of silent cinema. Yet, his first fully functioning talkie is an elegantly sculpted reflection on the previous decade's atrocities through the view of a physical comedian who's finally found his voice. If you've only ever known the Tramp, you need to meet Monsieur Verdoux.