Disc Reviews
Criterion Collection: Paris Belongs to Us | Blu-ray Review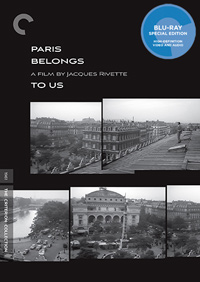 For the first time in the US, Jacques Rivette's 1961 directorial debut, Paris Belongs to Us is available thanks to an accomplished new restoration from Criterion. A neglected title associated with the same crew of vibrant auteurs eventually known as the Nouvelle Vague of the late 1950s and early 1960s, the Rivette's thunder was stolen by more famous films from critics turned filmmakers Jean-Luc Godard, Claude Chabrol, and Francois Truffaut (even though it technically went into production before several of theirs). The initial lackluster response explains Rivette's slower rise to notability, his particular methods and idiosyncrasies eventually embraced nearly a decade later when items like Mad Love (1969) and the monolithic Out 1 (1971), the legendary near thirteen hour production, were released.
Anne (Betty Schneider) is a young literature student in Paris, following in the footsteps of her older brother, Pierre (Francois Maistre). Afetr a disturbing interaction with a neighbor at her hostel, she befriends a loose-knit theater troupe who have come together to perform Shakespeare's Pericles, the ragtag cast bemoaning the suicide of a recent mate, Juan, an enigmatic figure whose death has affected them (and their production) in various ways. Anne finds herself attracted to the enigmatic director, Gerard (Giani Esposito), and in an effort to assuage his torment over Juan's death, Anne takes it upon herself to investigate, stumbling upon a possible conspiracy involving a secret organization involving Juan's girlfriend, an American political exile (Francoise Prevost).
The lack of attention bestowed upon Paris Belongs to Us is significant. Rivette wouldn't unleash his sophomore effort until 1966 with an adaptation of Denis Diderot's The Nun (still unfortunately unavailable, but recently remade by Guillaume Nicloux in 2013). His New Wave colleagues had dominated these intervening years, with Godard premiering his tenth and eleventh features by 1966, Chabrol his twelfth, and Truffaut his fifth.
By the 1970s, Rivette would reach international acclaim and his first feature reveals itself as an early template of the ideas and motifs which would be used to greater effect later on. The idea and mechanics of rehearsing theater, for instance, as evidenced by the on-going production of an offbeat production of Shakespeare. Early on, an actor is censored for his 'performance,' his director adamantly asserting "Theater's not an illusion – it's reality!" At all times, we should be aware of the actor 'playing' the part, which causes considerable difficulties outside of the theater since we don't have a roadmap to decipher what everyone's 'playing' at. Hence, Rivette's other favored theme, the clandestine conspiracists, where (usually) some secretive organization is up to some kind of nefarious, vaguely determined plot.
What's most problematic about Paris Belongs to Us is its running time—at two hours and twenty minutes its endlessly labyrinthine, those cloaked conspiracies eventually seeming too ponderous and tedious. Compared to the legendary and consistently bizarre energy of the much longer Out 1, Rivette's first film seems more an approximation of similar ideas. But as a philosophical exercise in contradictions, it's often a compelling puzzle, beginning with its opening epigraph from French essayist Charles Peguy, "Paris belongs to no one." Likewise, many of these characters are oxymoronic, including Rivette's female perspective narrative (a novelty considering the period, but an angle marking many of his films).
Someone is described as "a walking anachronism," but they may as well be referring to the determined yet consistently undermined Alice. Rivette's casting would eventually reveal itself to be tantamount to his productions, and lead Betty Schneider (reminiscent of Michelle Williams, she would appear on screen only once more following this title) isn't the equivalent of later female muses such as Bulle Ogier, Juliet Berto, Bernadette Lafont, or Sandrine Bonnaire.
Sandwiched between her demeaning older brother ("mixing with geniuses is bad for you," he concludes as they watch a private screening of Fritz Lang's Metropolis) and her skittish love interest Gerard, Rivette seems to be riffing on the extreme paranoia of the era—where one seeks signs of conspiracy, one will find them. Considering the title's playfulness (Anne and Gerard flirt via Moliere quotes, after all), Rivette descends into startling disillusionment by the final frames. But no matter the outcome, the show, like life, must go on no matter what.
Disc Review:
Criterion's 2k digital restoration features an uncompressed monaural soundtrack. The audio is consistently first rate, though not all sequences were able to be completely restored (as indicated in a sequence with Anne and Gerard during a conversation by the Seine). DP Charles L. Bitsch would only serve as cinematographer on one more feature before becoming graduating to AD and eventually director, but his work here can't quite mask the shoestring budget which caused significant delays in production. As a rough portrait of late 1950's Paris, the feature does include several roving sequences, but most of the film seems locked in static interactions. But a couple of noteworthy extra features are available for enhanced viewing.
Richard Neupert Interview:
Criterion recorded this 2015 interview with Richard Neupert, professor of film studies at the University of Georgia and author of A History of the French New Wave Cinema. In this twenty-five minute segment, he discusses themes and lasting importance of Rivette's debut, including the auteur's towering reputation in French cinema despite many being unfamiliar with his filmography.
Le coup de berger:
Excitingly, Criterion includes Rivette's 1956 short film, Le coup du berger on this disc, which he filmed just prior to commencing work on his feature debut. Co-written by Chabrol, who stars alongside fellow luminaries Jean-Luc Godard and Francois Truffaut, the twenty-nine minute film finds an adulterous wife (Virginie Vitry) trying to figure out how to explain a mink coat, a gift from her lover, to her husband. Jean-Claude Brialy, who also appears in Paris Belongs to Us, also stars. Not to be missed.
Final Thoughts:
Though it's not ultimately as durable as Rivette's most iconic titles, Paris is Burning is a must for the auteur's fans. One can only hope this auspicious restoration will result in more of Rivette's undistributed titles to resurface.
Film Review: ★★★/☆☆☆☆☆
Disc Review: ★★★★/☆☆☆☆☆