Disc Reviews
2 Films by Agnes Varda Starring Jane Birkin | Blu-ray Review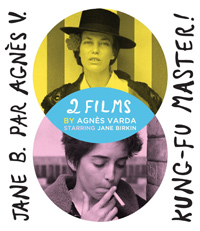 One of the best double features you could treat yourself to this year would be a back-to-back viewing of two Agnes Varda films starring Jane Birkin, rescued from obscurity in 2015 thanks to Cinelicious Pics. Both released originally in 1988, the imaginary bio-pic Jane B. Par Agnes V. and the provocative fictional narrative Kung-Fu Master! are available on a lovingly restored disc set (as the playful Venn diagram cover art implies, the titles are more inextricably connected than initially seems apparent). Both titles received a theatrical release at New York's Lincoln Center, followed by a VOD release.
Jane B. Par Agnes V.
A playful exploration of the multi-faceted actress, singer, and icon Jane Birkin as she balances career choices and motherhood long after the initial scandals that brought her international attention. Filmed in tandem with their other collaboration, the fictional narrative Kung Fu Master!, both titles were released theatrically in 1988 when presumably one grew out of the other, though it's difficult to tell which origination came first. Proclaimed to be an imaginary bio-pic by Varda, we glimpse candid interview footage strewn throughout a mixture of playful moments and pretend reenactments. Footage from their other film is included, only here it's being presented as an idea the actor and director are just fleshing out, not something already completed. Though they're stand-alone projects, both titles are also thrillingly symbiotic, sometimes unexpectedly so.
Birkin's notable relocation to the more enlightened attitudes of France is explained more or less as due to her demeaning portrayal in the media for daring to go topless in a sequence from Antonioni's Blow Up (1966). Dumping the jumbled mess of items from her purse as she sits atop a stone stairway, Birkin laughs. "When you show it all, you reveal very little," she concludes. And so it's true, for we begin to learn as Varda ruefully plays with expectations, one can't claim we get to know very much about Birkin at all, other than basic facts one already knows from the tabloids (but intimate details about famed relationships to composer John Barry, singer Serge Gainsbourg, and director Jacques Doillon remain discreetly out of bounds, though the last two make appearances in the flesh).
At most, it's interesting to see Birkin just 'playing' herself, as it's a breathy persona of enunciation and magical cheeriness that daughter Charlotte Gainsbourg reconstituted for herself in a more melancholy vein. As the actress discusses different directors' techniques, Varda abandons a straightforward approach and takes a direct departure into her passion for reflected images (and sticking mirrors in the middle of nature), daring Birkin to look into the camera lens, something the actress isn't comfortable with, even for photographs. "It could be a trap."
The same statement can apply to the complicated deconstruction of these two films. To unravel the where and when of Kung Fu Master! is probably about as meaningful as arguing the egg or the chicken, but worth deliberating since Agnes and Birkin seem to be playing with notions of multiple truths. Varda prepares written sequences for Birkin to perform, opposite acknowledged actors Philippe Leotard and Jean-Pierre Leaud (who Birkin states she prefers outside of his work in classic French New Wave films because he since acquired a displaced quality she prefers).
Actor and director seem intent on satisfying each other's whims, and a late staged sequence finds Varda filming Birkin as she plays Joan of Arc, a role she wishes she could realistically portray but cannot due to her accent and British heritage. "You could be dubbed," Varda happily suggests. Instead, they stage a dramatic, fiery scourge for Birkin/Joan, whose screams of anguish give way to the bookend sequence of the actress dressed up as a poverty stricken maid in a painting they've also chosen to visually portray. Sadly, Birkin relates her feelings on the eve of her 40th birthday, proclaiming those anniversaries ending in the 0 are the hardest.
Candid and eloquent, tears are brushed aside as she's showered with flowers, gifts, and birthday wishes, wrapping what stands as a beautiful and unique homage to a woman whose lasting legacy is so much more plentiful than the prominent high end bag French manufacturer Hermes named for her. As directed by the incomparable and still undefinable Agnes Varda, it's a complex and playful portrait unspooled on a moving canvas.
★★★★½/☆☆☆☆☆
Kung-Fu Master!
Invariably, most conversations concerning Agnes Varda, the sole female auteur amongst the prized clutch of men whose names project like immortal pillars from the fog of the Nouvelle Vague, reference her two most renowned titles, Cleo From 5 to 7 (1962) and Vagabond (1985). But in-between and after these two iconic moments from her filmography lies a sea of titles waiting to be re-discovered (a recent disc-set from Criterion's Eclipse series several weeks ago was a first step in exploring her more obscure works).
Boutique distributor Cinelicious Pics continues in this vein with two digital restorations of Varda's from 1988, both inextricably linked via star Jane Birkin (after a theatrical bow in New York, both titles will move on to Los Angeles). The more textually subversive of these is Kung Fu Master!, a sympathetic tale of doomed love between a 40-year-old woman and a 15-year-old boy made all the more significant for its saturation of actual interconnected families involved with the making of the film.
Mary-Jane (Birkin) meets the young boy Julien (Mathieu Demy) at a birthday celebration for her daughter Lucy (Charlotte Gainsbourg), a class-mate of his. He's consumed too much alcohol and needs help making himself sick in her bathroom while she tends to the needs of her younger daughter, Lou (Lou Doillon). Dismayed at his irresponsibility, she's fascinated by the young boy, and finds herself lingering near her daughter's school to catch a glimpse of him. As fate would have it, she nearly runs him over, and after bringing Julien to an arcade where he teaches her all about the joys of his favorite video game Kung Fu Master!, the two find a reason to keep interacting, whether or not Lucy is around. Eventually, Julien makes a boundary crossing motion that Mary-Jane surprisingly welcomes, and much to the chagrin of (nearly) everyone around them, they embark on an affair.
With the just the touch of melancholy and wistful longing, Varda skirts around controversy afforded similarly themed films throughout cinematic history, where titles like Louis Malle's Murmur of the Heart (1971) or Bertolucci's Luna (1979) benefited or sank from the substantial furor surrounding explicit depictions of incest and intergenerational romance (otherwise known as statutory rape to the English, as Gainsbourg points out here).
Jane Birkin, perhaps the most famous of cinematic expatriate icons, is quite believable as a lonely, isolated woman whose curiosity for the young boy's attention allows for this taboo affair to transpire. It's not so much sexual desire, something Varda's film leaves to the imagination, but more the fascination and innocence her Mary-Jane is attracted to.
In the decades since this, several films have tread over similar interactions, like Nicole Holofcener's Lovely and Amazing (2001) and Gary Winick's Tadpole (2000). The actors playing her daughters in the film are the real life offspring of Birkin—Charlotte Gainsbourg (whose father is singer Serge Gainsbourg) and a very young Lou Doillon (the model/actress daughter of director Jacques Doillon). And, perhaps most curious of all is the young Mathieu Demy, son of Varda and director Jacques Demy, engaged in the portrayal of very sensitive subject matter (something Coppola and Argento would both be criticized heavily for when featuring their daughters in graphic sequences of a sexual nature) presented, arguably, as tastefully as possible.
Also known as Le petit amour, the film premiered in competition at the Berlin Film Festival, and since sank into oblivion. Filmed by DoP Pierre-Laurent Chenieux (more often a camera operator, but in his own notable list of cinematography credits he also lensed Varda's Jane B. for Agnes V. right before serving as DoP on Zulawski's filmed version of Hungarian opera Boris Godounov in 1989) captures a distinct mixture of teenage angst and suburban malaise in Varda's winning mix of discomfort and innocent fantasy. It's with great pleasure to see the title available for consumption once again.
★★★½/☆☆☆☆☆
Disc Review:
The two-disc set features both titles in their new, 2k restorations, approved and supervised by Varda herself. Picture and sound quality are both pristine, and as a relatively new distributor, Cinelicious makes itself an immediately notable new label with this release. Included in the set is a new essay by Sandy Flitterman-Lewis, and a print interview with Varda conducted by Miranda July, as well as bonus feature interview on each disc.
Agnes Varda Interview:
A new twenty-one video interview with Agnes Varda, conducted in Los Angeles by Dennis Bartok in October, 2015 finds the auteur discussing her introduction and collaboration with Jane Birkin. Conducted in English, Varda discusses how she wanted to invent a beautiful lie as a portrait of Birkin. The second segment, also featuring Dennis Bartok, focuses on the making of Kung-Fu Master!, and is a bit longer at twenty-five minutes in length. Varda discusses how they stopped filming Jane B. to film Kung-Fu in the summer of 1987 due to French laws regarding child actors.
Final Thoughts:
Varda fans should have further cause to rejoice (following the 2015 Eclipse series box-set of Agnes Varda in California), the Nouvelle Vague auteur proving a particularly intoxicating combo with iconic Jane Birkin as her muse. Playful, innovative, and inspired, these later period Varda titles are lovely, daring, and enchanting.
Disc Set Review: ★★★★½/☆☆☆☆☆