Criterion Collection: The Color of Pomegranates | Blu-ray Review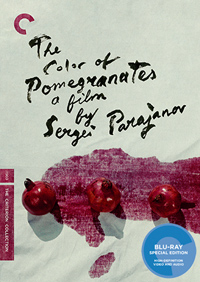 It's difficult to approach Sergei Parajanov's 1969 masterpiece The Color of Pomegranates without the permeation of the troubled history of both its reception and its filmmaker. A suppressed jewel of Soviet Cinema, the mystically imagined biopic of eighteenth-century Armenian troubadour Sayat-Nova is stuffed with folk symbolism. In contemporary terminology, Parajanov's approach would most likely be labeled as an art-house fever dream, an idiosyncratic (or esoteric) challenge to conceptions of linear, biographically inspired cinema. Parajanov's signature title wasn't available outside of the Soviet Union until 1983, which also saw the resurrection of Parajanov's career as a director. Banned upon its initial release for failing to embrace Communist values and labeled Anti-Soviet (even with a further edited version presented by Sergei Yutkevich in 1969), its misunderstood poetry was confused for politics. By 1973, Parajanov himself was sentenced to five years in prison thanks to his rebellious artistry and sexual orientation.
"I am the man whose life and soul are torture," is one of several reverberating verses hanging over the vibrant frames conveying eighteenth-century Georgia. The crimson juice of the titular fruit bleeds over a map of Armenia and thus begins a vivisection of images reformulating works of art and various rituals as Sayat-Nova grows from a young man into the esteemed poet known as King of Songs.
The Color of Pomegranates displays the same effusive free-spiritedness as experimental filmmakers like Derek Jarman or Kenneth Anger, who Parajanov is oft compared to. But tonally and aesthetically, Parajanov plays like an exoticized, elder cousin to Pasolini's famed Trilogy of Life, which included rustic reexaminations of Chaucer's Canterbury Tales, Arabian Nights, and The Decameron. Where Parajanov receives the most notable Jarman comparisons is through his use of Georgian actress Sofiko Chiaureli (who would appear in Parajanov's The Legend of Suram Fortress and Ashik Kerib), displaying a striking variety of androgynous characterizations, portraying Sayat-Nova as a young man, as well as his love, muse, mime, and Angel of Resurrection.
The film's tableaux is likewise inspired by a number of Armenian paintings, which Parajanov recreates in striking dimensionality. Sans plot or dialogue, more than one viewing is perhaps necessary to discern Sayat-Nova's rise to prominence, born in 1712 Georgia as a carpet weaver who became an archbishop and eventual martyr. A famed minstrel who attempted to woo the king's daughter, he was eventually exiled. However, the visual tapestry of The Color of Pomegranates, set to the spoken poetry of Sayat-Nova, is what makes it unforgettable as a surrealist anomaly.
Disc Review:
Criterion presents The Color of Pomegranates as a new 4K digital restoration, in 1.37:1 with monaural soundtrack. Picture and sound quality are mightily attenuated in this gorgeous transfer (the digitally restored version was part of the 2014 Toronto International Film Festival). The disc arrives with a number of extra features in this first of Parajanov's titles to arrive at Criterion.
The Color of Armenian Land:
Mikhail Vartanov directed this obscure seventeen-minute documentary from 1969 which features footage of Parajanov during the making of The Color of Pomegranates.
Redefining Cinema:
Film scholar James Steffen is on hand for this eighteen-minute interview from 2017 with Criterion to discuss the making of The Color of Pomegranates and how it reflects Soviet Cinema as well as redefines notions of film as medium.
Decoding The Color of Pomegranates:
The Criterion Collection produced this 2017 video essay from film scholar James Steffen, who offers a close reading of symbols and references in this forty-two-minute segment.
Sergei Parajanov – The Rebel:
Both Parajanov and actress Sofiko Chiaureli are featured in this fifty-one-minute documentary from 2003 which explores the work of the auteur.
The Life Sayat-Nova:
This twenty-six-minute program, which aired on the TF1 program "foi et traditions de chretiens orientaux" in 1977, details the life of poet Sayat-Nova.
The Last Film:
Martiros M. Vartanov directed this three-minute experimental short in 2015 as a stylistic tribute to Parajanov and Mikhail Vartanov.
Final Thoughts:
Although familiarity with Armenian culture and folklore allows for a greater appreciation of The Color of Pomegranates, Parajanov's once lost classic is a singular cinema experience of minstrel culture from a specific locale/period, as well as a testament to its auteur's visual acuity.
Film Review: ★★★★/☆☆☆☆☆
Disc Review: ★★★★/☆☆☆☆☆