Disc Reviews
Criterion Collection: The Ballad of Narayama | Blu-ray Review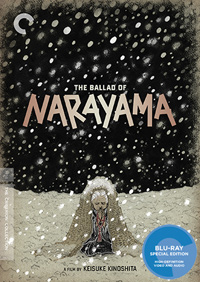 Keisuke Kinoshita's 1958 classic The Ballad of Narayama gets the Criterion treatment, an experimental film featuring the use of one of Japan's signature cultural styles, Kabuki Theater, despite its cultural popularity still on the wane post-World War II. But with its exaggeration and extreme stylization, Kinoshita taps into the tragic, melancholy heart of this fable concerning abandonment of the elderly as a socially sanctioned tradition of necessity, as developed by poverty stricken ancestors.
Based on a novel by Shichiro Fukazawa, a subsequent adaptation from new wave Japanese auteur Shohei Imamura was released in 1983, a more horrific and grisly treatment of the source text. But Kinoshita's kabuki opera, with its grand flourishes and over the top nature still manages to touch on the horrors of inhumane practices, made all the more powerful with a moving lead performance and the haunting score and narration, reminding us constantly of impending death and demise at nearly every frame. Forget Amour (2012), Kinoshita's examination of Obasute (the practice of abandoning the elderly) takes the prize for merciless depiction of condoned geriatric abuse.
In a remote mountain village, where food is scarce and tradition dictates the daily lives of its citizens, those that reach their seventieth year of life must be carried to the summit of Mount Narayama, left there to die, but be blessed by the god of the mountain for their sacrifice. In her sixty ninth year, Orin (Kinuyo Tanaka) is an elegant and dignified member of the community, already prepared for what lies in wait for her next year. Her main concern is to secure her widowed son Tatsuhei (Teiji Takhashi) with a local widowed woman of the same age, Tama (Yuko Mochizuki), both of whom seem reluctant with the thought of abandoning the gracious Orin as per the cruel custom dictates.
On the other hand, Orin's contemptuous grandson, Kesakichi (Danko Ichikawa) and his pregnant and lazy girlfriend Matsu (Keiko Ogasawara) gleefully anticipate the disposal of grandma Orin. In fact, Kesakichi has invented a morbid ditty about Orin, criticizing the fact that the old woman still retains a full set of teeth, signifying that she consumes too much food for her advanced age. Embarrassed at this, and with a whole village singing about "Orin and her set of thirty three demon teeth," she gouges them out as one of the last preparations for her death journey, so she may eat less in her remaining days and look appropriate when she meets the mountain god. Conversely, the patriarch of her neighboring family, Mata (Ryutaro Tatsumi) has refused to take the journey to Narayama and has been kicked out of his home by his son, his presence an aggravating burden on the community, and a portrait of what may befall Orin if she were to stay. While the community also takes cruel retribution on a family that is discovered to have been stealing from the denizens of the village, the upcoming winter sees less food for her family, and with her great grandchild on the way, even Orin's reluctant son comes to accept that the time has come to carry her to the summit.
Opening with a traditional Kabuki introduction, whereby a masked individual announces the nature of the tale we're about to witness, Kinoshita delivers a spectacularly exaggerated surreal fantasy, one that begins as a quietly beautiful dream but soon mutates into a morbid nightmare. The glowing pink skies and the lurid yellow moon often serve to remind us of the explicit staginess of the production, yet Kinoshita, with his regular cinematographer Hiroyuki Kusuda, display some glorious scene transitions, their craftsmanship dissolving the distraction caused by the notable theatricality of the production. Green neon lit inquisitions followed by a screen that nearly bleeds red after an atrocious group slaying, the visual sequences in The Ballad of Narayama are extraordinary, to say the least. Orin busting out her teeth, blood running out her maw as she momentarily crashes the yearly mountain festival to show her son her self inflicted dental work and announce the arrival of his new wife, heralds the darker deeds yet to come.
While not all of Kinoshita's exaggerated styling blend into the mix, particularly a grating, over the top performance from Danko Ichikawa as the ungrateful grandson, Kesakichi, The Ballad of Narayama never feels melodramatic or forced. Nor does Kinoshita feel judgmental or critical of the people he's depicting, only showing a scenario that's overwhelmingly difficult to comprehend, which may be why he includes actual location footage of a train stopping at what was once an abandonment site in the final frame, connoting that modernization and industrialization may have changed traditions but we cannot ignore what came before.
Disc Review:
Criterion's Blu-ray edition features a new 2K digital transfer from a 2011 restoration, and the film looks absolutely fantastic. However, despite including an essay from Philip Kemp, a teaser and original trailer, the package is devoid of any additional special features, which seems unprecedented for a new Criterion title. Since Imamura's 1983 film version of Narayama is the more widely acknowledged by Westerners, we should be thankful for resurrection of this version, but it's surprising that nothing extra is included here. Didn't any film scholars want to talk about Kinuyo Tanaka, who actually became the first female Japanese director (and who died before the age of 70)?
Trailer and Teaser
An original trailer and teaser for the film both explicitly highlight Kinoshita's "unconventional sound stages" and cinematography in this "astonishing tale" that is "a fervent prayer for all people." It's interesting to note that the original marketing depends heavily on Kinoshita's experimental techniques, cited as "dynamic" and "ethereal" in tale that's "merciless in the extreme."
Final Thoughts:
When Orin's fateful journey begins, we start to notice the fluttering of wings just out of frame. Of course, once Tatsuhei arrives with his mother at Narayama we soon realize an abundance of crows pecking at the bleached bones of multitudinous corpses, a horrific site of death and decay that tears at his heart. It's a brilliant, unforgettable sequence, made even more heart wrenching when he briefly turns back after an altercation with Mata and his son, as the snow starts falling heavily and Orin is huddled all alone under a thick blanket of snow. While she was only in her fifties during The Ballad of Narayama, acting icon Kinuyo Tanaka anchors the proceedings as the seventy year old Orin with her dignified, subdued performance. Her fate becomes an unforgettable fable in Kinoshita's beautifully moving classic, in a film that features what dreams (and nightmares) are made of.