Disc Reviews
Criterion Collection: The Before Trilogy | Blu-Ray Review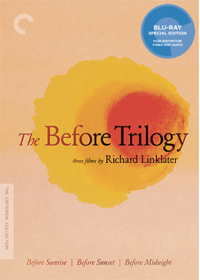 The cornerstone of Richard Linklater's filmography (no, not Boyhood) finally assumes a space in the Criterion Collection, the auteur now proliferating the label with his Before Trilogy, which joins several of his standalone titles. The triptych of films famously follows the decades spanning romantic development between two heterosexuals who live in opposite countries, an American man and a French woman. Their amiable conversations dictate a generally convivial mood and delectable cinematic discourse as we chart their interludes through three separate decades and distinct chapters of their lives, and together represent a more cohesive narrative on the effects of time and familiarity than Linklater's other, more decorated project obsessed with capturing the ravages and developments of humans subjected to the inevitable passage of time.
Before Sunrise begins appropriately enough as the main credits scroll over the rapid movement of train tracks, an indication of time having the ability only to move forward. Traveling American Jesse (Ethan Hawke) meets Frenchwoman Celine (Julie Delpy) by coincidence, when she abruptly shifts seats on a train following a German couple's tense argument. They laugh, neither of them speaking German well enough to surmise the cause of the kerfuffle, instead observing (perhaps forebodingly) "as couples get older, they lose their ability to hear one another," in a gendered argument for heterosexual couples explaining how men lose the ability to discern higher pitches.
They flirt casually and exchange niceties. He's reading All I Need is Love, the autobiography of Klaus Kinski, and she's reading a collection by Georges Bataille, the French forefather of erotic, softcore fiction. Their cultural differences provide a number of amusing exchanges, including, despite having spent four years in high school learning French, Jesse's inability to speak a foreign language fluently. In a moment of spontaneity, he invites Celine to stop off in Vienna where he will be forced to spend the night perambulating until he will catch a flight home in the morning, and the two of them explore the sights and sounds of the city sharing memories and dreams for the future.
Nearly a decade has passed when we revisit Celine and Jesse in Before Sunset (2004), who had vowed at their last meeting to meet again in six months. However, the meeting never transpired thanks to the passing of Celine's grandmother, forcing her to abstain from the rendezvous. In the interim, Jesse has become a successful author thanks to a novel he published documenting their romantic evening in Vienna and fathered a child with a wife he doesn't seem to love. The last stop on his book tour is Paris, and hours before his flight back home, he reconvenes with Celine, and despite having developed and honed their personalities, the attraction between them is still potent.
In 2013, we revisit Jesse and Celine, beginning with his goodbye to his now teenage son, who is heading back to New York after visiting with his dad, step-mom and twin half-sisters as they vacation in Greece. Wracked with guilt over not being able to spend time with his son, a suggestion to Celine about leaving Paris for Chicago ends up unsettling the couple's already uneasy reverie, exploding into some hard truths about how they actually feel about themselves and their marriage.
It's hard to believe Before Sunset was Linklater's third feature, following 1991's Slacker and his 1993 breakout hit, stoner comedy Dazed and Confused. Capturing an effervescent mixture of the mid-90s, it's a striking, authentic observation of two people experiencing a romantically charged connection which would come to erode and inform the shape of their future. What's more amusing to note are the moments in their first exchange where we can see troubling aspects of their personality which will become evident in the scenario of Before Midnight nearly twenty years later. Already, Linklater displays his fascination with watching 'time,' evidenced by Jesse's fantasy of a yearlong television program which is on twenty-four hours a day, each segment following a different person's day in completion. Celine's more militant personality seems manageable here, a woman intent on exposing the significant slights of the world (her observation on media as 'the new fascism' is now a priceless tidbit).
Although snagging Linklater and co-writers Hawke and Delpy scored an Oscar nod for Best Adapted Screenplay on the sequel (a distinction they also received on Before Midnight), this middle segment ends up being the least invigorating. Hawke's introduction on his book tour is used as a convenient framework to catch us up on what happened, but even with a slight running time of only eighty minutes, Before Sunset feels a bit less substantial. Jesse and Celine play less easily off one another, their interactions clouded by adulthood, responsibility, etc.
The thrust of this segment is similar to Volker Schlondorff's recent Return to Montauk, which documents the same styled reunion between an author's book tour reuniting lovers from different countries (though is less successful in generating sincerity). Celine, who describes herself as "an angry manic-depressive activist" steals the scenario when she performs a song she'd written expressing her feelings on her memorable night with Jesse, which is a segue for a conversation on Nina Simone, and then the credits roll just as Before Sunset begins to explore these characters outside of the burden of their history.
It seems Jesse (Ethan Hawke) really missed that plane back in 2004, and left his wife back in the US to pursue a relationship with Celine (Julie Delpy). Unfortunately, the mother of Jesse's child still has custody, and we pick up the story with Jesse saying goodbye to his teenage son at the end of a family vacation in Greece, where father makes guilty goodbyes to nonchalant son. Leaving the airport, Jesse and Celine still have some short time left in Greece (they live in Paris), and so they return with their twin daughters to their Greek hosts for one last dinner. On the way, Jesse muses about possible future plans of being closer to his son, setting off a rankling discussion that weaves its way throughout the remaining narrative. Their Greek friends, (including director Athina Rachel Tsangari in the role of Ariadne), treat Jesse and Celine to a final private evening together by purchasing them a hotel nearby. Once there, the couple's initial drifting into romantic and sexual inclinations is quickly thwarted by real life issues and conversations that have currently faced the couple, resulting in an arduous bout of emotional outbursts.
Clearly, Before Midnight is the final frontier of the mystery sustained in Linklater's first two films, where we wondered, would these two individuals finally have the chance to get together? And clearly, what makes this latest venture the most potent is that fact that cold, hard reality has finally set in for Jesse and Celine. Still passionate, intelligent and vivacious people, they've built a family together and have since become weary parents, with domesticity blurring and blinding romance, sex, and more often than not, a general sense of positivity towards one another.
As wonderful as it was to watch the decade long passion the two held for each other, Linklater sails us past their honeymoon period to the doldrums that every long term relationship encounters. And since we cherished and maybe related to their growing feelings for one another, our upset at their raw and realistic current state is all the more excruciating. We know why they got together, but do we know why they continue to stay together? Before Midnight is filled with the signature smart dialogue, once again written by Linklater, Delpy, and Hawke, and those gloriously long uncut takes of walking and talking we've loved from the other films. But never before have we seen the pair in the unadulterated, merciless bickering as in the final act, where finally, we may have the nerve to want to look away.
Here Linklater utilizes DP Christos Voudouris (ALPS, 2011) instead of Lee Daniel, who served as cinematographer on the previous films and with whom he usually collaborates. While the look and locale have changed once more, the result feels like a logical continuation of the same, with faces and feelings wearied by the obdurate onslaught of time. Of course, it goes without saying that Hawke and Delpy are in top form here, and have, to their credit, given us one of the best trilogies in American cinema.
Disc Review:
Criterion presents newly restored 2K digital transfers of Before Sunrise and Before Sunset, while Before Midnight is a 2K digital master. The director approved boxset presents each title in 1.85:1 with 5.1 surround DTS-HD Master Audio. Needless to say, Criterion remains unparalleled in their restorations of art-house cinema and this Linklater trilogy is a masterful addition to the collection, especially the restorations of the first two chapters, with DP Lee Daniel's sun-dappled frames of Vienna and Paris. A bevy of special features accompany the three features.
The Space in Between:
Criterion recorded this conversation between moderator Kent Jones and subjects Richard Linklater, Ethan Hawke, and Julie Delpy filmed in New York in 2016. The forty-three minute segment finds them sharing memories and clips from the films, including how Before Sunrise was jokingly referred to as the lowest grossing film to spawn a sequel, while Delpy shares how her agent tried to convince her she was wasting her time by making Before Sunrise and its two sequels.
3X2 – A Conversation:
Writers Dave Johnson and Rob Stone (both published books on the director) explore Linklater's themes in The Before Trilogy and the rest of his filmography in this forty-minute conversation.
Behind the Scenes – Before Sunset:
This brief six minute feature is a behind-the-scenes snippet from Before Sunrise.
Richard Linklater – Dream is Destiny:
Louis Black and Karen Bernstein produced and directed this eighty-six minute documentary from 2016 for the PBS series American Masters, which is an intimate look at Richard Linklater's early filmmaking career.
Linklater – On Cinema & Time:
This feature's quote from kogonada sums up the ambitions of Linklater's works, the essence of which "is found not on the surface of his films, in visual style or signature shot, but rather in their DNA." The eight minute video essay from kogonada of Sight & Sound explores these themes.
Behind the Scenes – Before Sunrise:
Nearly ten minutes of behind-the-scenes footage features Linklater and cast exploring their characters nearly a decade later since the first film.
After Before:
Director Athina Rachel Tsangari, who produced and starred in Before Midnight (she also appeared in Linklater's 1991 debut Slacker) shot this thirty minute documentary on location in Greece during the film's production.
Love Darkens and Deepens:
This forty minute episode of the radio program Fresh Air finds Terry Gross interviewing Linklater, Delpy, and Hawke about the film, which originally aired May 30, 2013.
Final Thoughts:
This contemporary time-limited and defined romance spanning three features and nearly twenty years' worth of planning and preparation on the part of its director and two lead actors is what ranks Linklater as an essential American auteur.
Film: ★★★★/☆☆☆☆☆
Disc: ★★★★½/☆☆☆☆☆
Before Sunset
Film: ★★★½/☆☆☆☆☆
Disc: ★★★★½/☆☆☆☆☆
Before Midnight
Film: ★★★★/☆☆☆☆☆
Disc: ★★★★½/☆☆☆☆☆