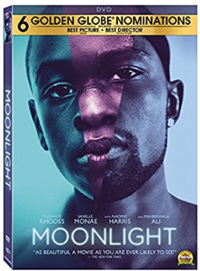 Following the most bizarre awards show snafu ever, (after presenters Warren Beatty and Faye Dunaway flubbed the Best Picture honor when they announced the wrong film), Barry Jenkins' celebrated sophomore film Moonlight became the Best Picture Academy Award winner for 2016. Beating the odds by taking home the highest honor in English language filmmaking, the indie title usurped Damien Chazelle's predicted darling La La Land, a contemporary musical which has been neck and neck with Jenkins film since they both premiered on the 2016 Fall Film Festival circuit, and often unfavorably cited in comparison regarding box office profits (Jenkins competed in the Toronto International Film Festival's Platform program while the film has taken in over twenty-two million as a domestic gross). Much like the struggle for this black queer perspective to get made in the first place, its subsequent reception, including the unprecedented celebration and recognition which allowed for it to be the first bona fide LGBT narrative to win Best Picture, the final stop on its journey getting there was treated to a fitting metaphor depicting such struggle in the face of an old, archaic system which historically only honored white heterosexual stars and their white heterosexual stories.
It's been eight years since indie filmmaker Barry Jenkins debuted his exceptional directorial debut, Medicine for Melancholy (2008), a twenty-four romance between two heterosexual black twentysomethings in San Francisco, representing opposing ideologies on the construction and notion of 'blackness' in a large American city with a notably low percentage of black people. For those outside the LGBT community and its sympathizers, something like Moonlight probably sounds like a film automatically destined for the dreaded 'niche' audience categorization, an assumption which is merely an affront to the significant dramatic achievement Jenkins has accomplished here. Since cinema's inception, the seventh art has been formulated for the consumption of a heteronormative status quo dominated by white representation—anything outside of such confines is expected to defer to an idea of 'universality,' where anything specifically defining or outlining characteristics of the 'outsider' automatically relegates them as threatening.
The representation of gay black men on screen remains a significantly tortured one, especially for items managing to live beyond a queer film festival circuit. Notoriously, black communities ignore or dismiss gayness (creating a continuing and problematic 'down-low' mentality), while the gay community continues to fetishize, exploit, and denigrate people of color by marking their skin tone as either a 'preference' or a detraction as a possible sexual partner (an issue unexplored by Jenkins, but important to note as another barrier in allowing black gay characters room to breathe on screen).
We need look no further than recent comments by Nate Parker and his public refusal to ever play a gay character (echoing sentiments made by Will Smith and his Six Degrees of Separation character over twenty years ago). To be gay is to emasculate and, therefore, render as non-threatening to a white majority, which embraces popular drag personas flaunted by Tyler Perry and Martin Lawrence, or kitschy flamboyant sidekicks like the ones popularly portrayed by Meshach Taylor in Mannequin (1987) or Nathan Lee Graham in Zoolander (2001). Again, this is merely a preface outlining a systematic absence of certain representations in favorable cinematic realms, and whatever detractions one may provide as evidence to critique Moonlight, the film is undoubtedly a galvanizing characterization as thought provoking as it is compelling, as heartbreaking as it is hopeful—and for many others, too close to home.
Jenkins adapts the film from a short play by Tarell Alvin McCraney, In Moonlight Black Boys Look Blue, and its examination of Liberty City during the 1980s crack epidemic begins on an emotionally potent note in its first segment, "Little," so titled for Chiron's unfavorable nickname granted by other boys at school. Initially, the film's focus seems to be Mahershala Ali's Juan, a kindly neighborhood crack dealer who becomes a temporary father figure for the innocent young boy (a wide-eyed Alex R. Hibbert). A likeable turn from Janelle Monae as Juan's emotionally generous girlfriend is also best showcased here, particularly in a sequence where Chiron inquires what the word 'faggot' means in a gentle but powerful dialogue.
Naomi Harris as Paula steals most of the attention away from the more subtle supporting cast members as an abusive crack addict mother, the kind of showcase which tends to attract awards glory. But by the second segment, "Chiron," there's no question who the story is about, and it's here where DP James Laxton makes the most notable use of lighting (something significant to the visual language of Jenkins' last film) with a defining moment on the beach in the moonlight, where Chiron (now Ashton Sanders) shares a rite of passage, so to speak, with his school crush Kevin (Jharrel Jerome). It's a quiet and beautiful coming-of-age moment, textured sand on skin recalls the sweat soaked ash on the lovers in Resnais' WWII drama Hiroshima, Mon Amour (1959).
However, easily the best chapter is the last, titled "Black," for Chiron's new identity (now Trevante Rhodes). Having been committed to a juvenile institution, he and his mother later move to Atlanta where he rebuilds his identity, modeling himself after early father figure Juan, becoming a muscle bound drug dealer who has fallen short of his potential. Until he receives a surprise call from Kevin (now Andre Holland), a chef back home, explaining a stranger had come into the restaurant and played a tune on the jukebox which stirred old memories. Chiron returns for a visit, an intense reunion which is played magnificently by Rhodes and Holland (particularly Rhodes, who successfully conveys the sensitive young man lurking beneath the hardened façade), incredibly meaningful glances and shifting body language relaying the information their dialogue simply cannot bridge. When Kevin gets around to playing Barbara Lewis crooning "Hello Stranger" on the juke, it allows Moonlight all the romantic splendor and energy of something as significantly sad as a Brief Encounter (1945).
Treading a well-grooved path of a denigration all too familiar to gay youths struggling to build a positive identity in a still largely homophobic world, Moonlight may not speak to all audience members equally—but whatever labels you wish to place on it, Jenkins succeeds in conveying the humanity beneath such limitations, with the kind of palpable poetic justice made possible by the potent nature of the moving image.
Disc Review:
A24's Blu-ray package unfortunately already seems a bit outdated, touting the film's earlier Golden Globe nominations. Picture and sound quality in this 2.39:1 widescreen presentation, with 5.1 DTS-HD Master Audio are astute, and there's nothing to qualify as a disservice here. But the importance of the film, as well as the subsequent recognition secured by its accolades also demands a presentation as equally elegant and impressive. Barry Jenkins provides optional audio commentary, and a few extra features are also included.
Ensemble of Emotion – Making Moonlight:
This twenty-one minute feature finds Jenkins and his cast discussing their interpretations of and approaches to Moonlight.
Poetry Through Collaboration – The Music of Moonlight:
In this ten minute bit, Nicholas Britell discusses the film's score and his initial interests/influence in writing music for film.
Cruel Beauty – Filming in Miami:
This five minute extra finds Jenkins and several crew members (including Tarell Alvin McCraney) discussing the filming and setting in Miami.
Final Thoughts:
Jenkins' beautifully realized Moonlight hopefully serves as the notable gateway for more varied perspectives in English language cinema, perhaps stories which push the envelope further by allowing black, queer narratives even greater interiority (and intimacy) in cinematic form.
Film: ★★★★/☆☆☆☆☆
Disc: ★★★½/☆☆☆☆☆