Disc Reviews
Criterion Collection: The Emigrants/The New Land | Blu-ray Review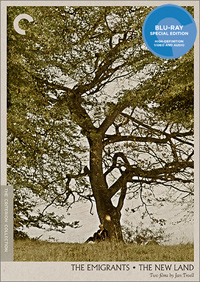 Following last summer's restoration of Swedish auteur Jan Troell's directorial debut Here is Your Life (1966), Criterion presents the director's most notable accomplishment from his most prolific period, the one-two punch of The Emigrants (1971) and The New Land (1972). Though technically released as two distinct features, they are more of a conjoined saga detailing the travails of America's Scandinavian ancestors. Richly attenuated, they're adapted from the celebrated series of four novels by Vilhelm Moberg, Upon a Good Land, hailed as cornerstones of Swedish literature. Until now, these, along with most of Troell's 1970s titles, (who is known best for his 2008 masterpiece, Everlasting Moments) have been largely unavailable, a pity considering the level of achievement and a handful of Academy Award nominations (including a Best Picture nod) between both features. It's difficult to imagine a more authentic depiction of the early immigration experience, narratives which have mostly disappeared from cultural conversations on the subject in a contemporary climate willfully neglecting the reality of America's history as a country of immigrants and exploitation.
The Emigrants is based on Volberg's first two novels, beginning in the Swedish province Smaland, where the Nilsson family resides within Ljuder Parish. Limited amount of time is spent with the Nilsson patriarch, who, following a crippling injury, turns his withering farm over to his eldest son, Karl Oscar (Max Von Sydow). Following his marriage to Kristina (Liv Ullmann) and a quick succession of four children, the Nilsson family finds it incredibly difficult to keep the farm running, even with the help of Karl Oscar's younger brother Robert (Eddie Axberg). As they descend further into debt, the religious authorities are also persecuting many of their neighbors, including Danjel (Allan Edwall) and Ulrike (Monica Zetterlund). After Robert confronts Karl Oscar about selling his share of the farm, the brothers discover a mutual interest in making a trek to America, but Kristina is adamantly resistant until a tragedy befalls their oldest daughter, forcing her to change her mind. And so begins a grueling journey across the Atlantic, including a disease ridden boat where sea-sickness and death plague the group of Swedes joining them. While some have family members they plan to meet, the Kristina and Karl Oscar don't have any definite prospects, and so take up with an elderly couple heading to Minnesota to meet their son who reputedly owns one hundred acres of land.
Liv Ullmann scored her first of two Oscar nominations as the buoyant Kristina (her other being for Ingmar Bergman's Face to Face in 1976), a forgotten tidbit thanks to the Liza Minelli-Diana Ross toss-up in the category. Max Von Sydow didn't receive the same amount of recognition, but his performance is equally laudable as Karl Oscar. Having previously starred together in several Bergman features, most impressively in 1968's Shame, the performers share an indelible chemistry with one another, their journey filled with quietly authentic moments of brave yet ignorant folks making a mad dash across the Atlantic as an escape from the increasing economic and religious suffocation in their native country.
Moberg reportedly was resistant to his novels ever being adapted for screen until he saw Troell's Here is Your Life, which also starred the young Eddie Axberg. Troell also re-teamed (and for the last time) with his previous co-writer Bengt Forslund for the adaptation of the material. The cast also notably consists of Bergman regular Allan Edwall and famed jazz singer Monica Zetterlund (who received her own biopic from Per Fly in 2013) as the redeemed prostitute Ulrika, stealing nearly all her seething scenes.
The New Land picks up in the next logical sequence which ended The Emigrants, with Kristina and their brood being bustled out into the extreme wilderness Karl Oscar has staked out as their homestead. It is within this film where Troell, serving as his own DP, includes more visually experimental moments, particularly in the traumatic flashbacks of Axberg's Robert, who returns mysteriously from California without his simple sidekick, Arvid (Pierre Lindstedt). Likewise, the film also contains an incredibly graphic depiction of violence once Troell reaches the infamous Sioux uprising.
While it's impossible to recognize one film without consideration of the other, watching them in succession feels a necessary endeavor considering the signficiant groundwork transpiring during the tense journey uniquely detailed in The Emigrants. But it's really The New Land which features the most compelling moments, including various conversations on land ownership, the adverse effects of endless child birthing on women, the lure of the California gold rush, the wide-reaching effects of the Civil War, and the increasing antagonism between immigrants and Native Americans. And yet, there's a proud, authentic resilience within these characters making them all the more compelling as they face the arduous realities of a brave new world.
Disc Review:
Criterion rescues another auteur's most important titles for necessary restoration with this release, each presented in their original aspect ratio of 1.66:1. Troell's detailed frames favor landscapes and faces, with notably cascading changes what appears natural lighting (which is what makes the pronounced violence in the latter half of The New Land seem even more gruesome). The remastered soundtrack really impresses, with a myriad of noticeable background commotion out of frame. As usual, Criterion includes unparalleled bonus features.
Introduction by John Simon:
Recorded in October, 2015, this seven introduction from theater and film critic John Simon highlights the importance of Troell's epic portrait of immigration.
Jan Troell:
Film scholar Peter Cowie speaks with Jan Troell at the director's home (recorded in March, 2015) in Sweden for this thrity-five minute segment. Troell reveals his introduction to the material (he hadn't read them when he was first approached by Moberg), and eventual reluctance to take on adapting the material.
Liv Ullmann:
Criterion interviewed Liv Ullmann in October, 2015, and the actress/director discusses her experiences working with Troell for two films she credits as bringing her international acclaim. The twenty-four minute segment was recorded in New York and is presented in English. Ullman describes Kristina as a character she would have loved to be, and recalls the uproar of her casting due to her Norwegian heritage.
To Paint With Pictures:
This hour long documentary from 2005 features volumes of interviews (including Troell, Ullmann, producer and co-screenwriter Bengt Forslund, Eddie Axberg, and composer Georg Oddner) as well as archival footage. Plenty of interesting tidbits shared by cast members, including Axeberg's previous career as a sound technician, along with anecdotes about Moberg's frequent visits on set.
Final Thoughts:
A sometimes neglected Swedish auteur of the post-Bergman era, this resuscitation of Troell's monolithic twin titles should hopefully revive interest in his filmography (including another stellar Liv Ullmann film, 1974's Zandy's Bride).
Films: ★★★★/☆☆☆☆☆
Discs: ★★★★/☆☆☆☆☆