Disc Reviews
Dead Pigeon on Beethoven Street | Blu-ray Review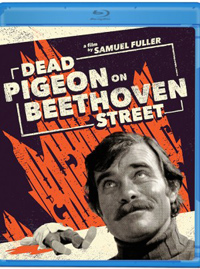 The 1970s was a particularly difficult period for nonconformist auteur Samuel Fuller, a director known for timeless film noirs (Pickup on South Street; House of Bamboo) and offbeat genre (Shock Corridor; The Naked Kiss). Following 1969's Burt Reynolds' headlined Shark (a film Fuller asked his name to be removed from), he wouldn't complete another theatrical feature until 1980's war epic, The Big Red One. In the eleven years between these, he was replaced by Barry Shear on 1973's The Deadly Trackers, and completed two made-for-television ventures. The most notable is 1972's Dead Pigeon on Beethoven Street, which was made for German television in the long-running crime series "Tatort." An ambiguous neo-noir focused on a sarcastic American private eye looking to unearth the German assailants who murdered his partner, it's an irregularly fashioned narrative more playful than thrilling, but retains the hard-edged aesthetic which graced most of Fuller's films.
When his partner is gunned down in West Germany on Beethoven Street, American private detective Sandy (Glenn Corbett) searches for the responsible party. His partner was investigating an illicit syndicate blackmailing an American senator with compromising photographs as he's about to begin a presidential campaign. Identifying one of the agents, an alluring femme fatale named Christa (Christa Lang), Sandy drugs her and attempts to blackmail her to lure her into believing he's perpetrating the same con and obtain access to her boss, Mensur (Anton Diffring), who he holds responsible for his partner's death. But as he begins to work with Christa under false pretenses, he soon finds himself developing unprecedented emotional attachment.
If Dead Pigeon on Beethoven Street happens to feel eerily similar in style to the works of Rainer Werner Fassbinder from the same period it would be thanks to editor Liesgret Schmitt-Klink, who would directly segue to three of Fassbinder's television features, including Martha (1974), Fear of Fear (1975), and I Only Want You to Love Me (1976). Paired with Polish DP Jerzy Lipman (Polanski's Knife in the Water, 1962), the end result is a visually fascinating West German landscape of the early 1970s, with Glenn Corbett (looking like Franco Nero) thrashing an ignorant swath through an alien culture after infiltrating a devious crime syndicate before eventually becoming involved in unlikely romance. The project was also the first collaboration between Fuller and his wife, actress Christa Lang, and one can assume composer Can (who worked on Wim Wenders' Alice in the Cities) helped facilitate a correspondence between the directors, which would result in Fuller's appearance in 1982's The State of Things.
At times, Dead Pigeon feels more like a con-artist romantic comedy than a mystery thriller. The killer of Corbett's partner is revealed early on, so it becomes more of an infiltration game as his P.I. Sandy sets up a fake rival blackmail operation in order to gain access to Christa's nefarious boss, a snide Anton Diffring. Subtitles to translate the decent chunk of German dialogue transpiring on-screen are absent, heightening the fish-out-of-water angle, which plays out comically during Corbett's interactions with the investigating customs officer, Sieghardt Rupp, whose character speaks very little English, leading to a series of interactions featuring questionable communication.
Stephane Audran (who would also appear in The Big Red One) pops up in one sequence as Dr. Bogdanovich (homage to Fuller's relationship with Peter Bogdanovich, since Fuller gave him the idea for his 1968 debut, Targets). Although it's a bit rough around the edges, there are a handful of entertaining moments, generally related to their complicated schemes as they drug foreign officials to photograph them in implied sexual scenarios, topped off with a jocular showdown between Corbett and Diffring, a sort-of swordfight which plays like a metaphor for American vs. European combat tactics.
Disc Review:
Long unavailable, except for intermittent screenings attached to Samuel Fuller retrospectives, the title was recently digitally restored courtesy of the UCLA Film and Television Archive in conjunction with Olive Films. Because of this, one notes a bit of extra zest on this Olive release, which includes a documentary on Fuller as well as an insert essay from Lisa Dombrowski. Presented in 1.33:1 aspect ratio, visual and sound design feel scrubbed, but the optional English language subtitles are definitely recommended based on several interactions enhanced by purposeful miscommunication.
Return to Beethoven Street:
A not to be missed addendum to the film is this documentary from Robert Fischer, which features interviews with Christa Lang-Fuller, Eric P. Caspar, Wim Wenders, Dominik Graf, and Janet Bergstrom, among others.
Final Thoughts:
Corbett's gruff and obtuse Sandy is a throwback to the classic cinematic renditions of private detective noir, and it's easy to see Fuller channeling Sam Spade or Philip Marlowe, though this modernized composite is a bit rough around the edges. An offbeat retro noir, which would have easily secured a hold in the German New Wave had Fuller been a German, Dead Pigeon on Beethoven Street can thankfully step out of neglected obscurity.
Film Review: ★★★/☆☆☆☆☆
Disc Review: ★★★/☆☆☆☆☆