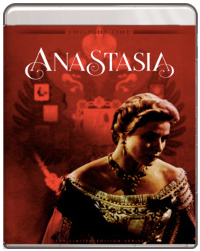 Soviet import Anatole Litvak is perhaps best remembered for his significant contributions to cinema throughout the 1930s and 1940s, where he fled Germany and was offered a contract with Warner Bros. in Hollywood thanks to the success of Mayerling (1936). Much of his cinema was marked by socially and politically conscious subtexts and he was a key figure, alongside Frank Capra, in the creation of the Why We Fight war training series, leading to significant recognition following WWII. As director, he received one sole Oscar nod for 1948's The Snake Pit, and was responsible for one of Barbara Stanwyck's best vehicles with 1947 noir Sorry, Wrong Number. Still prolific throughout the next two decades, he would orchestrate a major comeback story for Ingrid Bergman with 1956's Anastasia, a rendering of the provocative Anna Anderson, the famed imposter of Grand Duchess Anastasia of Russia, a woman rumored to have survived the brutal slaying which took the lives of her siblings and parents, Tsar Nicholas II and Alexandra. Snagging Bergman her second of three Oscars, it is Litvak's most celebrated title from his 50s period, though it usually never feels like more than a sumptuously filmed stage play which leans incorrectly in the imposter's favor (DNA history would eventually lay to rest the enduring fascination of Anastasia's survival).
In 1928 Paris, a distraught, frazzled woman (Bergman) becomes a reluctant accomplice to a scheme drawn up by White Russian General Bounine (Yul Brynner). While locked in an asylum, the mentally troubled woman had claimed to be Grand Duchess Anastasia, a rumor which had reached Bounine's ears, a man eager to find a woman who could pose as the murdered Grand Duchess in order to collect a sizeable inheritance. Initially, she's too distraught to comply, but upon prodding, it turns out she knows details about the slain royal family too specific to overlook. But their challenge will be meeting her grandmother, the dubious Dowager Empress Maria Feodorovna (Helen Hayes), convinced, like most of the world, no one survived the brutal executions which took place in July, 1918.
Anastasia is perhaps most significant as the instrument which resurrected Ingrid Bergman in the public's eye, formerly ostracized by Hollywood for her public affair with Roberto Rossellini, whom she left her husband for and relocated to Italy to star in a succession of his films, several of which rivalled her best output from the studio system (such as 1952's Journey to Italy). But once their relationship ended, she was forced to depend on the kindness of famed Euro auteurs, who came to her rescue in the form of Jean Renoir, crafting the film Elena and Her Men (1956) for Bergman, and then Litvak, who insisted on casting her as the lead in this adaptation (from Arthur Laurents) of Marcelle Maurette and Guy Bolton's play, which fashions the resurrection of Anastasia on the backs of three fictional con-artists led by the sycophantic Bounine, who desires to gain official entry into the oligarchy.
Bergman is in fine form, though this is basically a beautiful platform for one of her many renditions of victimhood. There are striking comparisons to several of her previous characterizations, such as the aggravatingly passive domestic martyr in Gaslight (her first Oscar win in 1944) and Rossellini's Stromboli (1950). But once the script launches her past the tearful repudiations from Anna/Anastasia, Bergman transcends this into a fascinating evolving identity crisis, and something of Nina Hoss' startling performance in Phoenix (2014) eerily recalls Bergman's troubled new persona here. Credited as Bergman's comeback, the actress wouldn't actually return to the US to film a feature until 1969 when she appeared alongside Walter Matthau and Goldie Hawn in Cactus Flower.
The film's rather unremarkable high point is an emotional exchange between a superb Helen Hayes, as the Dowager Empress Maria Feodorovna who must be convinced this is indeed her granddaughter. Weary and eager to keep her vulnerable emotions secret, it's a significant and complicated encounter enhanced by Hayes, begrudgingly overriding her suspicions to enjoy, at the very least, the possibility her slain granddaughter is alive. Anastasia doesn't clearly define Anna's authenticity, but an easy out involving her disappearing into the arms of the resolute Bounine is rather anticlimactic, especially considering the rather paltry insinuations made concerning their attraction to one another. Yul Brynner feels especially wasted, but the film would arrive the same year he won his Best Actor Oscar for The King and I. Although compelling, it's a rather dark hearted Pygmalion/My Fair Lady endeavor which fails to successfully execute the narrative's macabre underpinnings in order to make way for sentiment.
Disc Review:
Twilight Time presents Anastasia in 2.35:1, and DP Jack Hildyard's (reuniting with Litvak after The Deep Blue Sea) cinematography captures Andrew Low's lush set designs, which are so exquisite it takes away from the obvious backdrops of the painted Parisian skyline. It's a much improved release compared to the 20th Century Fox Studio Classics DVD release from 2003. As usual with the label's Limited Edition (3,000 units) releases, an isolated track score is included, as well as Fox Movietone Newsreels, and several optional audio commentary tracks (film historians Julie Kirgo and David Del Valle; screenwriter Arthur Laurents, actor James MacArthur, and film historians Jon Burlingame and Sylvie Stoddard).
Final Thoughts:
Anatole Litvak's Anastasia still stands as the most elegant rendition of a particularly provocative occurrence relating to Nicholas II and his assassinated royal family. Every so often, the subject is revisited, such as a 1986 mini-series starring Amy Irving, and a 1997 cartoon of the same name from 20th Century Fox with the Grand Duchess voiced by Meg Ryan. Still, this handsome production endures, but pales in comparison to a later pairing of Litvak and Bergman, the underrated Goodbye Again (1961), which competed at the Cannes Film Festival.
Film Review: ★★★/☆☆☆☆☆
Disc Review: ★★★½/☆☆☆☆☆