Disc Reviews
Death Walks Twice – Two Films by Luciano Ercoli | Blu-ray Review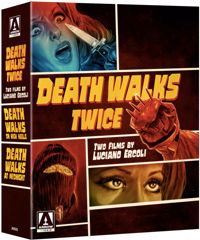 Arrow Video unleashes a superb box-set of two titles from neglected director/producer Luciano Ercoli, who made a handful of giallo and spaghetti westerns before retiring in 1977 after inheriting a large fortune. Known best for his first three films, a trio of pulpy giallo hybrids, it would be sister films Death Walks on High Heels (1971) and Death Walks at Midnight (1972) which would stand as his most enduring contributions, perhaps shadowed by a variety of other films from his colleagues of the period due to his early retirement. Sporting a dizzying mix of illogical twists in his overly ripe narratives dressed in highly stylized visuals, it's easy to see how Ercoli influenced other auteurs of the decade, particularly Brian De Palma.
Spanish actress Nieves Navarro (who is married to Ercoli and adopted the stage name Susan Scott) steps out from the supporting player shadow she inhabited in Ercoli's first film, Forbidden Photos of a Lady Above Suspicion, an entertaining yet derivative film borrowing from a number of sources (such as Les Diaboliques, not to mention a title styled after Elio Petri's Investigation of a Citizen Above Suspicion, which had been released several months prior). Navarro was a foxy frenemy to female lead Dagmar Lassander in the title, but takes center stage in Death Walks at Midnight as the daughter of a murdered jewel thief.
Nicole (Navarro), is an exotic dancer used to the attentions of male admirers, but she's suddenly forced to flee Paris for London when a man in black begins stalking her, and convinced her deceased father somehow hid the booty from his last heist with her. Made to believe the assailant, who wears striking blue contacts, may be her violently jealous lover, Michel (Simon Andreau), she seeks the comforts of another, more mature gentleman, Dr. Robert Mathews (Frank Wolff) as bodies pile up and danger lurks at every corner.
What's most impressive about Death Walks on High Heels, besides its fantastic title, is the sheer sprawling ambition of what initially seems a rather heavily stylized sun dappled murder mystery. A dizzying amount of characters, some rather superficially flopped in and out of the action, assists the rather muddled tone of the film (it also doesn't help when the actress playing the other significant female character, Claudie Lange, also resembles Navarro). As many giallo scholars have pointed out, Ercoli's titles arrived as the subgenre just began to gain popularity, and so these earlier benchmarks often pay homage to more established genres. Scripted by Ernesto Gastaldi, the screenwriter who wrote giallo staples for Sergio Martino, such as The Strange Vice of Mrs. Wardh (1971) and the delightful Your Vice is a Locked Room and Only I Have the Key (1972), High Heels crashes into a myriad of surprise solutions during its grand finale.
But Ercoli really impressed with his 1972 follow-up, which reunites most of the cast from High Heels, as well as screenwriter Gastaldi and even Sergio Corbucci (Django, 1966), who had originally planned on directing this scenario. While the original title was Cry Out in Terror, the property would attempt to capitalize on the reputation of the previous film, while also leading with Navarro, this time starring as Valentina, a model who agrees to a photoshoot while she's experiencing the effects of a new hallucinogenic drug called HDS. But as photographer (and boyfriend) Gio (Simon Andreau) snaps away, Valentina sees the vision of a young woman being murdered by a man with a spiked iron glove (Claudio Pellegrini, who looks like a mix of Valentino Garavini and the trans serial killer from De Palma's Dressed to Kill). Unable to shake the authenticity of her vision, Valentina is accosted by the press after the photo shoot is publicized, awakening the interests of the killer. But as she's accosted by this insidious man, another woman steps forward, Verushka (Claudie Lange), who claims her sister was murdered in the exact same fashion described in Valentina's vision. Except, when they compare notes, it seems Valentina witnessed the murder of a different young woman.
Though no less convoluted, Death Walks at Midnight certainly feels more sensational, and clips along at such an insane pace it's easier to forgive the incredible amount of illogical happenings. Again, the casting of Navarro and Lange adds a bit of (perhaps unintentional) doubling, which would be one of De Palma's most celebrated motifs, including in his aforementioned Dressed to Kill, which plays as much homage to Hitchcock as it does to the outré stylings of Ercoli's giallo mixture. But Death Walks at Midnight equally recalls a series of other films, recycling not only elements of film noir (Witness to Murder) and Hitchcock (Rear Window), but Italian maestro Mario Bava, who previously utilized the hallucinogen angle in The Girl Who Knew Too Much (1963), itself another Hitchcock allusion. More weirdo supporting characters show up here, including a badly dyed blond assassin who clearly seems to be aping Klaus Kinski. With more elaborate killings and set-pieces, Death Walks at Midnight manages to be quite enigmatic despite its third act reveals, ending once more with an elaborate shoot-out fight sequence.
Disc Review:
Arrow Video releases this superb boxed set as a Limited Edition (3000 units), and contains brand new 2k restorations of both titles from their original film elements. Picture and sound quality on both titles are commendable, particularly on the High Definition Blu-ray (but a Standard Definition DVD is also available). A Limited Edition sixty page booklet, containing several essays on Ercoli and his films is a great read, while film critic Tim Lucas provides optional audio commentary and Ernesto Gastaldi introduces both titles. A bevy of extra features on each disc are all worth a look (and Midnight includes an extended TV version of the film).
From Spain with Love:
This twenty-four minute 2012 interview transpired at the home of Luciano Ercoli and actress Nieves Navarro in Barcelona. The director speaks of his early fascination with cinema and his introduction to the film from famed Italian producer of the day, such as De Laurentis. Ercoli and Navarro discuss their collaborations while the director recalls the assistance of screenwriter Ennio De Concini.
Master of Giallo:
A brand new interview from November, 2015 with Ernesto Gastaldi finds the famed screenwriter discussing how to write a successful giallo. The half hour segment finds Gastaldi explaining his latest work, a guidebook Giallo for Dummies.
Death Walks to the Beat:
Composer Stelvio Cipriani is featured in this brand new interview from October, 2015, conducted in Rome. Cipriani discusses his hundreds of film credits (he began his career in 1967 and recent credits include the recent rehash of The Man from U.N.C.L.E. and Tarantino's Death Proof). Here he focuses on his contribution to Death Walks on High Heels in this twenty-six minute segment.
Crime Does Pay:
More of the Gastaldi interview from November, 2015 is included here, the focus leaning towards Death Walks at Midnight here in this additional thirty minute segment.
Desperately Seeking Susan:
A brand new visual essay from Michael Mackenzie explores the giallo collaborations between Ercoli and Nieves Navarro in this twenty-seven minute feature which examines these two titles and their earlier film, Forbidden Photos of a Lady Above. Suspicion.
Final Thoughts:
It's prime time to rediscover the early directorial career of Luciano Ercoli, and there's no better place to start than with these two appealing titles from this remarkable boxed-set release.
Death Walks on High Heels (1971)
Film Review:★★★/☆☆☆☆☆
Disc Review: ★★★★/☆☆☆☆☆
Death Walks at Midnight (1972)
Film Review: ★★★½/☆☆☆☆☆
Disc Review: ★★★★/☆☆☆☆☆