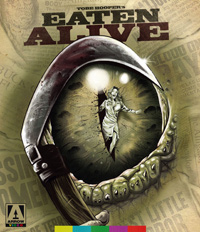 Following the unprecedented success of his monolithic sophomore feature, 1974's The Texas Chainsaw Massacre, which would forever immortalize director Tobe Hooper in the annals of great horror filmmakers, he would return to the Southern Fried grindhouse realm with 1976's Eaten Alive, another 'based-on-a-true-story' effort featuring a set of original backwoods kooks. Though the film failed to attain the same attention, Hooper managed to obtain a higher profile cast for a film arguably less off-putting thanks to its more comedic moments.
Opening with a line that would go on to be famously recycled by Quentin Tarantino, ornery redneck Buck (Robert England) assails Clara (Roberta Collins), a reluctant prostitute in a bad blonde wig. Kicked out of the brothel by the no-nonsense owner, Miss Hattie (Carolyn Jones), Clara stumbles through the swampy Louisiana bayou and comes upon a dilapidated motel run by Judd (Neville Brand). The lonely, repressed old coot gets overexcited when he realizes she's one of Miss Hattie's girls, leading him to kill her and promptly feed her to the pet crocodile living in the swamp water meeting his property. Soon after, a stranded married couple (Marilyn Burns, William Finley) and their young daughter (Kyle Richards) find themselves holed up in Judd's place, where the crocodile ends up snatching their pet dog. Meanwhile, Clara's father (Mel Ferrer) and sister (Crystin Sinclaire) show up on Judd's stoop, and it seems like the crocodile is set to have a meal of several courses.
Based on a real life news story from the late 1930s where South Texas bar owner Joe Ball reputedly fed young women to a pet gator, one can see similarities in look and tone with Hooper's previous film. More funny than scary, it's no surprise to see why this initially bombed at the box office, though it stars a handful of notable names, such as Carolyn Jones (the original Morticia Addams), 50s and 60s baddie Neville Brand, and television star Mel Ferrer.
Frequent genre players, such as Texas Chainsaw star Marilyn Burns and The Phantom of the Paradise himself, William Finley, are entertaining support. More interestingly is the presence of a young Robert Englund nearly a decade before Wes Craven would craft him into Freddy Krueger, while the constantly screaming young girl is none other than Kyle Richards, now known as one of those vacuous socialites of reality television thanks to "The Real Housewives of Beverly Hills" (interestingly, she was also in John Carpenter's Halloween). Consistently strange and over-the-top, even as it is inconsistently scary, Eaten Alive is a lot of fun to revisit, mostly for Hooper's command of style and tone.
Disc Review:
Though Eaten Alive is less successful as a tale of terror than Texas Chainsaw, the film has a very unique look, filmed entirely on a soundstage on the Raleigh Studios back lot. Eerie, sickly greens, iridescent interior blues, and a crimson red pallor paint the tone as a nightmare along the lines of a Grimm's fairy tale. Arrow presents this new 2K restoration of the title in 1.85:1 aspect ratio, and it's a beautiful transfer of an obscure grindhouse classic. As usual, Arrow outdoes itself with the care placed in the packaging, including a bevy of extra features.
New Introduction:
Blood on the Bayou:
A fourteen minute interview with Hooper finds the director discussing his approach to the title, which he explains as similar to a Grimm's fairy tale in his effort to create an unreal world.
Gator Bait:
An eleven minute interview with Janus Blythe has her discussing memories of making the film.
Monsters and Metaphors:
An eleven minute interview with make-up artist Craig Reardon finds him discussing his career and his involvement with the productions (he replaced another make-up artist the producers got rid of).
The Gator Creator:
Several archive interviews are available, including this twenty minute round from Dark Sky Films.
My Name is Buck:
Robert Englund is interviewed in this vintage session from Red Shirt Pictures, a fifteen minute segment where the actor discusses his early role.
5ive Minutes with Marilyn Burns:
Literally, we get five minutes of time with Marilyn Burns from this 2007 interview, who briefly discusses her career following The Texas Chainsaw Massacre.
The Butcher of Elmdendorf – The Legend of Joe Ball:
This featurette looks at the true-life story of Joe Ball, the gator owning South Texas bar owner upon whom Hooper loosely based his film. The twenty-three minute feature is configured of an extensive interview with Richard "Bucky" Ball, nephew of the infamous bar owner.
Final Thoughts:
Perversely entertaining, Eaten Alive is a unique curiosity piece from the great horror filmmaker Tobe Hooper. For those overexposed to his more notable titles like Texas Chainsaw or Poltergeist, this is an interesting aside from the director's most creative period.
★★★/☆☆☆☆☆
★★★★/☆☆☆☆☆