Criterion Collection: Detour (1945) | Blu-ray Review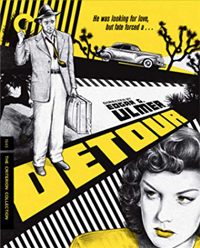 An old American proverb reads "Excuses are merely nails used to build a house of failure." It's also a succinct paraphrase for the trajectory of the woeful protagonist of Edgar G. Ulmer's seminal B-noir, Detour (1945), the Poverty-Row production which continues to flex its hopelessness and dread as it portends to depict a fitful dance with fate. Only the hapless character played by Tom Neal, whose trenchant passivity dictates his demise, isn't so much building a house but his own coffin. Made vulnerable by his misguided understanding of what love and desire are supposed to look like, a myriad of poor decisions lead him into the maw of victimhood from which he can never seem to escape, despite all the agency in the world right at the tips of his white, heteronormative universe. Paired with one of noir's most vicious, viper-tongued femme fatales ever to curse a man of no great importance, Ulmer's deliciously dark and staunchly simplistic cheapie remains an unforgettable portrait of perverted gender norms in a film where the notion of murder is all a matter of interpretation.
New York night club pianist Al Roberts (Tom Neal) finds himself in a lonely place when his fiancée and colleague, headlining chanteuse Sue Harvey (Claudia Drake), suddenly decides to stall their upcoming marriage to try her hand in motion pictures in Hollywood. She's not gone for long when he decides to quit his gig and hitchhike his way in her wake. After days on the road, the bedraggled piano player gets lucky when he snags a ride with affable gambler Charles Haskell Jr. (Edmund MacDonald), who shares tales of his own troubled past with Al, including how he received the recent scratch marks on his hand. But when Haskell suddenly dies of a heart attack, Al thinks the only way out of the jam is to dump the man's body into a ditch, assume his identity, and then abandon his car on the outskirts of Los Angeles. His trouble really begins, though, when he takes it upon himself to pick up the lonesome, troubled Vera (Ann Savage), a gal with aggressive tendencies who just so happens to recognize Al is not the original owner of the car he's driving.
As Robert Polito's insert essay deftly outlines, the production of Detour was certainly a troubled one, the result of which was an amalgamation of eventual Hollywood urban legends as to the film's adaptation and what was finally cobbled together. Of course, Ulmer's entry predates a number of the iconic noir writers who would come to popularize the movement, as well as the term film noir itself, despite the film being somewhat of an exception instead of a template.
On the surface, it's a straightforward layout, mostly via untrustworthy narration told in flashback from the sweaty, troubled Al Roth as he wastes away in an unassuming diner just prior to the inevitable justice dictated by the Breen code. However, Detour is a tangle of illogical happenings and unbelievable consequences. While the death of Haskell's smarmy gambler might ride the line of speculation, the strangulation of Vera borders on science-fiction. As Roberts warns the audience early on, "The world is full of skeptics," confirming not even he would believe his own story. Instead, he's the victim of circumstance, bearing the weight of a fate he cannot escape. And yet, his actions clearly dictate he has not only chosen this troublesome path, but refuses to take responsibility for the consequences his actions have born.
While Neal's gloomy disposition is aggravating, it's the perverse vibrancy of Ann Savage which really elevates Detour into something as troubling as it is thrilling. Ulmer paints New York as veritable fog, of which Al and Sue wander through with an aimlessness reflecting their romantic attachment to one another, as merely two figures held together by propinquity through their employment at the Break of Dawn nightclub (which suggests a final stopping point of night—cue Michelle Williams' We Break the Dawn). But once Al gets caught between Vera's claws, this ragtag, flash-in-the-pan narrative chugs the notion of femme fatale into a progression few films have ever reached.
Disc Review:
Criterion presents Detour as an all new 4K digital restoration in 1.37:1 with uncompressed monaural soundtrack. This is world's above the public domain transfers the title was previously treated to, automatically elevating Ulmer's decadent B-movie into the creepy nightmare it's supposed to be experienced as.
Edgar G. Ulmer – The Man Off-Screen:
This seventy-five-minute documentary from 2004 explores the life and career of Ulmer, including interviews with the director's daughter Arianne Ulmer Cipes, fellow directors Wim Wenders, Peter Bogdanovich, Roger Corman, Joe Dante, John Landis and actor Ann Savage.
Noah Isenberg:
Criterion recorded this twenty-one-minute interview with Noah Isenberg, author of the British Film Institute's monograph on Detour and Edgar G. Ulmer: A Filmmaker at the Margins, who describes the film as a perfect confluence of elements (including its source text, cinematographer and generally unknown cast).
Restoring Detour:
This eleven-minute 2018 feature details the restoration of Detour thanks to the collaboration of the Academy Film Archive and The Film Foundation with Cinematheque royale de Belgique, the Museum of Modern Art and the Cinematheque francaise.
Final Thoughts:
The inevitable fatalism of the oblivious heterosexual male remains at its most disconsolate zenith in Edgar G. Ulmer's timeless odyssey of anxiety.
Film Rating: ★★★★/☆☆☆☆☆
Disc Rating: ★★★★/☆☆☆☆☆