Malone's the Angel in the Centerfold of Sirk's High-Flying The Tarnished Angels (1957) | Blu-ray Review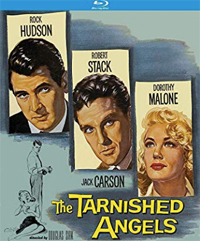 There remains a dearth of unappreciated titles from German émigré Douglas Sirk's lengthy filmography, which basically includes anything outside of his seminal Hollywood melodramas of the 1950s—films would influence the output of more contemporary international auteurs, from Rainer Werner Fassbinder to Todd Haynes. Sirk is now best renowned for a quartet of iconic titles, including Magnificent Obsession (1954), All That Heaven Allows (1955), Written on the Wind (1956) and his final masterpiece, Imitation of Life (1959), itself a remake of an earlier 1934 Claudette Colbert film directed by John M. Stahl. While some of his English language noirs of the 1940s have been recuperated, such as the Lucille Ball headlined Lured (1947), his German period remains neglected, and perhaps more surprisingly, several other 1950s works which starred his plethora of regular players (particularly Barbara Stanwyck, such as All I Desire and There's Always Tomorrow). If 1958's A Time to Love and a Time to Die has its contemporary champions (wherein an unfortunate lead performance from John Gavin, assuming the space usually occupied by Rock Hudson, tends to mar its beauty), it's a significant delight to re-experience 1957's The Tarnished Angels, which reunites the trio of Hudson, Robert Stack and Dorothy Malone of Written on the Wind (wherein Malone won her Best Supporting Actress Academy Award) and was adapted by George Zuckerman from the novel Pylon by William Faulkner.
WWI fighter pilot Roger Schumann (Stack) has built a dubious career for himself as a daredevil pilot, competing in aerial shows with a traveling circus, supported ineffably by long suffering wife LaVerne (Malone). Their world suddenly collides with newspaper reporter Burke Devlin (Hudson), who risks his job at his local New Orleans outlet when he becomes fascinated with covering Schumann's act during 1930s Depression era Mardi Gras. His investment quickly becomes personal and upends the couple's hard-won semblance of a relationship, leading to tragedy and heartbreak.
The Tarnished Angels was one of three titles directed by Sirk in 1957 (the others being the war drama Battle Hymn and romantic drama Interlude). Similar in tone and scope to Carol Reed's Trapeze (1956), in which Gina Lollabrigida interrupts the precarious working dynamic of trapeze artists Burt Lancaster and Tony Curtis, an interloper arrives to expose the tenuous relationship of a risk-taking barnstormer pilot and his trophy wife. Much like her nymphomaniacal sex pot in Written on the Wind, Dorothy Malone again stars as a compromised woman, her virtue and dignity demeaned by her abusive relationship with men.
Hudson is tasked with playing an unreasonable and underwhelming journalist who becomes obsessed with the competitive pilot and his unhappy wife. There's a tawdry sexual element which supplies The Tarnished Angels with its significantly progressive backbone, which boils down to Malone being prostituted to further her husband's professional reputation. Of course, she's gridlocked by her damsel-in-distress storyline, requiring the third act intervention of Hudson's resourceful journalist to escape the clutches of another subordinate arrangement to a predatory male.
Sirk factors in several action-fueled sequences involving Stack's dangerous flights, though perhaps most impressive is Malone's underappreciated but entertainingly choreographed drop from an airplane. The Tarnished Angels also retains its Faulkneresque signature of three damaged souls who feed off one another's misery, and it's an interesting leap from his more famous barn burning (recently resuscitated in South Korean auteur's masterful 2018 film Burning) for the archaic sport of barnstorming.
Disc Review:
Kino Lorber releases The Tarnished Angels as part of its Studio Classics label, resurrecting the obscure title in 2.35:1. Picture and sound quality are attenuated well enough in this transfer, which only includes the theatrical trailer and an audio commentary track from film historian Imogen Sara Smith as extra features.
Film Review: ★★★½/☆☆☆☆☆
Disc Review: ★★★/☆☆☆☆☆