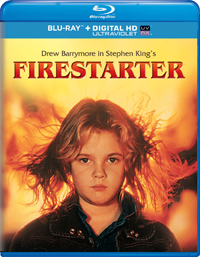 If there's an enduring interest to Firestarter, the 1984 adaptation of Stephen King's popular horror novel about a child with pyrokinetic capabilities hunted by a secret government organization, it would arguably be the casting of Drew Barrymore as the peculiar child prodigy able who is able to incinerate her antagonists at will or perhaps the superb score from Tangerine Dream. Additionally, an impressive supporting cast made up of revered dramatic actors also ensures a certain nostalgic glory to otherwise pedestrian direction from Mark L. Lester (whose other major film credit was the 1985 Arnold Schwarzenegger action flick Commando). A straightforward chase flick filled with flashbacks meant to supply us with kernels of characterization, the simplified scenario has been recycled plenty times since, which perhaps explains why this is one of the few high profile King adaptations which hasn't been reappropriated for a glossy remake.
Preadolescent Charlie McGee (Barrymore) and her dad Andy (David Keith) are being hunted by members of a secret government organization due to her abilities to start fires with her mind. Her father has similar, if weaker telekinetic capabilities thanks to a covert government experiment he was part of along with Charlie's mother (Heather Locklear), making the little girl an unprecedented and particularly potent byproduct for the weapons capabilities the secret organization wishes to develop. But they have to catch her first. After her mother is killed during their ruthless attempts to obtain her child, Andy and Charlie take off across the country, barely a step ahead of their pursuers, depending on the kindness of random strangers until they're no longer able to resist capture.
The formula should seem routine and familiar by now, with recent films by Jeff Nichols (Midnight Special, 2016) and the Netflix phenomenon "Stranger Things" both heavily reminiscent of a basic scenario here (a doctor played by Freddie Jones and a scientist played by Moses Gunn seem models for the Matthew Modine character in the series, for instance). While Barrymore's casting assisted in retaining the film's shelf life, both her performance and Stanley Mann's oblique script aren't able to make her a compelling character. Likewise, a gaggle of lauded actors are thrown in with a kind of flabbergasted glee.
Most prominent is David Keith in one of his last notable leading roles, although it's such a milquetoast character it could have been played by anyone (and it doesn't help he's styled a bit too similarly to Kurt Russell). Martin Sheen is on hand for his usual low-grade menace, a blue-eyed Heather Locklear shows up for a moment or two, and Art Carney and Louise Fletcher play a pair of rather gullible farmers who shelter the endangered father and daughter. More problematic (not to mention a wasted Antonio Fargas who shows up early on for a throwaway moment as a taxi driver) is George C. Scott, an ex-CIA assassin who is supposed to be Native American. The awkward casting is reminiscent of Mickey Rooney in Breakfast at Tiffany's as an offensive clot of Asian American stereotypes, but this studio production shies away from the character's insidious, pedophilic characteristics more evident in King's novel.
Special effects are, more often than not, impressive, save for the fiery showdown where balls of flaming fury come bursting out of the atmosphere seemingly as a way to suggest Charlie's penultimate rage (the problem with starting so many fires is they have to be more and more dramatic to keep the audience impressed). But compared to a series of other psychic thrillers, including Carrie, The Dead Zone (both by King), and De Palma's The Fury, this little girl's dilemma is left behind in their fumes. Barrymore is utilized more believably in the later Stephen King anthology Cat's Eye (1985).
Disc Review:
Scream Factory releases the title with a new 2K scan of the interpositive, which assists in restoring the film's visuals (to convey telekinetic power, Lester chooses to depend almost entirely on extreme close-ups), presented here in High-Definition 2.35:1 with DTS-HD Master Audio. Mark L. Lester provides an audio commentary track and several recent interviews with cast and crew members are included as extra features.
Playing with Fire – The Making of Firestarter:
Cast and crew are interviewed in this near hour long featurette with recent interviews from actors Freddie Jones and Dee Snyder, stuntman Dick Warlock, and Johannes Schmoelling of Tangerine Dream (who performs the theme song as a separate bonus feature). Lester recalls how Dino de Laurentis approached Lester to work on a project after seeing his film Class of 1984, revealing initially Firestarter was to be made by John Carpenter, whose screenplay diverted noticeably from King's novel.
Tangerine Dream – Movie Music Memories:
In this twenty minute extra feature, Johannes Schmoelling recalls his involvement with Firestarter.
Final Thoughts:
Although not exactly a hidden gem from the glory days of American studio horror, Firestarter is still worth a watch (if mostly for the notability or notoriety of its cast).
Film Review ★★½/☆☆☆☆☆
Disc Review ★★★½/☆☆☆☆☆