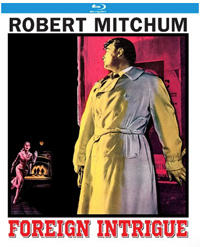 These days, the American movie going public is quite accustomed to seeing major motion picture based on a prior television series, as well as the opposite movement from big to small screen. But back in 1956, this wasn't quite as common an adaptation, which may explain the lack of enthusiasm surrounding Foreign Intrigue, a beautifully photographed film directed by Sheldon Reynolds based on his successful television series of the same name, which aired 1951 to 1955. As retooled with matinee idol Robert Mitchum, the film's rather schizophrenic narrative jumps freely between being a colorfully lush romantic European entanglement and espionage tinged noir narrative.
On the way to visit his enigmatic and mysterious employer, press agent Dave Bishop (Mitchum) finds his boss collapsed and barely breathing. The man expires in his arms, and it's ruled his death was the cause of a heart attack. Or was it? Immediately, Bishop informs his wife Dominique (Genevieve Page), who first asks if her husband happened to say anything before he died. Likewise, a number of other strangers approach Bishop to ask what, if anything, the man said with his last breath. This arouses Bishop's curiosity, and when he receives a call from a man requesting the official death certificate, he learns his boss left behind specific instructions to be followed if his death was deemed unnatural. This sweeps Bishop off into a European adventure, where he discovers his boss went to Vienna to meet a strange group of men annually. The blind housekeeper remembers the name of a Swedish man, and when Bishop tracks that man down, he finds he is dead…but just so happens to have a beautiful daughter Brita (Ingrid Thulin), who finds herself attracted to Bishop.
Mitchum is gruffly likeable here in the unlikely role of a press agent turned private investigator. Fresh off the initial failure of Charles Laughton's since lauded The Night of the Hunter and western Man With a Gun, the title precedes the popular success of John Huston's Heaven Knows Mr. Allison (1957), enhancing its neglected placement in the star's filmography. A customary shirtless sequence with Mitchum's notoriously uncomfortable posturing and a rather tepidly designed romance with Swedish star Ingrid Thulin (looking beautiful as always) lends the title a schlocky, dated feel. They barely share any dialogue before they're nuzzling each other's necks and professing an undying love for one another. French actress Genevieve Page, who gets an introductory credit but was in several features prior to this, is a flame-haired femme fatale who gets a bit more of an interesting presence.
If all of this seems unlikely, Reynolds and screenwriters Harold Jack Bloom and Gene Levitt at least manage to inject the narrative with a bit of pulpy historical atmosphere, which begins early on when everyone nonchalantly asks Mitchum if his dying employer had anything, you know, relevant to say with his dying breath.
Disc Review:
Kino Lorber's transfer, presented in 1.85:1, seems to be just that and nothing more. DoP Bertil Palmgren somehow managed to make this look like a soapy melodrama, and its muted pastels makes for an interesting aesthetic. Except plenty of grain and notable flaws from the original print weren't bothered to be brushed up at all, making some sequences look a bit faded. As usual with their Studio Classics, no extra features have been included.
Final Thoughts:
A delightful find for Mitchum fans, Foreign Intrigue manages to strike a curious tone and the reveal of its central mystery is indeed satisfactory. And it's always a pleasure to see Ingrid Thulin outside of her famed collaborations with Ingmar Bergman speaking English.
Film Review: ★★★/☆☆☆☆☆
Disc Review: ★★★/☆☆☆☆☆