Disc Reviews
Criterion Collection: The French Lieutenant's Woman | Blu-ray Review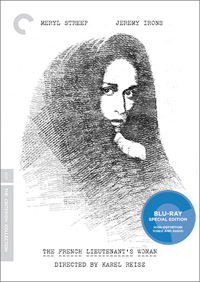 In the decades since its premiere, The French Lieutenant's Woman is now most commonly discussed for its placement in the extensive awards resume of its star Meryl Streep, since it was her follow-up to her Best Supporting Actress win for 1979's Kramer vs. Kramer and would serve as netting her first nomination in a leading category (it's also interesting to note Streep won the Golden Globe but ultimately, perhaps ironically, lost to Katharine Hepburn, the iconic performer who previously held the most nominations record). But at the time of its release, the final product was the result of a decade long ordeal, seeing many auteurs, actors, and screenwriters attempting to adapt the notoriously 'unfilmable' 1969 novel by John Fowles, an experiment in form termed "post-modern historical fiction." Directed by Karel Reisz, the Czech-born British auteur a British New Wave progenitor of the realist strain of filmmaking, it remains one of his most prolific works. Featuring an exalted amount of talent in front of behind the camera, it is also a work of supreme intellectual artifice, and one of the most excitingly formidable examples as concerns the possibilities of adaptation and the concept of filmmaking.
Two parallel stories unfold. A film version of the novel The French Lieutenant's Woman is underway, starring actors Anne (Streep) and Mike (Irons) as the lead characters Sarah and Charles Henry Smithson in a Victorian era tale of doomed romance. Sarah is a socially compromised woman, pregnant by a married Frenchman, who left her, though she still makes a grand gesture on a regular basis by standing for hours and staring into the ocean, awaiting his return. She's treated poorly by the conservative pillars of society, yet makes no claims for redemption. Charles has recently been betrothed to Ernestina (Lynsey Baxter), but finds himself drawn to Sarah. Meanwhile, the married actors portraying these lovers begin an affair of their own. But as production comes to an end, they find themselves drifting back into their own lives.
Originally conceived as a vehicle for Vanessa Redgrave, Gemma Jones, and Helen Mirren (Fowles' first choice), the dual role of Sarah/Anna went to American Meryl Streep, who does turn in a significantly moderated performance. As the modern actress engaged in an illicit but not quite passionate affair with her co-star, her Sarah is cool, controlled, and engaged in a very different game of manipulation. As Anna, 'the poor Tragedy,' who is either referred to in the context of her narrative euphemistically (as in the very title) or as a pitiable excuse for a woman, Streep is overly theatrical, hysterical even, as evidenced in the intense stare initially shared between the two leads (a still that would become the film's poster art). As we come to find, both men portrayed by Irons in this film within a film are duped and abandoned by the object of their affection—but, like the novel, has two separate, layered conclusions.
It would also be Jeremy Irons' first starring role, setting off a decade that would see him headlining two films by Polish auteur Jerzy Skolimowski, as well as David Cronenberg's Dead Ringers (1988). Here, it's the less sensational of the two roles in this masculine perspective of the feminine mystique, but he makes an arrestingly befuddled screen presence. Reisz, who previously directed The Gambler (1974) and would follow this up with a stilted Patsy Cline biopic, Sweet Dreams, seamlessly stitches these periods together with little distraction—we're clued in that Sarah and Mike are 'filming' The French Lieutenant's Woman from the clapboard preceding Streep's walking onto the film set, and the main differentiation between periods is her hair, wardrobe, and demeanor. We get brief sketches of the modern day significant others (with Penelope Wilton of The Best Exotic Marigold films appearing here), while Reisz casts other perennial favorites of his in bit roles, such as David Warner, and character actors Peter Vaughn, Leo McKern and Richard Griffiths also appear.
But the unsung hero that made this adaptation possible in the first place was Nobel Prize Winning playwright Harold Pinter (known for several Joseph Losey films, like The Servant, Accident, The Go-Between), who was able to morph Fowles' novel of literary devices into a cinematically approachable yet intelligent and complex manner. On the surface, it's a trajectory easy enough to follow, until we realize to what extent we're being fooled by the third act.
Disc Review:
The French Lieutenant's Woman is quite an exquisitely framed piece of filmmaking, lensed by two time Oscar winner Freddie Francis (Sons and Lovers, 1960; Glory, 1989). The lush period segments are filled with colorful bits, including Streep's fan of hair, and Criterion's 2K digital restoration is incredibly handsome (the sequence where Irons approaches Streep on the Cobb is gorgeous), while its contemporary settings feel sterilized and quite emotionally controlled in comparison. As usual, respectable bonus features are worthy of your consideration.
Emotional Uncertainties:
A short documentary produced by Criterion in 2015 features actors Jeremy Irons and Meryl Streep as well as film editor John Bloom reminiscing about the making of the film, as well as working with director Karel Reisz. The half hour segment finds the actors discussing initial trepidations due to the novel's formidable reputation.
Ian Christie Interview:
Film scholar Ian Christie was interviewed by Criterion in 2015 in this twenty minute segment, discussing how the film's significant reception has since faded into obscurity. He weighs in on the reputation of cult author John Fowles and the significant cultural effort that went into the making of the film.
The South Bank Show:
A 1981 episode of London Weekend Television's "The South Bank Show" focuses on the screen adaptation of Fowles' novel, and includes interviews with the author, screenwriter Harold Pinter, and director Karel Reisz. Nearly an hour in length, the program begins with the origins of the novel itself before moving into the specifics of the adaptation (the segment is divided into two parts).
Carl Davis:
This 2015 interview conducted by Criterion finds composer Carl Davis being interviewed at his home in England concerning the film's score. The interview is twenty one minutes and finds Davis discussing his relationship with Reisz, which started when he was interviewed to compose for The Gambler (a film he would not go on to score). The film had already been shot when Davis came on board The French Lieutenant's Woman, and initially the score was meant to be a collage of classical pieces, but copyright fees eventually inspired an original score.
Final Thoughts:
"How banal," remarks Irons' privileged gentleman when he learns of the fallen woman's rationale for staring out in vain on the angry sea day after day. And yet, he eventually succumbs to the same pattern of behavior. "It was as if her torture had become her delight," is the poetic diagnosis of her ailments (though, eventually, we learn differently). But one only has to focus on the final, juxtaposed closing shots of the parallel endings to feel the irony of 'changing times'—-two lovers drift on a boat out of the darkness of a tunnel into the glaring light of day, while the other features a man in the brightly lit second story room of a film set, behind him a wall of windows surrounded by darkness, as, alone, he stares out into the night.
Film Review: ★★★★/☆☆☆☆☆
Disc Review: ★★★★/☆☆☆☆☆