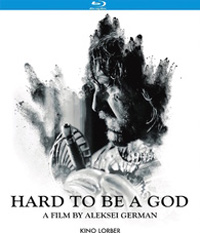 As far as the immersive powers of cinematic spectacle go, it's doubtful any will come close to rivaling the achievements of Russian auteur Aleksei German, a figure many have hailed as the post important director in his country following Tarkovsky. And yet, he is still largely unknown, at least in comparison to the worldly renown of his comparable peers. Over his five decades as a filmmaker, German only produced five films, a perfectionist whose later works far outshine the fastidiousness displayed in the comparable methods of someone like Stanley Kubrick.
Obtaining a serviceable print of his titles often proves difficult (though the tenacious may yet unearth bootleg copies here and there), which hasn't helped audiences acclimate to his idiosyncratic style. Passing away while working on the finishing touches of his last film, Hard to Be a God, a sci-fi epic taken as representative of the director's work, his co-writing wife Svetlana Karmalita, and son, director Aleksei German Jr., spent six months working on cosmetic touches before the film at last received a premiere at the 2013 Rome Film Festival. Thanks to US distributer Kino Lorber, the film was granted a very limited theatrical release in early 2015, and is now the only German title available for consumption to English speakers.
On the planet of Arkanar, a group of scientists is sent to help the local civilization, currently in their Middle Ages, about 800 years behind the development of Earth. There to assist, they are not supposed to interfere with the planet's natural course of development. However, Don Rumata (Leonid Yarmolnik) one of the scientists, is believed to be the descendent of a god thanks to local superstitions, thought to have immortal blood running through his veins, even though he proves unable to elevate the existence of the humans living there.
Those familiar with German's technique should readily identify Hard to Be a God as bearing his signature, particularly those lucky enough to have seen his rival masterpiece, Khrustalyov, My Car!, which played at the 1998 Cannes Film Festival to dismissive audiences, only garnering significant regard in the years to follow. German had been involved, in some way or another, in developing this particular project since the late 1960s, and the actual film took up the last fifteen years of his life.
We're basically dropped into a world of spewing viscous, and with Rumata as our guide, we tramp around in mud, piss, shit, and any number of other fluids oozing out of human, animals, and the ground itself with reckless, haphazard abandon. And for a first viewing, God is a sensory overload—purveyors of modern, Western narrative structures can't help but be overwhelmed. But multiple viewings will attune you to German's careful constructions, every mise-en-scene stuffed to the gills with an array of objects impossible to discern all at once. A cavalcade of characters swirl in and out of the frame, many looking directly into the camera, which we eventually realize is the beady object on Don Rumata's forehead.
Though Arkanar may be in the midst of its own Middle Ages, 800 years behind the advancement of Earth, German's point seems to be no matter what age or locale, humans are simply incapable of any real enlightenment beyond the trappings of their limited notions of civilization. Don Rumata is merely a part of the scientists from Earth, sent to Arkanar with instructions to observe and not interfere. But Rumata is regarded as a God-like entity by the natives, an attribute he uses to his advantage, including with more personal relationships, like a female 'love interest' who believes herself to be pregnant with his child. When someone questions his divinity, he quotes from Boris Pasternak's poem on Hamlet, signifying his 'powers' are merely the advantages of education and privilege.
As we bear witness, art is attempted to be introduced to the people of Arkanar, but understanding proves futile. But this brutal, Pagan landscape's most comparable cinematic cousin would have to be Czech filmmaker Frantisek Vlacil's 1967 medieval epic Marketa Lazarova, exploring Christianity's replacement of Paganism. Religious icons are nowhere to be found here, though, as not even that opiate can offer grace to Arkanar, a name sounding an awful lot like Arcanum, that great secret of nature alchemists yearned to unveil.
Disc Review:
The length of the project saw many of the cast and crew members, besides German himself, die before completion. This included DoP Vladimir Ilin (who worked on the brilliant Khrustalyov, My Car!, and which led to his being replaced by Yuriy Klimenko. A mixture of breathtaking panoramic vistas and cramped close-ups in claustrophobic hovels unravel in elegant spirals depicting grotesque, even horrific conditions, while the continual break of the fourth wall lends the film a unique hybrid documentary feel. Kino Lorber presents the feature in 1.66:1 aspect ratio, and we're able to see the fine details in even the most cluttered frames. Several extra features, including a booklet featuring a statement from German are well worth checking out.
German's Blood Pressure Today is 122 by 85:
A forty-four minute behind-the-scenes documentary finds the director discussing his life, born to author Yuri German, and his parents' troubled beginnings. Various interview footage finds German discusses divisive responses to his films and the bans placed on early works, while clips from his films are featured throughout.
Introduction by Svetlana Karmalita:
German's wife and co-screenwriter Svetlana Karmalita is featured introducing the film before a screening in France shortly before the theatrical release. Karmalita answers questions and speaks about her life and collaborations with German.
Final Thoughts:
Adapted from the 1964 novel by Arkady and Boris Strugatsky (the same authors who wrote the original source material upon which Tarkovksy's Stalker and Sokurov's Days of Eclipse were based), Hard to Be a God is a reeling, roiling portrait of brutal humanity. Impressively choreographed and edited, it is one of the most infuriating and grating viewing experiences you're apt to undergo. And yet, it is also darkly comedic in its crushing apathy, like a Bela Tarr mud bath with shockwaves.
Those welcoming the sensation of being overwhelmed (and for some worthwhile assistance, check out a succinct viewing guide from Anton Dolin in the January/February 2015 edition of Film Comment magazine) will relish German's uncompromising vision. At one point in time, this would have been the kind of challenging cinema to play in the main competition at Cannes, now relegated to premiering with little fanfare in smaller festivals. If ever there's a return to regarding cinema with a bit of artistic integrity, perhaps a greater appreciation for Hard to Be a God and German's filmography will be realized.
Film: ★★★★★/☆☆☆☆☆
Disc: ★★★★/☆☆☆☆☆