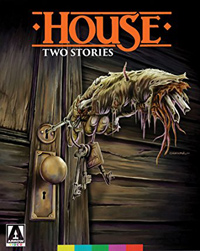 Following the success of 1980's Friday the 13th, director Sean S. Cunningham inadvertently birthed another, less likely franchise in the mid-1980s, producing horror comedy House (1985), directed by Steve Miner (who cut his teeth directing on the first two Friday sequels). Starring William Katt as a troubled horror writer who moves back into his childhood home wherein resides some menacing childhood memories (as well as the occurrence of a recent familial tragedy which ruined his marriage to a soap opera star), Miner's film was one of the first commercially successful horror comedy hybrids, a subgenre which has since become the norm. Silly and illogical, the film holds a certain nostalgic charm, though whether it's worthy of the gorgeous restoration and disc set courtesy of Arrow Video is questionable.
Famed horror writer Roger Cobb (William Katt) has been struggling lately. Recently divorced by his wife (Kay Lenz) after their son mysteriously disappeared while playing in the front yard of his childhood home, Cobb is forced to return to there after his aunt hanged herself in it. Using the opportunity to continue writing his latest work, a recollection of his tour in Vietnam, has only hastened the decline of his creative energy (not to mention his avid fan base seems to have no interest in the author's war memoir). Distracted by a nosy neighbor (George Wendt) and titillated by a beautiful blonde woman (Mary Stavin) who keeps using the pool, Cobb begins to suffer terrifying hallucinations in the house. Convinced what he's seeing is real, he sets up cameras to capture the visions, which also include flashbacks of his son, and the devastating end of his friend (Richard Moll) in Vietnam.
At the time of its release, House likely seemed a unique departure for horror aficionados. William Katt (still best remembered as the golden haired jock from De Palma's Carrie, 1976) excels in an effortless performance as he straddles the serio-camp tone, a prototype for what we've come to expect from Luke Evans' persona. Where House really gets risible is during the flaccid Vietnam flashbacks featuring "Night Court" actor Richard Moll as the impetus for Roger's fractured psyche, in an increasingly ludicrous and irreconcilable plot point used to explain the disappearance of his son (think a rudimentary version of 'the further' from James Wan's Insidious films).
Replete with the inclusion of a crying kookaburra (native to Australia), this is a Vietnam more along the level of the Pia Zadora logline in The Lonely Lady than Adrian Lyne's gritty Jacob's Ladder. Cobb's kooky memoir, One Man's Story could have easily been the title for Miner's film, which positions the titular home as a character unto itself, albeit a one-dimensional clot of undefined supernatural elements.
More tongue-in-cheek style "Tales from the Crypt" than "Twilight Zone" (the film which inspired Fred Dekker, director of Robocop 3, to concoct the initial storyline), House features supporting turns from George Wendt of "Cheers" and Kay Lenz (the 70s ingénue who headlined the 1973 Clint Eastwood film Breezy) which may hold passing interest for fans of this period. Special effects are goofy and more for laughs than scares, although the production design from Gregg Fonseca is fitting for the film's tone. The talents of DP Mac Ahlberg, who worked on Stuart Gordon's most famed works from the 1980s, might explain why the film feels like a distant, clownish cousin of items like Re-animator (1985) and From Beyond (1986).
Miner didn't return for the first sequel (of which there are three), 1987's kitschy House II: The Second Story, which is completely unrelated to the first film other than screenwriter Ethan Wiley, using the opportunity to make his directorial debut. Arye Gross stars as a man who moves into an old mansion passed down in his family for generations. With his girlfriend in tow (Lar Park Lincoln) and another couple (Jonathan Stark, Amy Yasbeck), they discover the house is a Mayan temple and serves as the portal between two worlds. Digging up the corpse of his great-great-grandfather (Royal Dano), they discover a magical crystal skull (an element which was used again in 2008 for Spielberg's last Indiana Jones film) which can be used to travel between the different portals in the house, and is being sought after by evil forces. Bill Maher (smarmy as ever) and another "Cheers" cast mate, John Ratzenberger. pop up as supporting bits in this highly preposterous kitchen sink film which seems made up as it goes along.
Disc Review:
House and House II arrive in a glorious disc set from Arrow Video alongside a beautiful 148 page bound book, The House Companion. The titles are now available in brand new 2K restorations for this high definition presentation in 1.85:1. As usual, Arrow does a masterful job of packaging, and both discs include a bevy of bonus materials, including optional audio commentary,
Ding Dong, You're Dead!:
Director Steve Miner, star William Katt, writer Ethan Wiley, producer Sean S. Cunningham, George Wendt, and Fred Dekker are all on hand for this new hour-plus documentary about the making of the film.
Vintage Making-of:
Drew Cummings produced this twenty-four minute archival making-of featurette which features all the vintage marketing glory of the period.
It's Getting Weirder!:
Arrow also includes this brand new hour long documentary devoted to the making of House II, featuring writer/director Ethan Wiley, Sean S. Cunningham, Arye Gross, Jonathan Stark, and several other cast members.
Vintage EPK:
This fourteen minute vintage segment features behind-the-scenes footage and interviews used to market House II.
Final Thoughts:
Although the House series has its cult base, newcomers expecting to discover a lost 80s gem of genre filmmaking will most likely be disappointed, particularly by the adolescent antics in full force for the initial sequel. However, fans of Peter Jackson's early comedy-horror may find something of interest here, particularly any fans of Dead-Alive (1992) or The Frighteners (1996).
House (1985)
Film Review: ★★½/☆☆☆☆☆
Disc Review: ★★★★/☆☆☆☆☆
House II: The Second Story (1987)
Film: ½/☆☆☆☆☆
Disc: ★★★★/☆☆☆☆☆