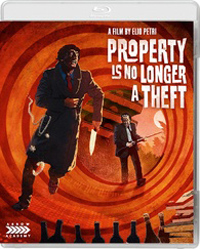 Elio Petri remains one of the unsung auteurs of Italian cinema, a master of the grotesque and bizarre, who's morbid narratives were often more politically outré than the works of peers like Fellini or Scola, and never quite as internationally scandalizing as Ferreri or Pasolini. His legacy, (and the availability of his films), perhaps remains obscured because he was often more celebrated abroad rather than at home. This accounts for an impressive array of accolades on a number of major festival platforms sans Venice. Competing three times in Berlin (he won the Silver Bear for the terrific psychological horror film A Quiet Place in the Country starring Vanessa Redgrave and Franco Nero), he took home a major prize each of the three times he competed in Cannes, including Best Screenplay for 1967's We Still Kill the Old Way, the Grand Jury and FIPRESCI Prize for his widely renowned masterwork Investigation of a Citizen Above Suspicion in 1970 (which also netted him an Oscar nod for Best Writing), and won the Palme d'Or in 1971 for The Working Class Goes to Heaven. His 1973 title, the black comedy Property is No Longer a Theft, the third part of his trilogy of neurosis, broke his winning streak, premiering in Berlin and later raked over the coals by the Italian press who widely disparaged the film. Having taken on the perversions of power and the futility of labor relations, it would be his blatant attack on capitalism which seemed to spark the most intense ire, detailing the vengeance of a dispirited bank clerk who refuses his social standing by quitting his job and slowly stealing the prize possessions of the onerous but filthy rich butcher he once attended at his job.
Total (Flavio Bucci), a young and naive bank teller, finds he is allergic to money, which causes some unsightly abrading of the skin while at work. However, Total becomes all the more obsessed with acquiring money, seeing as neither he nor his father, with whom he lives, have much of it. Inspired by the brash and demanding butcher (Ugo Tognazzi) who remains one of the bank's VIPs, Total attempts to take out a loan to purchase some property, understanding in order to have economic wealth, he needs to acquire some. Turned down promptly by his supervisor, Total quits, and takes to tormenting the butcher by stealing first his possessions and then his mistress (Daria Nicolodi). Eventually, he blackmails a well-revered thief, Albertone (Mario Scaccia) to assist in a more elaborate burglary of the butcher's property.
While Petri is today best remembered for his 1965 cult sci-fi item The 10th Victim starring Marcello Mastroianni and Ursula Andress, his body of work was more often a blunt examination of political realities. In an interview with Simon Mizrahi concerning Todo Modo (1976), Petri stated "the purpose of a political film is to contribute to de-trivializing both the way to see and what there is to see." Property is, without a doubt, a political statement on class and materialism, most of its dialogue heavily laden with cynical, bitter observations from a character refusing to accept his proscribed situation. Petri allows his main characters to address the audience in theatrical asides, which includes an opening statement on how we are "equal in our needs but unequal in how we satisfy them."
Flavio Bucci, playing a clerk with the last name of Total (a surname which indicates a crushing finality—he has already reached the pinnacle, or total limits of existence), has the need to feel equal, as evidenced by his attempts to mimic the process of financial gain he has observed by Tognazzi's butcher. "A property owner must not be confused with a non-property owner," Total's tired father, who retired quietly and penniless out of the same exact position his son now occupies. "What right do you have?" is the admonishment which greets him when he attempts to secure a loan, a way to procure property, and thus breach the entryway to the upper echelons.
Bucci, who famously played the blind pianist in Argento's masterwork Suspiria (1977) is a gangly, frustrating fool, whose manic scratching he develops as an actual allergy to money is one of several comic gags. Looking like a cross between Al Pacino and Adrien Brody, his breaking point allows him to be more than the spineless loser he's been addressed as his entire life, and the early encounters in the rigid social structure of the bank are reminiscent of Sam Raimi's jumping off point for 2009's Drag Me to Hell.
Italian star Ugo Tognazzi (every bit the brutish butcher stereotype as emobodied by Jean Yanne's serial killer in Le Boucher, except much less friendly) is an easy target to hate, even belittling the police inspector who seem actually interested in catching the man who has chosen to so bizarrely terrorize the businessman. A bully and a poor loser, he uses the theft of his belongings as a way scam the insurance company for even more money, which only helps drive his mistress, Daria Nicolodi (who was involved in a long term relationship with Dario Argento, starring in several of his films, and eventually resulting in their daughter, Asia Argento) further into the arms of Total, going so far as to bring him veal even after she's been sexually manipulated and assaulted by the vengeful young man.
All of the characters of Property is No Longer a Theft, (which positions property and not money as the inherent root of all social evil), are motivated by the ownership of property. At Albertone's funeral, the old thief is given a grand eulogy about how it is they (thieves) who allow capitalism to stand, for without their taking of property belonging to others, there would be no need for law and no establishment of worth. And then there's the law, here seen as responsible for the resuscitation of stolen property or the equivalent punishment. And woman, who is seen here as merely something belonging to man.
Nicolodi is entertaining as the literal object of desire, who may voice her preference for the brutish Tognazzi, but is at least allowed to object to her treatment at the hands of Bucci, who she seems to understand. Nominated for a Golden Goblet for Best New Actress, the performance remains one of her most intriguing non-genre roles. Paired with another notable score from Ennio Morricone (although nowhere near as pronounced as the masterful compositions from his work on Investigation), this is perhaps a bit too sardonically downbeat for wider appreciation.
Disc Review:
Property is No Longer a Theft arrives as one part of the newer Arrow Academy releases, a highbrow sister label of Arrow Video which has been consistently refurbishing a number of exciting but neglected titles of world cinema in brand new deluxe editions. This new 4K restoration, presented in 1.85:1 high definition DVD and Blu-ray, is the best packaging of Petri's work since Criterion restored Investigation of a Citizen Above Suspicion several year's prior (and is Arrow Academy's second recuperation of Petri's following the 1961 debut L'assassino). As usual, several noteworthy extra features are included, new interviews courtesy of Arrow.
My Name is Total:
Flavio Bucci is interviewed in this new twenty minute segment to discuss his experiences on Petri's film.
The Middle Class Communist:
Producer Claudio Mancini is interviewed in this new twenty-three minute interview, discussing how he first met Petri and their working relationship.
The Best Man:
Make-up artist Pierantonio Mecacci shares is memories of the film in this new twenty-three minute interview.
Final Thoughts:
An excellent restoration of one of Petri's most acerbic, cynical titles Property is No Longer a Theft remains bleakly amusing.
Film Review: ★★★★/☆☆☆☆☆
Disc Review: ★★★★/☆☆☆☆☆