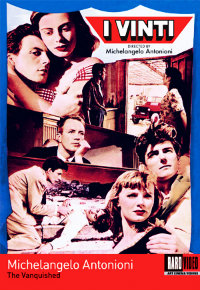 Michelangelo Antonioni's third feature, I Vinti, translating as The Vanquished, gets a Blu-ray upgrade from Raro Video, serving as a definite collector's item for aficionados of the director. A rather stilted and stuffy moral tale about lost youth, it's a title championed by some as serving as an index for the turning point in Italian cinema, which was heavily influenced in the post-war period by a Catholic revival. Certainly, this is the auteur still struggling to find his stride, and the title most notably serves as an influential precursor to his most celebrated work, 1966's Blow-Up. Beyond this, it's a rather lukewarm trio of segments based on 'ripped-from-the headline' scenarios concerning privileged youths and their apathetic ambivalence toward their fellow man, supposedly caused from growing up through war.
Bouncing from France, to Italy, and finally, London, England, we get a series of disturbing acts of violence from young men and women based on true events. The set-up is an awful lot like last year's A Touch of Sin from Jia Zhang-ke, only Antonioni sandwiches his triptych with a stilted narrator who advises us that these reenactments are for the opposite effect of glorification, unlike the distortion of the media.
In France, a group of teenagers decide to kill people, an innocent pegged as the scapegoat by his best friend. In Italy, a student with about a year left at university becomes embroiled in smuggling ring. But when a drop goes wrong, he's suddenly a murderer, a fugitive from the law trying to reconnect with his wealthy girlfriend to convince her to run away with him. Lastly, a pretentious young poet discovers a body in London, using the event as a fast track to fame. When his fifteen minutes quickly pass, his desperation for attention reveals a much more insidious connection to the crime.
With its Italian and French segments drenched in heavy-handedness, it's hard not to approach the material as hopelessly dated, playing like an amateurish handling of Crime & Punishment. While both these segments caused considerable problems at the time, including a ban in France, while censorship issues plagued it's acceptance into the Venice Film Festival, where it finally received an out of competition slot (bowing to extremely negative reviews which caused a botched re-shoot of the Italian portion that significantly changed the final product), it's the final segment, where we see definite connections to Blow-Up that manages to be the most arresting, especially during its visual recount of the murder in question. The poet, Aubrey, as played by Peter Reynolds, is a definite standout here, unlike the rather wooden performances spackling the other two segments, and his eerie presence is reminiscent of Karlheinz Bohm's killer in Peeping Tom (1960).
Disc Review:
The print, which was restored and remastered with the cooperation of the Venice Film Festival, looks good, and this upgrade is a nice transfer.
Extra Features:
Uncut Italian Episode
The original uncut version of the Italian episode, which had been presented originally at the Venice Film Fest but not in the theatrical release, is included for completest pleasure. It's worth a look and certainly highlights how the original product seemed at odds with the other two segments.
Tenato Suicide
A rare 1953 short from Antonioni, Attempted Suicide, plays a lot like I Vinti, a faux documentary styled reenactment of its true life events with a stilted narrator feeding us the heavy handed message. Even at 22 minutes, this feels incredibly long to sit through.
Turi Vasile Interview
An interview with producer Turi Vasile is an interesting feature. Positioning the film within the context of what else was happening at the time in Italian cinema, Vasile holds the film in high regard and hails it as a milestone.
Franco Interlenghi Interview
An interview with the star of the Italian episode, who had been something of a young star during the period due to his roles in The City Stands Trial (1952) and Fellini's I Vitelloni (1953), is of less interest in his recall of working with Antonioni, though he relates that the director had a surprisingly violent and aggressive side.
Final Thoughts
Any Antonioni fan should certainly find I Vinti worthwhile, though it hardly stands up in comparison to the director's later works. Enzo Sarafin's cinematography appears to be cramped and uninspired with the exception of the murder sequence in the final segment as the poet leads the aging prostitute to the private outdoor area where she would meet her end. Here we get close-ups and ominous skylines that capture the eye unlike any sequence that's come before. For those uninitiated with Antonioni, I Vinti is certainly not the title to begin with, and though it's arguably worth recuperation, it's certainly worth a look.
Film: ★★/☆☆☆☆☆
Disc: ★★★½/☆☆☆☆☆