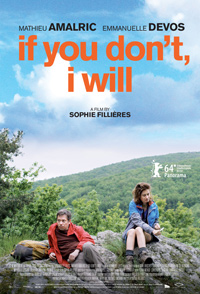 For her fifth feature, If You Don't, I Will, director Sophie Fillieres reunites with star Emmanuelle Devos to document the wistful disintegration of a relationship that probably should have ended years prior. Premiering at the 2014 Berlin Film Festival, the title received a very limited theatrical engagement in New York at the end of the year, which is a pity considering the attraction of its two lead performers. At times droll in its routine procedure of two beings unwisely torturing one another for the sake of familiarity, Fillieres dips the film into more emotionally evasive territories in its second half that maintains a dark, comedic edge even as it grapples with examining the self-made traps people back themselves into.
Pomme (Devos) and Pierre (Mathieu Amalric) have been together for fifteen years, now alone after their son Romain (Nelson Delapalme) has left for college. We see them engaged in bitter resentment from the start, both vaguely defined by their occupations, which doesn't seem to help their abject inability to break out of their clouded methods of communication. Fleetingly, they engage in brief moments of familiar warmth, sharing a bottle of frozen champagne they've discovered in the ice-box, for instance. But mostly they seem irritated at their inability to exist comfortably in shared moments of downtime, whether visiting museums, hiking, or taking in-home fitness instruction from a foreigner. But one day in the woods, Pomme can't seem to take Pierre's bitter reproaches any longer, vowing to stay there and never leave.
Devos and Amalric have played on-screen couples before, more recently in Arnaud Desplechin's 2008 film, A Christmas Tale. Fillieres, like Desplechin, is one of several directors that prize the beautiful talent of Devos, and it's a considerable lead role for the very busy performer, who's equally mesmerizing performances in Martin Provost's Violette and Jerome Bonnell's Just a Sigh managed to graze over art-house theaters briefly last year.
Amalric has the less empathetic role, playing an exasperated man who sometimes carries their funny games a bit too far. The result of their constant bickering has proven to have taken a toll on Pomme, a woman whose every wounded retort feels lined with unintentional heartache, of which there seems little reprieve from. Fillieres' dialogue has an unnerving, authentic ring to it, nailing the bourgeoisie pettiness that can warp a relationship from the one danger it can never protect itself from—the overexposure of time.
The film takes on a radical new dimension following Pomme's psychotic break, leaving her stranded in the woods while Pierre leaves her behind, guiltily shirking the attentions of his almost mistress (Josephine de La Baume) back home, chastised by their detached son for being so aloof. Devos interacts splendidly with nature, emotionally unwinding in the wild as she interacts with a surprising amount of animal life, including a chamois that Pomme must help release, perhaps a metaphor for the hole she has to dig her own self out of.
Disc Review:
A customary DVD package from Film Movement, If You Don't, I Will is presented in widescreen 1.85:1, with serviceable 5.1 surround sound. To be fair its technical credits aren't the important components, and allows for the necessary focus on Devos and Amalric. A trio of interviews and a short film also accompany the disc.
Emmanuelle Devos Interview:
A nearly eleven minute interview with Devos is a definite watch, the actress discussing her approach to the role and comparing Amalric's character to that of Charles Boyer in Gaslight (1941).
Mathieu Amalric Interview:
We get a brief four minutes of footage from Amalric, who claims to have been a fan of Fillieres since seeing her 2000 film Ouch.
Sophie Fillieres Interview:
We get thirteen minutes of footage from Fillieres, who talks about examining anguish through comedy, even though she wouldn't classify any of her films as comedies (and perhaps it's important to note that she co-wrote Philippe Grandrieux's 1998 film Somber).
Short Film – Driving Lessons:
A fourteen minute short film made in 2012 from Elodie Lelu, Driving Lessons features rising actress Pauline Etienne as a young woman about to take her driver's test only moments after discovering she's pregnant. And yeah, her grandma is along for the test drive. Lightly entertaining, the film feels very familiar to Paul Weitz's 2015 film Grandma.
Final Thoughts:
One can't help but recall the words to the famed Neal Sedaka tune concerning how hard it is to break up with someone, even when it means staying in an endless, toxic cycle for all the wrong reasons. For that alone, Fillieres manages to come to an alternate conclusion, ending in one final, abrupt scene that's mostly surprising because it's exactly what we've been trained not to expect from films dealing with relationship issues from a woman's perspective.
Film: ★★★½/☆☆☆☆☆
Disc: ★★★/☆☆☆☆☆