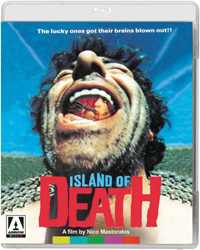 Arrow Video cleans up the obscure video nasty Island of Death this month, a rare representative of Greek exploitation cinema. A shameless cash-in on the success of Tobe Hooper's 1974 classic The Texas Chainsaw Massacre, director Nico Mastorakis was inspired to outdo the gruesome violence of that title in order to secure his own fame and fortune. Of course, time has feted out a different trajectory for the title, though it started Mastorakis on his own wayward path as a director of various schlock. Though its infamous reputation precedes his debut, by today's standards, the shock value of his troubled venture is mostly laughable in its desperately handled perversities. However, Mastorakis captures a sort of beautiful dread with his striking locale, and lovers of vintage genre will appreciate the odd juxtaposition of grindhouse quality antics filmed on an exotic island.
Christopher (Robert Behling) and Celia (Jane Lyle), a blond, giddy and somewhat British young couple arrive on the sun drenched Greek island Mykonos. Almost immediately, the young photographer and his dippy companion begin engaging in sexually compulsive behaviors (including bestiality) before killing denizens of the island they deem to be perverted, mostly people showing some signs of sexual interest in the pair, both gay and straight.
There's an ambience early on in Island of Death recalling the isolated island dread of Serrador's classic of the same year, Who Can Kill a Child? (aka Island of the Damned), but the similarities are short lived once the plot kicks into gear and a series of uneasily staged murders transpire amongst a pair of 'Lonely Hearts' type killers looking to rid random environments of people they deem to be sexual deviants. But they're rather non-discriminating in their warped way, avoiding a problematic semblance of mere gaysploitation since Christopher and Celia just as readily maim heterosexuals in their path.
Most infamous is an early sequence featuring Robert Behling have random sex with a goat before slitting its throat and draining the blood into a bucket, and later on a golden shower sequences (referred to on the disc jacket as 'sexual peeing') filmed with an equal measure of sloppy glee. Distasteful, perhaps, but Mastorakis seemed to miss the point of the gruesome effectiveness in Hooper's "Chainsaw Massacre" in that a certain a level of believability must be reached before the audience can develop a sense of awe or shock.
It's interesting to note that principal cast members were credited under pseudonyms, though neither of the leads would continue with plentiful careers (though Behling would star in a number of minor supporting roles in fare like The Enforcer, etc, before retiring after 1983's Cujo).
Disc Review:
As always, Arrow Video provides us with a beautiful transfer, here with a brand new 2K restoration of a title once quite difficult to track down. A bevy of extra features may fool you into thinking the title is worthwhile, though some of these are more entertaining than the film itself.
Exploring Island of Death:
Film historian Stephen Thrower discusses the origins of Island of Death in this forty minute feature, beginning with the cuts that were required for the film to gain initial theatrical release and it's many titles, including A Craving for Lust and Island of Perversion.
Return to Island of Death:
Mastorakis returns after forty years to the original shooting locations on Mykonos in this seventeen minute feature.
Archive Interview with Mastorakis:
A twenty three minute feature finds Mastorakis discussing the story behind the film, which he asserts is more interesting than the story in the film.
Island Sounds:
A twenty four minute feature includes the bizarrely upbeat soundtrack of the film.
The Films of Nico Mastorakis:
An hour long documentary exploring the filmography of Mastorakis as narrated finds the director apologizing if his 'stories' about the making of his films are ultimately better than the films themselves. The feature is a bit much considering only the director himself is weighing or glorifying his own filmography.
Final Thoughts:
The real star of Island of Death is Mykonos, and if you fast forward through all the silly murders, the film is a visual paean to the remote location. Gory but never grueling, it's an odd title some may find worthy of checking out though may not be the grand rediscovery some were hoping to find.
Film: ★½/☆☆☆☆☆
Disc: ★★★½/☆☆☆☆☆