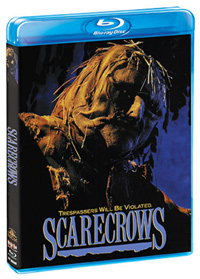 At the top of a definite genre shortlist is William Wesley's 1988 title Scarecrows, a little horror flick about the eponymous objects used to frighten birds away from crops. Unfortunately, to use a cheap analogy, their use as frightful entities on film is parallel to their safeguarding of crops, effective only to the cognitive capabilities of smaller creatures. While Wesley maintains an effective command of ambience throughout this nocturnal jaunt through the vegetation, a bounty of budgetary restraints, strained performances and belabored writing seemingly brought on by a limited concept mark the film as fodder for the Mystery Science Theater 3000 experience.
A band of ex-military criminals heist the Camp Pendleton payroll, take a pilot and his daughter hostage, and make a mad dash through Mexico. However, one of their crew members double crosses them, attempting to murder his cohorts and escape with all the money for himself. This leads them to an unexpected stop in a cornfield full of scarecrows and an abandoned farm house. But not everything is as inanimate as it seems in the field.
Wesley (besides appearing as a Go Go Dancer in the Dominic Sena directed Janet Jackson music video "Rhythm Nation 1814") would only go on to direct one other feature, 2001's Lou Diamond Phillips starrer Route 666. Scarecrows is hardly evidence to suggest such a drought in his filmography, though it's a pity that more couldn't have been done with this somewhat campy idea.
Thanks to some creative framing from Peter Deming (he'd go on to work on films like David Lynch's Mulholland Drive and Sam Raimi's Drag Me to Hell) and some simply but effective scarecrows credited to art director Clifford Guest (Beverly Parks and Gary Roberts served as costume and production designer respectively, though neither would continue to work within the film industry), the idea of Scarecrows seems more inspired than the actual product. Hopelessly dated performances from the ragged band of ex-military criminals, with some of the actors looking intensely similar, distracts from the effectiveness of the weirdness going on in the fields, and a bit of back story would have helped ratchet up some initial tension.
Disc Review:
Shout Factory's subset, Scream Factory, continues to impress with the lengths gone through to resurrect lost and forgotten genre titles, and so the amount of effort evident in this Blu-ray package should be noted. Presented in 1.85:1 Widescreen, Scarecrows looks atmospheric when we're focused on its monsters, though the special effects crew can't save the distracting presence of the human characters. A host of extra features belies the title's cult presence, including optional audio commentary with director Wesley, producer Cami Winikoff, co-writer Richard Jefferies, DoP Peter Deming, and composer Terry Plumeri.
The Last Straw:
This sixteen minute feature is narrated by special effects creator Norman Cabrera, who describes the film as looking like a student filmmaker, made guerilla style.
Cornfield Commando:
An eight minute interview with actor Ted Vernon finds the actor very proud and grateful to have starred in the film, which he credits with allowing him to gain work all over the world.
Original Storyboards:
Nearly four minutes worth of material shares the original storyboards from the film's production.
Final Thoughts:
Rather forgettable, unless you're a die hard aficionado of late 80's horror obscurities, Scarecrows feels stuffed the same sawdust as its titular effigies. For something a bit more lively and thematically similar, check out Frank de Felitta's 1981 made-for-television film Dark Night of the Scarecrow starring Charles Durning.
Film: ★½/☆☆☆☆☆
Disc: ★★★/☆☆☆☆☆