The Reincarnation of Peter Proud | Blu-ray Review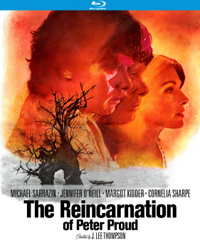 British import J. Lee Thompson was perhaps most revered in the 1950s and 60s, competing in Cannes (the Diana Dors headlined Yield to the Night) and Berlin (competing three years in a row from 1957-1959) before bowing his most notable title in 1961 with The Guns of Navarone (for which he received his sole Oscar nominee as Director). Responsible for the first adaptation of Cape Fear (1962), Thompson continued to work with a host of Hollywood luminaries through the next several decades, while the 1970s saw him dip into mainstream franchise territory (most notably with two Planet of the Apes sequels). While he would spend his final decade churning out many Charles Bronson vehicles in the 1980s, Thompson was more multi-faceted than any one period of his filmography suggests. In the mid-1970s, he would adapt Max Ehrlich's novel The Reincarnation of Peter Proud, which like Robert Wise's 1977 Audrey Rose, attempted to cash in on the trending topicality which had delivered several high profile best-selling books.
Starring Michael Sarrazin (of The Shoot Horses, Don't They?) in the titular role as a professor who begins to experience recurring nightmares of a place he'd never seen alongside a woman he'd never met, he soon discovers he might be the reincarnated spirit of a murdered man. His girlfriend (Cornelia Sharpe) confirms the voice he uses during these nighttime episodes is that of a stranger she doesn't recognize. As the nightmares continue, Professor Proud is led to a small New England town where he finds himself attracted to a beautiful young woman (Jennifer O'Neill) whose wealthy mother (Margot Kidder) might possibly have been the woman who killed him in a previous life.
A narrative which depended solely on the shock value of its pulpy subject matter, The Reincarnation of Peter Proud is unbelievably dated. Despite being handsomely shot by Victor J. Kemper (Dog Day Afternoon) and featuring a moody score by Jerry Goldsmith, Ehrlich's script (whose Z.P.G. suffers similarly) fails to play to its strengths. After all, Sarrazin plays a man who is inextricably drawn to a woman who is, essentially, his daughter. And while this serves as a catalyst for the climax, the creepiness of the scenario isn't utilized. Meanwhile, Cornelia Sharpe's acting is a major blight in the film's first half, while Margot Kidder spends most of her scenes in unconvincing geriatric make-up.
Kino Lorber presents the title in 1.85:1 in this new HD Master from a 4K scan of the original 35mm negative. Picture and sound quality in this transfer highlight the film's best assets, at least. Film historian Lee Gambin provides an audio commentary track.
Film Review: ★★/☆☆☆☆☆
Disc Review: ★★★/☆☆☆☆☆