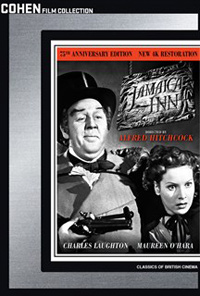 Cohen Media Group beautifully restores Alfred Hitchcock's 1939 title Jamaica Inn. A title worthy of reconsideration, considered by many to be an inferior work from the master of suspense, even from the director himself, it's a definite gem, particularly for fans of Charles Laughton. The actor, whose production company basically commandeered the production, gives a swarthy, deliciously overwrought performance. It's a standout in a career already filled with such distinction. The film also serves as the film debut of the beautiful Maureen O'Hara, here playing a glorified damsel in distress.
The narrative is relatively simple, set around 1800 as young Irish lass Mary (O'Hara) makes a surprise visit to the Cornish coast to visit her Aunt Patience (Marie Ney) following the death of her mother. Patience lives with Mary's uncle Joss (Leslie Banks, who vies with Laughton for greatest scene chewer), a man that provides the muscle in a scheme wherein his gang purposefully orchestrates shipwrecks along the coast before they murder the crew and take all the goods. They reside at Jamaica Inn, and so fearful of that place is Mary's transport, she is dropped off at the nearby manner of the local shire, Sir Humphrey Pengallan (Laughton). He's immediately taken by her beauty and escorts her to her relatives, though Mary ultimately witnesses an impending murder of one of the gang members, Jem (Robert Newton). Saving him, she immediately becomes a target of the ruthless gang, leading her back to Pengallan for help, not suspecting that he may have ulterior interests in the situation.
Jamaica Inn is notable for several reasons, standing as Hitchcock's last film in the UK before he signed with Selznick in the US, and his first adaptation of a trio of Daphne Du Maurier's novels. Those successive ventures would prove more worthwhile to Hitch, including his Best Picture winner Rebecca (1940) and the iconic The Birds (1963). Jamaica was Hitchcock's way of proving his merits to tackle Rebecca, which may explain his lack of enthusiasm for the project from its origination. The film ended up being a box office success, and despite feeling a bit wan as a thriller, and a bit too predictable, it's also incredibly dark and despairing for a period drama made in 1939. O'Hara is young and beautiful, but Jamaica Inn belongs to the malevolent and delightfully over-the-top Charles Laughton.
Disc Review:
This new 4K restoration screened as part of the Cannes Classic section of the 2014 line-up. The very obvious studio bound production may have been severely criticized for its artificiality, but Harry Stradling Sr. & Bernard Knowles cinematography make atmospheric use out of the crumbly, eponymous inn. Robert Hamer (director of Kind Hearts & Coronets, 1949) served as film editor, and if the film can't quite muster any resolute thrills, it's darkly administered gothic period morphs wonderfully from moody to sleek camp. The presentation from Cohen Media Group is a definitely a worthy recuperation of the title, and there is even one extra feature.
Shipwrecked in a Studio:
A new video essay by Donald Spoto, at about thirteen minutes in length, is hosted by the noted biographer. The feature documents the behind-the-scenes drama that went on with Laughton's stranglehold on the production. It's succinct and fascinating, with mention of Hitchcock agreeing to direct due to his interest in a future production of Du Maurier's Rebecca.
Final Thoughts:
It's not so much what is being said in Jamaica Inn, but its tone. Hitchcock claimed he felt like a referee on the film, unable to reign in Laughton. But to his credit, Laughton mutates a potentially stuffy villain into a terrifically offbeat, perversely repellant portrayal. "The age of chivalry is gone," he cries out near the finale, before imparting several other words of glorious wisdom right before seizing his fate, one of cinema's most curiously inspired sirens.
Film:★★★½/☆☆☆☆☆
Disc:★★★½/☆☆☆☆☆