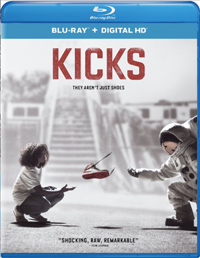 Combining art-house visual aesthetic with gritty urban coming-of-age formula, director Justin Tipping makes a striking directorial debut with Kicks. A heartfelt examination of youthful freedom rebuffed by cruel realities of the increased day-to-day despair inevitably realized with the onset of maturity, Tipping's title recalls a burgeoning movement of the early 1990s, a period when black filmmakers first began to populate independent cinema with meaningful stories having the courage to let audiences consider inescapable unpleasantness encountered by their characters. In the increasingly whitewashed cinematic landscape, where consequences are minimized and ragged edges worn smooth to ensure character likeability and the regressive consideration of audience comfort above all else, Tipping's film may be familiar but plays like a welcome throwback to a more sincere era of representation mixed with the filmmaker's pronounced inspirations.
Raised out of a low-income neighborhood outside of Oakland, California, fifteen year old Brandon (Jahking Guillory) is small for his age, a potential target amongst his peers if it weren't for his two best friends Albert (Christopher Jordan Wallace) and Rico (Christopher Meyer). Made fun of because he's too poor to afford new shoes, he dreams of obtaining a pair of Air Jordans because he feels they will be a status symbol which will elevate him socially in the eyes of his friends and members of the opposite sex. Saving his money, an opportunity arises for Brandon to obtain the shoes, but he quickly becomes a target by some gang members, the vicious leader Flaco (Kofi Siriboe) beating Brandon down and stealing the sacred name brand gear to be used for his own son. Enraged, Brandon guilts his friends into helping hunt down the man who took his shoes, which leads him into Oakland, first stopping off at his uncle's (Mahershala Ali) for some advice on how to handle the situation. While everyone suggests Brandon simply save up to buy another pair of shoes, the young man is determined to rescue his prized possession, consequences be damned.
Although Kicks isn't ultimately substantial enough to support Tipping's frequent flourishes, moments which should enhance rather than distract, it's easy to see fetishization of the masters at work, from Terrence Malick to the director's own publicized penchant for Wong Kar-Wai and Jacques Audiard. At the same time, the constant utilization of slow-motion fantasy sequences meant to imbue Guillory's Brandon with a bit more complex interiority instead collapses on itself, only enhancing his trenchant selfishness as well as courting pretentiousness with presentation.
The appearance of the astronaut, a representative from outer space, the calm, serene realm where humans can exist peacefully by themselves (as indicated by Brandon's fantasies) arguably could have been more effectively poetic (especially in a significant altercation at the climax) if utilized a bit less. But the motif is certainly a palpable one, an assertion wherein the hope represented in the expansive sky above only further cements the inescapable squalor of a ruined planet below. At the same time, this has been explored before in different forms, playfully reminiscent of a character portrayed by Michael Pitt in French filmmaker Samuel Benchetrit's 2015 film Asphalte (aka Macadam Stories).
Compared to Rick Famuyima's audience friendly but ultimately superficial and frivolous Dope (2015), which brazenly attempts to demand nostalgic fervor by blatantly reconfiguring music from the 1990s for its own needs, Justin Tipping's Kicks isn't formulated to make white audiences comfortable. At the same time, it is lacking in the sort of strong characterization which underlined the early works of Spike Lee, Ernst Dickerson, and John Singleton of the early 1990s, but Tipping's narrative is also detrimental because it provides an example of how far we may have come, but how little has changed as regards black on black crime, bullying, and a dizzyingly fragmented American culture which allows for the continual cycle of degradation and violence amongst populations written off as disenfranchised.
Brandon learns several priceless lessons from his situation, the least of which deal with the prizing of material possessions over a regard for humanity, whether as a perpetrator or a victim of violence. As a tale of the streets and urban youth, this limited perspective focuses almost entirely on a masculine perspective, and Tipping seems more fascinated by the sometimes jarring juxtaposition of masculinity and tenderness (as evidenced with a surprisingly potent supporting performance from Kofi Siriboe of Ava DuVernay's "Queen Sugar"). Likewise, Mahershala Ali proves what a priceless asset he is to any cast with his brief supporting turn here—along with some phenomenal work in Moonlight and an appearance in Hidden Figures, it's shaping up to be a watershed year for the actor.
Tipping's brief glances into Marlon's incredibly dysfunctional household (as well as Flaco's) provides more information about day-to-day existence for these fleeting supporting characters than any kind of sense we feel for Brandon and his two best buds. Marlon's kids (Donte and Dante Clark) and a sequence featuring vehicular shenanigans in a parking lot feels as authentic as it is darkly comedic. Likewise, when Brandon is accosted by a burly man who calls to him cheerily from his van, 'curly haired little boy, come here,' and thenn "Ol' Will-Smith's-son looking little boy," it's a moment as hilariously unpredictable as it is borderline creepy. Guillory is likeable and scrappy as our lead protagonist, despite his extreme selfishness and lack of forethought involving his friends in his dangerous escapade. Christopher Meyer and Christopher Jordan Wallace (son of The Notorious B.I.G. and Faith Evans) have less to work with but provide solid supporting work as character types.
Disc Review:
Universal releases the indie title in high definition 2.40:1, master audio 5.1. Picture and sound quality are alluring on the release, particularly a busy soundtrack with several notable tracks from various hip hop artists segmenting the film thematically. Likewise, Michael Ragen (who won a Jury Award for cinematography out of Tribeca) manages some visually visceral moments, particularly a tense sequence in Flaco's apartment, flooded in hellish red hues.
Kicks – One on One:
This brief two-and-a-half minute featurette finds several cast members commenting on the film's narrative.
Final Thoughts:
Alarming but not despairing, Kicks is about more than just shoes and gingerly portrays the psychological and physical ripple effects of violence.
Film Review: ★★★/☆☆☆☆☆
Disc Review: ★★★½/☆☆☆☆☆