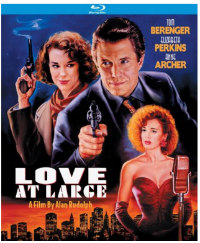 Writer/director Alan Rudolph is still inextricably linked to Robert Altman, his mentor and eventual producer for several of Rudolph's own features. Having served as assistant director on Altman's The Long Goodbye and Nashville, Rudolph would eventually steer his own considerable, idiosyncratic filmography. But without any significant mainstream efforts to explode him into the fabric of the cultural zeitgeist, many of his works faded quickly into obscurity, particularly if they weren't well-received by critics. Often featuring delectable roles for offbeat female leads (including some unforgettable roles for Genevieve Bujold, Jennifer Jason Leigh, and Geraldine Chaplin), a late 90s Oscar nod for Julie Christie in Afterfglow (1997) resuscitated interest in the auteur. But the decade started out on a disappointing note for Rudolph with 1990's Love at Large, the follow-up to critically acclaimed The Moderns (1980). Featuring a cascading array of notable actors, it's an offbeat endeavor, to say the least, operating as a pseudo-farcical neo-noir but posing as an unlikely romantic comedy. A woman in trouble hires a down-and-out private eye, but the following elliptical narrative only seems to repeat the refrain of Leonard Cohen's track "Ain't No Cure for Love."
Private eye Harry Dobbs (Tom Berenger) gets lassoed into a strange new case when the troubled Miss Dolan (Anne Archer) hires him to follow her mysterious boyfriend (Ted Levine) for a month. With his profession seriously affecting his relationship with girlfriend Doris (Ann Magnuson), Dobbs takes off in pursuit of his target, quickly discovering the man is not just married to a local woman (Annette O'Toole) but also has a second family on a ranch, where his other wife (Kate Capshaw) is engaged in her own shenanigans. Meanwhile, another private detective (Elizabeth Perkins) seems to be tailing Dolan's man. Or is she following Dobbs?
In many ways, Rudolph's Love at Large feels akin to Francis Ford Coppola's failed 1981 romantic 'musical' One from the Heart, with an awkward Tom Berenger reminiscent of the Frederic Forrest lead. Utilizing a gruff, scratchy growl, which often devolves into awkward bouts of shouting, Berenger's rugged P.I. is often comically painted as a klutz, spilling martinis down his chin at the elegant Blue Danube club, or bonking his head on lamps in the presence of Archer's glib seductress. But the film's evasive tone is confusing and potentially off-putting to those expecting a certain payoff. Love at Large is amusing, but never very funny, initially ominous but never foreboding, and features romantic interludes never quite fulfilling.
But Berenger's coarseness is amusing, and Elliott Davis' atmospheric cinematography turns its Portland locations into a sort of timeless oblivion, like a city stuck in the loungy smoke of a 1940s juke joint but where the transient outdoors have evolved into a paralyzed world of rudimentary gadgets. A number of actresses notable from the period make appearances, though most of them seem to be playing a certain 'type,' like a shrill, clingy Ann Magnuson or a doe-eyed Elizabeth Perkins. Anne Archer is perfect as a translucent template of the composed femme fatale, while Ted Levine's dueling wives, (an interesting Kate Capshaw and a rather dour Annette O'Toole), could have been utilized to better effect. A standout sequence features a knock-out Ruby Dee as the manager of Perkins' detective agency while an improbable Neil Young gets thrown into the mix, but is overshadowed by his own distracting hair piece.
Disc Review:
Kino Lorber situates the forgotten Rudolph title as part of its Classics label, presenting it for the first time on Blu-ray in 1.85:1. Picture and sound quality are both solid in this release and it is one of the better packages as far as the director's lesser beloved titles are concerned. The item arrives without extra features.
Final Thoughts:
Deliberately strange, to the degree where Love at Large refreshingly defies easy categorization, Rudolph's bizarre universe feels innovative even as it leads to an expected finale.
Film Review: ★★★/☆☆☆☆☆
Disc Review: ★★★/☆☆☆☆☆