The Mummy | Blu-ray Review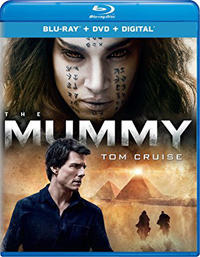 American cinematic drivel is becoming more of a tried and true import infecting international theater chains, as evidenced by the latest attempt of Universal's reboot of its famed monster movies with Tom Cruise starrer The Mummy. Director Alex Kurtzman's contributions were eclipsed by the star wattage of Cruise's demands in a reboot which unfortunately forgets its integral titular leviathan in favor of its male lead's ego. The one-hundred-and-twenty-five-million-dollar budget was a flop by domestic box office standards (taking in eighty million), but excelled overseas, where it would come back with a total take of over four-hundred million. Still, it's dark days ahead for the newly minted Dark Universe rehashes, which may eventually lead to directors being allowed to craft material without the interference of studio butchery or celebrity selfdom.
Resurrecting its treasure trove of iconic movie monsters, Universal plunders the memory of Boris Karloff's original creation (and the high profile CGI dependent series starring Brendan Fraser) with this wan attempt to retrofit another quantifiable property for star Cruise. However, Cruise's favored scribe Christopher McQuarrie, along with David Koepp and Dylan Kussman (Jon Spaihts and Jenny Lumet, daughter of Sidney, also receive story credits) hobble this version's greatest asset, the backstory of its evil entity, here transformed into a woman scorned by a patrilineal tradition which saw her robbed of a kingdom thanks to the misogynist traditions of Egypt's ruling class. Instead, this rather silly hodgepodge of clichés attempts to do a monster mash and wrongly asserts its misplaced star in the midst of another special effects heavy extravaganza which ignores the necessity of tension or dread to effectively sell a product as dried out as its titular corpse.
Nick Morton (Cruise) is an ex-Army sergeant who pillages antiques from Iraqi war zones alongside his partner in crime Chris Vail (Jake Johnson). After stealing a treasure map he stole from archeologist Jenny Halsey (Annabelle Wallis) during a one night stand, Morton discovers an ancient burial site which houses the corpse of Ahmanet (Sofia Boutella), an Egyptian princess wiped off the official royalty register after she murdered her father, step-mother, and baby half-brother when the birth of the boy child meant she would no longer get the keys to the kingdom. Awakened from a watery grave of mercury, Ahmanet, who made a pact with evil Egyptian entity Set, is dead set on completing the ritual which would see the god of disorder enter the body of a mortal man. Suddenly, Nick finds himself to be the chosen vessel for her evil plan.
Director Alex Kurtzman proves to be as tone deaf with genre as he was with his surly debut, the obnoxious familial melodrama People Like Us (2012). A summer tent pole dependent on a handful of well-orchestrated action sequences, including a compromised airplane treated to a rather explosive crash landing, The Mummy can't figure out how to mesh Cruise (here featured in his favored presentation as eluding danger by running) gracefully into a predictable genre property which demands a simultaneous romance with Annabelle Wallis (the lead of Annabelle, once again tasked with selling strong-willed characterization in spineless studio fare).
The wild card was clearly meant to be Russell Crowe as Dr. Jekyll and Mr. Hyde (apparently deemed a recurring force in the unspooling Dark Universe), who seems more an afterthought, his role pared down to a minimum and involving a disappointing transformation into the famed insidious persona, realized by dousing Crowe in a metallic sheen which looks more like his audition to play the Tin Man.
Mummies, like vampires and zombies (both having tendencies appearing here involving Ahmanet's victims), are easily denuded of menace becuase audiences are oversaturated with the customary rules which apply to their manageable defeat. Kurtzman's Spielberg-lite paltry effort is certainly no exception, and feels so unexceptional in every regard it feels comparable to Mike Newell's 1979 failure The Awakening starring Susannah York and Charlton Heston.
Shades of An American Werewolf in London are apparent in the handling of Jake Johnson's rotting corpse friend, who appears ineffectually from time to time to drag Cruise, and apparently the film, to the uneventful finish. And despite Universal avoiding the 'White Egyptian' controversy which hobbled recent problematic efforts by Ridley Scott and Alex Proyas, The Mummy is still an unabashed pillaging of another culture for the reconstitution of purely exploitative claptrap.
The saga of Ahmanet is the most provocative element of the film, railroaded conveniently into the usual exposition montage. Once again, Algerian actress Sofia Boutella is overshadowed by make-up and prosthetics, and after appearances in Kingsman: The Secret Service and Star Trek Beyond, it would be intriguing to see her utilized by the studios in human form.
Disc Review:
Universal releases The Mummy on Blu-ray in 2.40:1 with 5.1 DTS Digital Surround. Picture and sound quality are as serviceably manufactured as the film itself, and a variety of extra features are also included on the release.
Deleted and Extended Scenes:
Four brief sequences, nearly five minutes of footage overall, are included as extra and deleted sequences.
Cruise & Kurtzman – A Conversation:
Tom Cruise and director Alex Kurtzman were filmed in this twenty-one-minute conversation as they discuss their coming together to make The Mummy.
Rooted in Reality:
In this six-minute bit, Kurtzman and producer Chris Morgan explain their desires to set the world in a realistic world.
Life in Zero-G – Creating the Plane Crash:
A seven-minute segment examines the making of the film's plane crash in Zero-G.
Meet Ahmanet:
The character of Ahmanet gets a devoted seven-minute feature, where Kurtzman cites the 'deep, emotional' investment in the film's characterizations.
Cruise in Action:
Cruise's stunt work is explored in this six-minute segment, an actor whose presence is described by Kurtzman is "so huge for us."
Becoming Jekyll and Hyde:
A seven-minute bit is devoted to Crowe's transformation as Dr. Jekyll/Mr. Hyde.
Choreographed Chaos:
Cast and crew describe the process of filming chaotic action sequences in London and the Natural History Museum.
Nick Morton – In Search of a Soul:
Cruise's self-serving character is explored in this five-minute feature, where the actor comments his work on The Mummy is pushing the boundaries of storytelling.
Ahmanet Reborn – Animated Graphic Novel:
Almost four minutes is devoted to a graphic novel narration of Ahmanet's origins.
Final Thoughts:
Another disappointing studio product deafly trying to capitalize on the formula of familiarity, The Mummy is just one example of a contemporary Hollywood lineage running on empty.
Film Review: ★★/☆☆☆☆☆
Disc Review: ★★½/☆☆☆☆☆