Kill Baby, Kill | Blu-ray Review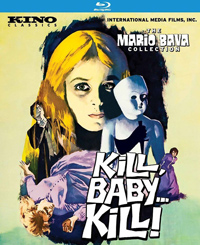 The influential reach of Italian giallo master Mario Bava is far and wide, and a retrospective earlier this year at The Quad helped re-introduce the genre director's work to new audiences (and some resulting restorations and Blu-ray transfers). Opening this retrospective was Bava's 1966 title Kill Baby, Kill!, which arrives with a new Blu-ray transfer.
Of all the famed giallo masters, Bava may be one of the least appreciated at least as far as how his iconic titles relate to his overarching influence and legacy. Fondly remembered as 'founding father of the slasher film' thanks to his later period, Bava began as a cinematographer, which explains why most of his films succeed as visual spectacle yet fail considerably as far as cohesive or complex narrative.
Perhaps most widely regarded for his early 1960 Gothic horror masterpiece Black Sunday, which transported Barbara Steele into the annals of iconicity, a brand-new retrospective of the auteur kicks off instead with his celebrated 1966 title Kill, Baby…Kill!, which is also something of a change of pace from Bava. A simple but effective period ghost story, when the spirit of a vengeful young girl appears to villagers they soon after end up dead. When a handsome young doctor arrives to investigate the corpse of a curiously killed woman, secrets are loosed.
Considered to be Bava's final gothic title, Kill, Baby…Kill! opens with a grisly suicide. Or is it murder? The death of a young woman in a remote village of the Carpathian mountains circa 1907 causes Dr. Paul Eswai (Giacomo Rossi Stuart) to be sent to perform an autopsy, and perhaps explain why so many similar occurrences keep transpiring there. After discovering someone has implanted a strange object in the woman's heart, it seems something supernatural is afoot, further cemented by the coincidental return of Monica Shuftan (Erika Blanc), a beautiful young woman who has returned home to visit the graves of her parents, while the eerie interventions of the local witch, Ruth (Fabienne Dali), seem related. Dr. Eswai discovers the ghost of a young girl, Melissa, has been haunting the town, the dead daughter of the local Baroness (Giovanna Galletti).
Kill, Baby…Kill!, which appears to be aping the 1965 Russ Meyers' classic Faster Pussycat, Kill Kill (that famed 'ode to the violence in women') catches Bava before he disappeared into the psychedelic mode which defined many of his 1970s films (5 Dolls for an August Moon, for instance).
Many of the director's worst tendencies, once seen as his signature, tend to be the film's weak spots, such as those insistent and often unnecessary zooms (which, paired with the dubbing, denude the film's otherwise creepy mise-en-scene). Giacomo Rossi Stuart fulfills the expectations of his role as the increasingly bewildered doctor, though he would eventually have more to do in Emilio Miraglia's later giallo, The Night Evelyn Came Out of the Grave (1971), in which he also starred opposite Erika Blanc.
Bava does seem to focus more on Blanc, a woman whose coincidental visit to her parents' graves results in the film's dramatic catalyst. Her sequences with Giovanna Galletti (who appeared in some of Italy's most famed films, including titles from Bertolucci and Rossellini) as the crazed old Baroness (a nod to Miss Havisham) are some of the film's finest outside of plenty unnerving shots of a creepy blonde little girl who is either peering through windows or rolling a ball into sequences, sometimes reminiscent of Roeg's Don't Look Now (1973). Some spectacular repeated bird's eye shots of an eerily lit spiral staircase also adds to the ambience. Women characters in Bava's films don't tend to come outfitted with any agency, unless they're wraiths, demons, or vampires, and Kill is also no exception to this rule, as signaed by an uncomfortable opening which collapses titillation and fear into the first victim's tragic demise, replete with orgasmic moans right before she flings herself to a spiky death.
Remastered with this new 2K restoration, Kill, Baby…Kill! 's (also known as Curse of the Living Dead and Operation Fear) original print must have been as resistant to scrubbing as its characters are to logic. Several sequences still appear to have been basted with petroleum jelly, while Blanc's damsel (who sometimes gives Julie Christie vibes) in distress delivers many of the film's laughable lines. "The sound of that bell, Paul, it frightens me," she exclaims, before voicing stellar observations like "I almost think the devil's here."
A fascinating entry point into Bava's filmography, Kill, Baby…Kill! exudes all the visual thrills of the director at his extravagant, atmospheric best. Cited by Scorsese as Bava's masterpiece, it's an integral bridge between early and late Bava, but may not satisfy those in search of Bava's more over-the-top flourishes.
Disc Review:
Previously, Kill Baby, Kill! was part of a two-part DVD box-set of Bava, so this new 2K restoration from 35mm elements is hopefully the treatment we can expect for several of the maestro's other influential works. Presented in 1.85:1, this is a markedly better version of the film, and is lovingly decked out with a variety of extra features, including audio commentary from Tim Lucas, author of Mario Bava: All the Colors of the Dark.
Kill Bava, Kill!:
David Gregory directs this twenty-five minute documentary from 2007 which features Mario Bava's grandson, Lamberto Bava, as he revisits the location where Kill Baby, Kill! was shot.
Erika Blanc:
Actress Erika Blanc appears in this ten-minute interview to discuss her memories of being cast in and the making of Kill Baby, Kill, which she approached as a run-of-the-mill B film, expressing surprise at the international attention it received.
Final Thoughts:
One of Bava's most vibrant blends of gothic and giallo, Kill Baby, Kill! is a stylish supernatural thriller.
Film Review: ★★★/☆☆☆☆☆
Disc Review: ★★★/☆☆☆☆☆