Art Meets Life: Lind Illustrates Why It Isn't As Simple As It Seems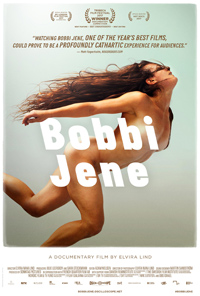 The world of modern dance is brutally competitive, artistically challenging, and both physically and mentally draining and the fruit of such a taxing aspirations are rewarded briefly with attendance and appreciation, but lack security or promise. Famed dancer Bobbi Jene Smith pushes aside all such considerations and cautions to pursue her particular variety of art imitating and reflecting life. This affects her family connections, social relationships, and her love life so potently that every dance she creates is quaking with emotional resonance.
Elvira Lind combines patience and keen editorial sense to vividly exhibit an extraordinary independent woman's fight for success in Bobbi Jene, a portrait of one dancer, who paints beyond the borders to explore the landscape of what dance can express as its very own language.
First taking place in Israel, Smith breaks her 10-year relationship with the renowned dance company Batsheva, desiring to return to the United States to continue her career as a solo performer as she turns 30. Trailed by Lind and cinematographer/editor Adam Nielson throughout the next few years, she gives her final performances under the preeminent choreographer Ohad Naharin, makes efforts to retain her fledgling romance with fellow dancer Or Schraiber, struggles to find subjects to inspire her, and processes the events surrounding the opening of her first solo piece, "Harrowing". The docu twists and turns like a dance in and of itself, flowing from footage rehearsals and performances to almost being part of the events that inspire her art.
Held together by Smith's emotional connectivity to her work, and as she continues to adapt her performance Lind is able to focus with such an unblinking stare on what goes into a dance that it's profoundly contemplative. Nielson delights with his dreamlike editing, moving scenes along with a pace quick enough to retain significant interest, but with lasting respect that Smith's efforts are fully appreciated. With an outstanding score by eclectic composer Uno Helmersson, each moment of discovery is marked by a bittersweetness that echoes Bobbi's sentiment, "find pleasure in what weighs you down."
Taking from a wide array of anecdotes from her process and personal life, the docu makes no attempt at clarifying some of the open-ended questions, but instead poses a new set of questions. What will happen next is uncertain, just as it was at the start of this particular branch of her journey. But it is clear through such outstanding documentation and a desire to tell such a unique story, that Lind's attempt to show something new and ambitious does pay off. Unlike Wim Wender's formally more inventive Pina, while Bobbi Jene does not break any new ground, its subject certainly does, and thusly becomes a must-see for any fan of performance art.
★★★½/☆☆☆☆☆