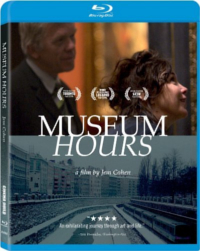 Museums are odd places. People gawk, taking in the history and culture on offer, ruminating in silence. People talk, or, more often than not, they are talked at by guides or recorded audio stand-ins who give background to the pieces on display. Young people dragged along unwilling automatically become bored, unappreciative of the opportunity they've been afforded, while others soak in the space like a sponge, experiencing the catharsis of cultural and emotional profundity that can be provoked by a truly great work of art. Within Museum Hours, writer and director Jem Cohen manages to perfectly encapsulate both the marvels and oddities inherent in the museum going experience by framing a loose narrative of life and loss around the reminiscence of an aging gallery guard in and around the Kunsthistorisches Art Museum in Vienna and the visitations of a middle aged woman from Montreal whose Austrian émigré cousin has sadly fallen into a coma.
Over a decade ago, Cohen pieced together a Marker-esque (detached female voiceover and all) 16mm short titled Amber City that in many ways alludes to Museum Hours. The short is in essence a travelogue portrait of an unnamed Italian city, taking in the sights, sounds, spaces and faces with an unobtrusive voyeurism, just as one might observe objects in a gallery. In fact, there is even discussion of museums and the odd hours some seem to keep, but it isn't just this dialogue that links the works. Cohen has a penchant for visual congruencies and a patient curiosity that allows both works to glide about their chosen cities with the fresh eyes of a tourist, but the spirit of a local denizen. Fitting, then, that here, the Viennese gallery guard Johann (warmly played by Bobby Sommer) should find himself posing as a kind-hearted guide to the city when Anne (in an exquisitely delicate performance by Mary Margaret O'Hara) finds herself in need of directions to the local hospital.
Not settling for a straight foreigner abroad narrative, Cohen instead fully embraces the riches held within Kunsthistorisches. The works of Pieter Bruegel are given their own narrated tour after having been previously discussed by Johann in a cheerful voiceover of how he spends much of his time on the clock basking in the boundless revelations that are found within the densely populated paintings. Indeed, there is a vast thematic richness in Bruegel's paintings. He was known for depicting the peasantry of his day in paintings that often obscured the given titled subjects by surrounding them with the mundane, the oddities and the horrors of life around them. By springboarding off of Bruegel's gorgeously photographed and inspiringly discussed work, Cohen too seeks to encapsulate the movements of everyday life, but in so doing he also investigates how we interact with art.
There is much time devoted to the interplay of works held in the gallery and people and items out in the mundanity of normal life. Continuously there are cuts between the odd beauty of discarded belongings in the street, like gloves, tin cans, or even overlooked architecture or advertising poster boards, and artistically regarded items found in the gallery in paintings or pedestal bound sculpture. Despite his obviously love and admiration of museums, Cohen asks us to appreciate the beauty that surrounds us in every moment (at times, his inquisition is a bit overt, as in one skin baring scene, but generally he's quite subtle). Like Johann, it might take a visitor to give us a reason to venture out and realize how much we really do have to appreciate in our own towns. In some ways, Museum Hours calls for you to turn off the tube and promptly venture out with open eyes (and, preferably, amidst friends), but there is too much to learn and love in the sweet tenderness of reminiscence between Anne and Johann as they share stories of their past and wonder about their ever dwindling future.
Disc Review:
Cultivating auteur theory seems to be one of Cinema Guild's prime objectives, almost always including shorts or previous works in tow with feature releases, here including no less than three unreleased shorts by Cohen. As mentioned, there are direct links to be found between these films, making them must see bonus material. The feature, presented in glorious HD looks quite remarkable, reproducing close-ups of monumental works of art, as well as human features with astounding clarity and brilliantly warm, accurate color. There are a few instances of a subtle flicker that could be due to a variety of things – an issue with the lighting on site, an issue with the camera, or a transfer issue. Either way, it's barely noticeable, but the only issue worth mentioning. Audiowise, we are given two different tracks to choose from, either the original mixed German/English language track, or a wholly English alternative, both in DTS-HD. All of the non-English dialogue is spoken in voiceover, so there isn't any visual disconnection that might happen with the full English track, so this is a wonderful inclusion for those who'd rather not deal with subtitles. The disc itself comes in a standard Blu-ray case.
Amber City (1999)
Shot on 16mm, this short feels much like a precursor to Museum Hours, but with a heavy observational influence of Chris Marker. Voiceover is spoken throughout, commenting on images on screen or completely disconnected causing collisions of audio and visual ideas in interesting, but not always brilliant, ways. He visits and unnamed Italian city and takes us to the beach, in marketplaces, repair shops, museums, libraries and up and down the city in portraits and enlightening time lapse. 49 min
Anne Truitt, Working (2010)
Another 16mm short, this is a portrait of artist Anne Truitt at her studio at the Yaddo artists' community. With familiar dialogue atop observational imagery, Cohen sees her discuss the techniques she uses to develop her works of art while getting an overall picture of the space in which she creates. 13 min
Museum (1997)
A loose silent Super 8 forefather to Museum Hours, this short sees Cohen exploring a museum, observing its artwork and visitors with equal fascination. 8 min
Theatrical and Festival Trailers
While the theatrical trailer allows Johann to ramble on his backstory in voiceover and sees a variety of press quotes to amp up interest, the festival trailer places more as a tonal teaser, showing select images without any context. It's much appreciated that they are both included for comparison. 4 min
Booklet
Alongside poignant quotes from select writers, handwritten plans for scenes, lovingly printed frames from the film and an elegant essay by Luc Sante on Museum Hours, there is a lengthy written piece by Jem Cohen himself on the inspiration behind, process of making and technical details about his experience with the film.
Final Thoughts:
Subtle in its emotional grounding and profound in its ability to harness art history to question the world's current relationship with it, Museum Hours is nothing less than a brilliant film. There is an occasional sense that Cohen could have omitted a couple heavier handed scenes, but his intellectual ambition outweighs the slight tonal rift caused by them. As usual, Cinema Guild have treated the film to a top notch home release that can only receive the highest recommendation from us, so go forth and spend that fresh holiday cash with confidence!.

Film:    ★★★★/☆☆☆☆☆
Disc: ★★★★★/☆☆☆☆☆