Reviews
August: Osage County | Review
Suffer the Children: Wells' Adaptation Enjoyable Camp, Hinges on Grandiose Performances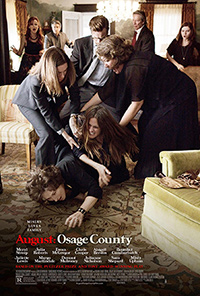 When something sounds too good to be true, it often is, and while John Wells certainly wasn't the most inspired choice to helm the adaptation of Tracy Letts' Pulitzer Prize Winning play August: Osage County, its delirious cast lineup trumps all else. The film belongs to a bygone tradition of cinema adapted from famous stage plays, such as when Tennessee Williams and Edward Albee and Paul Zindel were all names on the tips of everyone's tongues. While Letts has the potential to be as perversely humorous as any of them, this adaptation only shines in a handful of scenes, gummed up with disingenuous mortar on the way to each to one. Several cast members are in fine form, but most of them have the potential to distract rather than homogenize, and thus, Wells seems to have let everyone do what they do best and the result feels like a competition of skill.
In dusty Oklahoma, Beverly Weston (Sam Shepard) is a notable poet battling alcoholism exacerbated by caring for his increasingly difficult and apologetically bitter wife, Violet (Meryl Streep), who suffers from mouth cancer and is addicted to prescription drugs. After hiring some live-in help (Misty Upham), Beverly absconds and drowns himself. His death causes an awkward reunion of family members, including Ivy (Julianne Nicholson) as the daughter that stayed in town to take care of mom, Karen (Juliette Lewis) a hopeless floozy who appears with yet another creepy fiancé on her arm (Dermot Mulroney), and Barbara (Julia Roberts), who seems to have distanced herself from her mother as much as she could.
A failed writer, Barbara has been consumed with a recent separation from her own husband (Ewan McGregor) and distant daughter (Abigail Breslin). Add to the mix Violet's acerbic sister (Margo Martindale) and her pot smoking husband (Chris Cooper) and their awkward son (Benedict Cumberbatch). Secrets are revealed and hard truths are used as weapons against one another as they all discover there's truly no place like home.
If Tolstoy were alive today, perhaps he'd revise the opening to Anna Karenina, for it seems like nowadays all unhappy cinematic families are hewn from the same substances as well. Imagine what William Friedkin (or some other director known for inclinations towards the bizarre) would have done with this, whose last two films, Bug (2006) and Killer Joe (2011) were adaptations of Letts' plays. While Wells seems to fare better at the helm here than with his 2010 debut, The Company Men, the cast seems to be largely in charge of their own fate, which tends to make the film, with a running time of over two hours, a bit ungainly.
The casting of Sam Shepard as the patriarch catalyzing the action feels appropriate, as August feels like something inspired by Shepard's own work as a playwright (such as Buried Child for example). Meryl Streep, who we've seen play uber bitch cancer ridden harpy frump several times already, still manages to be the grand highlight here. But by now, this role seems hardly a stretch for her, and her Violet Weston is a vehement blight, a woman we come to find little empathy for. Since August's incestuous subplots and familial bitchery feels more in line with Lillian Hellman (remember Toys in the Attic?) than Williams or Albee, Streep is in over-the-top Bette Davis mode, a plethora of humdingers at her disposal which she flings over us copiously, like precious jewels. But instead of Davis in The Little Foxes, Streep veers into Davis a la The Anniversary, the black hole that swallows all. Julia Roberts, while not quite a foil, is in fierce competition with Streep as she's more stalwart and subdued. It's an interesting role for Roberts, though perhaps someone less notorious would have better served the role, and several scenes shared exclusively with her estranged husband McGregor and distant daughter Breslin ring incredibly false.
It's the quieter, less histrionic cast members that shine here, like Chris Cooper and Julianne Nicholson, locked in their own quiet tragedies with compelling counterparts like Margo Martindale and Benedict Cumberbatch. Poor Juliette Lewis with her puppy dog sorrows and a smarmy Dermot Mulroney are the broad comic relief. They're written as the butt of all jokes and never allowed to develop beyond this limitation, though damned if they don't try to usurp the proceedings.
Crests of verbal sparring form the dramatic multiple climaxes here, but instead of feeling anything for this dysfunctional brood, these bouts of bitter remonstrances veer in the only possible direction they can—camp. Our final hysterical treat revolves around Roberts trying to silence Streep by shouting, "Eat the fish, bitch!" which is of course meant to break the tension, but to what end? They might as well pull out their Oscar statues and duke it out.
In the end, August: Osage County only lives up to its initial promise on paper. The score, the cinematography and even the director are all minor characters in a film completely overrun by a starry cast, which is not to say that the film isn't entertaining or worthwhile. It just doesn't quite capture the dramatic effect promised. In other words, all has been perfectly calibrated to be set at one speed from which it's not allowed to fluctuate: crowd pleasing.
Reviewed on September 9 at the 2013 Toronto International Film Festival – Galas Programme.
130 Mins