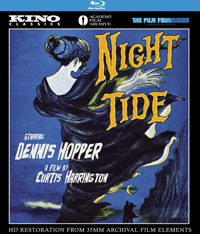 Kino Lorber makes an exciting restoration this month with the 1961 directorial debut of genre favorite Curtis Harrington, Night Tide, which starred a nubile and then unknown Dennis Hopper in an early lead role. An independently financed film, Harrington's atmospheric and moody debut feels like a Val Lewton production transposed onto the carnivalesque dread of the Santa Monica Pier and Venice Beach, where the specter of metamorphosis haunts the narrative into an ambiguous fever.
Johnny Drake (Dennis Hopper) is a sailor on shore leave and almost immediately while on break he spies a beautiful woman named Mora (Linda Lawson) and he offers to buy her a drink. She lives above the merry-go-round at or around the Santa Monica Pier and she professes to like the music as it reminds her of childhood. It turns out that Mora headlines the sideshow act titled Mora the Mermaid, where she dons a tail and submerges herself in water while people come take a glance at her in a giant vat. The emcee is also her father figure, Captain Samuel Murdock (Gavin Muir), who apparently rescued the orphaned Mora from a desolate Bavarian island when she was a young tot. But as Johnny begins to fall in love with Mora, he discovers some unsettling things about her, like the fact that her last two boyfriends died mysteriously, their bloated bodies discovered on the shore. Oh, and a strange woman in black (Marjorie Eaton) seems to be beckoning Mora to return to the sea and rejoin her race of sea people, which are ominously described to be mer-creature Siren types.
Harrington, who adapts from his own unpublished short story, takes the title from a line in Edgar Allan Poe's poem, "Annabel Lee," of which a passionate love is cut short by death. While there's a perfectly logical explanation that the narrative arrives at, Harrington leaves an overt ambiguity at the finale as well, made all the more powerful when you think back on all the odd and unnerving moments where Mora reveals strange details about herself. Seeming to escape from her overbearing father figure and boss, Mora has just recently moved into her own apartment, which she has adorned with items from the sea, like starfish dangling from string on the ceiling, proclaiming "I collect things from the ocean." Then, there's that wonky power she seems to have over water loving creatures, such as when a seagull glides nonchalantly into her lap during lunch one day. While Harrington flashes directly into a love story without any discernible development, he instead fills Night Tide with arresting moments of unnerving tension such as when Mora dances hypnotically to the beat of drums in the midst of a gathering on the beach, while the camera pans to reveal the ominous lady in black forever beckoning on the periphery in the encroaching night.
Disc Review
Mastered in HD, this presentation of Night Tide is pristinely enhanced, and the glorious, seedy unease of the Santa Monica Pier is in full effect. Kino includes audio commentary from Harrington and Dennis Hopper, but most exciting is a two part interview from 1987 with Curtis Harrington conducted by David Del Valle. This is a vintage classic from an exciting genre director, being released just in time for Halloween.
Final Thoughts
Harrington, who would go on to be known as an ideological successor of George Cukor due to his ability to work with a host of egotistical divas throughout his exciting career, proved to possess an exciting flair for genre even from this first effort. A decade after Night Tide would see him at a prolific height in genre film and television titles, working with Simone Signoret, Shelley Winters, Debbie Reynolds, Anthony Perkins, Gloria Swanson, Piper Laurie, Ann Sothern, and many others. Revisiting his delectable debut surely reinforces the voice of a talented artist, who was a supremely underrated critic (he was also responsible for saving a decaying print of James Whale's The Old Dark House), writer, and finally, film director.