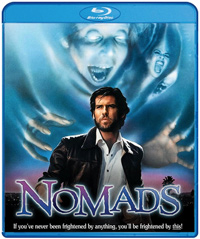 The directorial debut of the once revered action auteur John McTiernan comes to Blu-ray release, a little known cult favorite known as Nomads. Considering this predates his most lucrative and iconic trio of films, including Predator (1987), Die Hard (1988), and The Hunt for Red October (1990) should be reason enough to revisit the title, even if on the surface it promises to be like any number of forgettable genre titles churned out in the same period. Beyond McTiernan, the film is notable as presenting us with the first starring role of Pierce Brosnan, playing an improbable Frenchman, as well as featuring supporting turns from notable cult figures like Mary Woronov, Frank Doubleday, and Adam Ant. Ultimately, the title's perplexing and often inexplicable narrative thwarts its overall effectiveness as a thriller, yet McTiernan manages to convey expert skills as a visual artist.
Flax (Lesley-Anne Down) is an emergency room doctor who gets bit by a rambling madman, Jean Pommier (Brosnan), admitted to the hospital speaking something that seems to be broken French. The doctors are convinced he's high as a kite, but while examining him, Flax isn't so sure. Pommier dies soon after attacking her, and she's informed by a colleague that he's a famous anthropologist who has only lived in Los Angeles for one week, having moved there with his wife (Anna Maria Monticelli). Quickly, Flax begins to feel a curious power consuming here, and soon she is virtually living out the last days of Pommier's life, seeing everything from his perspective. It seems a clutch of demons referred to as 'nomads,' originating from an ancient 'Inuat' civilization, were unearthed by him, now appearing in Los Angeles in the form of some homeless punks led by Number One (Adam Ant) and his cadre of menacing followers, including Dancing Mary (Mary Woronov), Ponytail (Hector Mercado), Razor (Frank Doubleday), and others. Flax's colleagues have assumed she's experiencing a mental breakdown, but the doctor disappears into the landscape, slowly making her way through Pommier's memories to get to his wife, who may be the nomads' next victim.
At least, that seems to be what the film is about, though we can't really tell why Flax is experiencing the hallucinations of Pommier's memory just because he bit her. This makes for an interesting and sometimes unsettling experiment in perspective, however, and the film often produces a rather queasy, unhinged feeling. However, many may simply find this to be too confusing, especially since Nomads doesn't bother to explain a few other key things, such as why exactly the beings are so dead set on the anthropologist (which basically is inflated term for a photographer here) and its finale, suggesting these entities won't be leaving California anytime soon. Because of this, Lesley-Anne Down's diminished subplot feels undercooked, even if she gets a few melt down sequences that promise the hysterical quality of an Isabelle Adjani in Possession, but never quite deliver.
As the film's other female figures, Monticelli is an interesting presence, having a sort of Piper Laurie quality about her, while Mary Woronov is once again a striking, menacing figure. Brosnan, though young and supple, doesn't quite pull off the French accent, though it doesn't help that the film doesn't bother to translate most of his dips into the character's native language.
Ted Nugent provides an astringent track, which only serves to date the film, while Bill Conti's otherwise eerie score would have served the film better had it been utilized throughout. With an initially underwhelming reception, critiqued for its less logical attributes upon release, this is still an ambitious narrative worthy of a better reputation. The critical response perhaps explains why McTiernan never wrote another of his films, while his co-writer, production manager Barry Shears, would also avoid writing other features.
Disc Review:
This high-definition transfer, presented in 1.85:1, often looks good, and is certainly worth revisiting for lovers of Los Angeles genre films of the period. Editor Michael John Bateman and DoP Stephen Ramsey create a handful of eerie moments, including a great visual introduction to the nomadic crew led by Adam Ant during their first appearance on Venice Beach. Scream Factory also includes a couple interesting special features.
Lesley-Anne Down Interview:
A new sixteen minute interview with Lesley-Anne Down finds the actress talking about the film's small cult following, a group of people she suggests are perhaps more fascinating than the film itself. Discussing her acting career and her career choices, Down bemoans the current state of the industry amidst the experiences of making Nomads.
Bill Conti Interview:
A seventeen minute segment with Bill Conti speaks of music as the ultimate fantasy and the 'message carrier' of motion pictures. Conti speaks about coming into the project and working with McTiernan and Ted Nugent.
Final Thoughts:
Initially, the unorthodox elements in the narrative promise a more inspiring explanation, but even if its narrative is easy to dismiss, one can't deny a handful of beautifully evocative moments of memorable unease
Film Review: ★★★/☆☆☆☆☆
Disc Review: ★★★½/☆☆☆☆☆