Tuesday Blus: On the Metro with Peerce's The Incident & Mother's Little Helper in Atlman's Images
This week's edition of Tuesday Blus includes the following titles:
Call Me By Your Name
Film Review: ★★★½/☆☆☆☆☆
Disc Review: ★★★/☆☆☆☆☆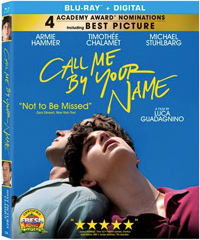 Winning one of its four Oscar nominations (Best Adapted Screenplay for James Ivory, the lauded writer/director's first golden statue after three previous nominations for Best Director), Luca Guadagnino's adaptation of Andre Aciman's novel Call Me By Your Name has been an unrivalled critical darling since its premiere out of the 2017 Sundance Film Festival. To date, the title has taken in nearly thirty-five million between the foreign and domestic box office, generating buzz of a sequel on top of a quartet of Oscar nods, which included Best Picture and Best Actor for up-and-comer Timothee Chalamet and a sequel in the works.
From our Sundance 2017 review of the film, "Despite its sometimes-moderate pacing, Guadagnino conjures several unforgettable moments, sometimes enhanced by carefully chosen soundtrack selections from the period, but perhaps most notably with a sexual moment involving a peach, which offers an impressive range of believable emotion, delving into territories not often explored in cinema between male lovers."
Sony Picture Classics presents their Oscar darling in 1.85:1 with 5.1 DTS-HD Master Audio. Picture and sound quality, which includes an impressive score and soundtrack selection, remain intact in this transfer. The music video for Sufjan Stevens' "Mystery of Love" and an audio commentary track from Chalamet and Michael Stuhlbarg are also available alongside a couple extra features. Snapshots of Italy: is a ten-minute segment features Guadagnino and several cast members discussing the making of the film.
The Incident (1967)
Film Review: ★★★★/☆☆☆☆☆
Disc Review: ★★★½/☆☆☆☆☆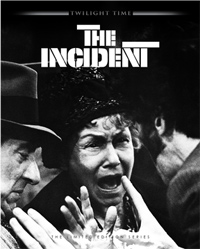 As Julie Kirgo asks in her opening insert essay included with the resurrected release of Larry Peerce's neglected 1967 masterpiece The Incident, "Where has this extraordinary movie been all our lives?" You'll be asking the same upon experiencing this intense, caustic little microcosm of social ills examining humanity's failings as a group of passengers are mercilessly terrorized by two young thugs one commonplace night on a New York subway. It's an exercise which remains as potent a time capsule as it is a mirror for the mutated behaviors and discriminations of today's vehemently troubled America which were inherited from their ignorant, complacent forefathers. What was happening in the 1967 cinematic landscape which necessitated such a profound portrait of a breakneck, ultra-desensitized New York to become immediately obscured? 1967 was the year of The Graduate, Guess Who's Coming to Dinner?, and the Best Picture win went to the racially charged In the Heat of the Night—at the same time, Arthur Penn's Bonnie & Clyde ushered in the first chapter of the New American Cinema. The country was primed for mature, uncomfortable themes, as indicated by the collapse of the dreaded Production Code (which finally entered its mausoleum following the foul tongued glory of Who's Afraid of Virginia Woolf? only to be resurrected and replenished as what we know as the MPAA Code)…so what happened to The Incident?
Peerce was already years ahead of American culture's comfort curve by 1967 (in the ensuing decades, his more prominent titles include a meager attempt at mounting Sylvia Plath's The Bell Jar, the Oscar nominated disaster flick Two Minute Warning and the two The Other Side of the Mountain films). His 1964 title One Potato, Two Potato was actually the first theatrical release to depict an interracial relationship (again, why isn't this mentioned readily alongside the titanic invocation of Kramer's Dinner?). So, the fact this searing indictment of a group of (mostly) spineless New Yorkers in the late 1960s has gone mostly unsung is because of how authentic it feels. Heroism, while evident, arrives in small, meager spurts amongst this coterie of victims, whose unwillingness for anything resembling altruism recalls the infamous murder (and subsequent case study) of Kitty Genovese in 1964, a woman who was stabbed to death outside her Queens apartment while none of her neighbors, despite hearing her death gasps, called the authorities (French director Lucas Belvaux would update this same scenario in 2012 for his film One Night).
Despite its grim subject matter, The Incident features plenty of exceptional elements, including some fantastically gritty cinema verite black and white cinematography from Gerald Hirschfeld, which recalls early Cassavetes (something like Shadows) yet dripping with palpable dread as its passengers' arduous journey becomes fever-pitched frustrating. A stellar cast of notables are joined by a smattering of newcomers, each outfitted with their own particular storyline, some which are allowed greater potency than others. An alcoholic Gary Merrill is the first to speak up, though quickly undermined by Tony Musante's psychotic angry young man. Others, like Thelma Ritter and an ornery Jack Gilford provide a sort of hard-nosed comfort in their eventual stand against their assailants—while the white privileged comforts of Jan Sterling and Mike Kellin as a high-school teacher and his unsatisfied wife channel something more troubling. Safety and privilege are further exemplified by Ed McMahon (yes, that one) and Diana Van der Vlis, unhappily escorting their preadolescent daughter on the subway because the price of taxis isn't the most economical choice. But where scribe Nicholas E. Baehr formulates his strongest points are through a trio of disenfranchised characters, such as the shamed gay man played by Robert Fields, the first to be mercilessly humiliated by the criminals. It's one of the most grueling instances in the film thanks to a perversely manipulative moment of seduction courtesy of Martin Sheen (in his screen debut), pulling a stunt that his cohort Tony Musante would be treated to only a year later as a hysterical gay man being questioned by Frank Sinatra in 1968's The Detective. Similarly, Brock Peters and Ruby Dee, the lone black couple aboard the ill-fated subway car, exemplify the considerably dark undercurrents which black people in America were and are subjected to. Here, the lovely-as-ever Ruby Dee is a social worker, a woman working on 'doing the right thing,' if you will, while her militant, embittered husband (an exceptional Brock Peters) enjoys watching the terrorization of the white passengers and how unaccustomed they are to social trauma. Of course, his allegiance to the perpetrators doesn't pay, and he's challenged to a sickening face-off in The Incident's other formidably staged confrontation, the likes of which are rarely seen in American cinema.
Twilight Time releases The Incident in 1.85:1 with 1.0 DTS-HD Master Audio in this limited edition (3,000 units). Picture and sound quality are exceptionally ambient in this new release of the title. Director Larry Peerce and film historian Nick Redman are included on an optional audio commentary track, while an isolated music and effects track, as well as the original trailer, are also available.
No Orchids for Miss Blandish (1948)
Film Review: ★★★/☆☆☆☆☆
Disc Review: ★★★/☆☆☆☆☆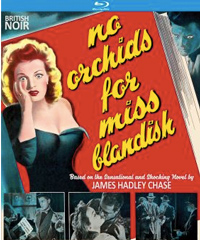 One of the greatest luminaries of pulp fiction, British author James Hadley Chase has inspired a rich cinematic legacy that's somehow been more or less obscured over the past several decades (not terribly unlike Georges Simenon, outside of Europe). It's been a quiet two decades for Chase, last adapted in 1998 by Volker Schlondorff with Palmetto. However, there's suddenly been a flurry of activity regarding his resume. While French auteur Benoit Jacquot recently remade Chase's 1945 novel Eva starring Isabelle Huppert, Kino Lorber resurrects his first adaptation (and one of his more bizarrely plotted endeavors) with No Orchids For Miss Blandish, which was directed by St. John Legh Clowes in 1948 (interestingly, Patrice Chereau's 1975 film debut, Flesh of the Orchid, starring Charlotte Rampling and Simone Signoret, was Chase's follow-up to this film, a title which will also be recuperated in 2018 thanks to an upcoming restoration screening in the COLCOA line-up). While Chase's 1939 novel was met with considerable controversy (apparently it was his bid to one-up James M. Cain's The Postman Always Rings Twice), the film version from Clowes (who died shortly after at the age of forty-four in 1951) is also a shocking tapestry of noir's seediest elements. Robert Aldrich would make a much more impressionable adaptation of this material in 1971 with The Grissom Gang, another title unfortunately neglected. Cold, calculating, and over-the-top with both its romantic entanglements and formulations of violence, it's a strangely masochistic film absent of any kind of audience investment, with a femme fatale who strangely lives up to her choice surname.
While there's certainly some unintended camp value which makes No Orchids for Miss Blandish notable, its titular leading lady, played by the decidedly un-captivating Linden Travers (whose biggest screen credit is Hitchcock's The Lady Vanishes, 1938), is perhaps the film's greatest misstep (even though she's interpreting the same role she played in the material's previous stage play version). As written, she's a heartless boor, introduced to us as a petulant society woman rejecting flowers (hence the title) sent to her by Jack La Rue's gangster (who's got more of a pulse than Travers but is pure gangster cliché through and through), and remarked upon as frigid by her fiancé, who wants to take her out dancing to warm her up a bit. Fortunately for her, she's the heiress to her daddy's fortune (a man who never leaves his library), so when the privileged couple is accosted on their wedding night, the groom is murdered while she's kidnapped. When La Rue's laughably named Slim Grissom gets his hands on her, Miss Blandish becomes a willing accomplice and a torrid affair ensues despite her father and the police desperately attempting to find her. Slim's gang also doesn't want to miss out on the million-dollar romance, which might mean curtains for Slim.
Kino Lorber releases this underrated but detached British noir in 1.33:1 as part of their Studio Classics. Picture and sound quality are serviceable, especially in comparison to the film's last DVD from VCI Entertainment in 2010. There are no extra features on this release.
Images (1972)
Film Review: ★★★★/☆☆☆☆☆
Disc Review: ★★★★/☆☆☆☆☆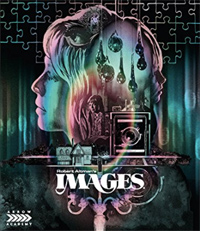 Robert Altman's unloved mood piece, Images, his middle-child in a triptych of eerie, unsettling films focused intensely and enigmatically on the female psyche (following the exceptional The Cold Day in the Park in 1969 and preceding lauded masterpiece 3 Women in 1977), at last gets the loving restoration it deserves thanks to Arrow Academy. Released in 1972, between Altman's revisionist western McCabe & Mrs. Miller (1971) and inimitable neo-noir The Long Goodbye (1973), it's since been consumed by the legacy of its filmmaker, particularly as star Susannah York's own cinematic legacy, a vibrant headliner in late 1960's British cinema, has waned. Despite winning York a Best Actress win out of Cannes (and one of countless Academy Award nominations for composer John Williams, who was double nominated the same year for this and The Poseidon Adventure), the film's initial reception was tepid, at best, written off as esoteric art-house horror. A sumptuous score, phenomenal cinematography, unsettling sound design, and an increasingly unhinged York work together to make Altman's film a cult oddity which never received its rightful due (it does play like the equally relevant rural sister to the unraveling of Catherine Deneuve's urban beauty in Polanski's famous Repulsion). But it's perhaps better viewed as an inverse to 3 Women, tackling a woman's (questionably sane) perspective as it relates to three men, all of whom morph into interchangeable counterparts—even one who is admittedly deceased. Strange, haunting, and as adroitly structured as the similarly ambient Don't Look Now (1973) from Nicolas Roeg, Images is a masterpiece of mental and sexual disquietude.
When pregnant children's author Cathryn (York) finds herself unable to distinguish her waking dreams from reality, she relocates for a restful holiday in Ireland with her husband (Rene Auberjonois), who she suspects may be having an affair. Meanwhile, her deceased lover Rene (Marcel Bozzuffi) keeps re-appearing, and a close family friend, Marcel (Hugh Millais) keeps making amorous advances, while teen daughter Susannah (Cathryn Harrison) observes them. But Cathryn's increasingly loosened grip on reality soon begins to have detrimental effects on those around her. Is she dangerous? Or are the men?
York's Best Actress win at Cannes was well-deserved, considering her presence is inextricable from Altman's narrative, which purposefully incorporated her into the film's fabric. As such, Images plays like a meta-textual mindfuck, recycling the blurred personality shifts of Bergman's Persona (1966), which was also on obvious, lingering influence on 3 Women (1977). Incorporating York's pregnancy for an extra layer of character development, the prose of her omniscient narration is actually from York's own children's book In Search of Unicorns, which ends up being a literal 'piece of the puzzle' being fervently put together (replete with self-sanctions about cheating when it comes to puzzle assembly). It's also underlines the fantasy dream world York's Cathryn seems to slip in and out of, which explains her sometimes curious response to people and images, the likes of which she even seems to reject in rationale terms. Altman extends the film's strangeness beyond the frame with non-diegetic parallels. SusannahYork's Cathryn, a woman mired in building a fantasy world for children, potentially sees herself in Cathryn Harrison's adolescent Susannah (who is first introduced as a possible phantom hiding in the closet), a girl fixated on solving a puzzle. Her own child-bearing and love object woes tend to suggest additional duality—until Cathryn sees her doppelganger, leading to the film's dramatic (and stunningly shot) climax. While this is mostly York's show (considering the men all behave the same in their lusting lasciviousness or dismissiveness), Cathryn Harrison (daughter of Rex, who would later headline Louis Malle's equally cerebral fairy tale Black Moon in 1975) provides a fitting, willowy counterpart.
Arrow Academy presents Images as a brand-new restoration from a 4K scan of the original camera negative. Presented in 2.35:1 with original English mono audio, this transfer is an exuberant rendering of a finicky mood piece which, besides York at her finest, features an agitating score from John Williams (which features sounds from famed Japanese percussionist Stomu Yamash'ta, who also worked on The Man Who Fell to Earth and Phase IV). An audio commentary track from Samm Deighan and Kate Ellinger and a scene-select commentary from Altman are also includes, as well as several extra features. Cathryn Harrison: Actress Cathryn Harrison recounts how she became cast in Images in this six-minute interview segment. Appreciation by Stephen Thrower: Musician and author Stephen Thrower is on hand for this half-hour deliberation on Images.