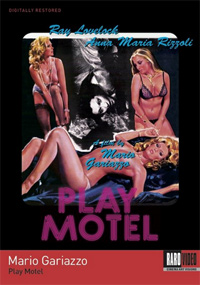 Purveyors of Eurotrash should delight in the resuscitation of the obscure 1979 eroto-giallo Play Motel, directed by Mario Gariazzo under the pseudonym Roy Garrett (a director of twenty or so features best remembered for casting into a sea of Friedkin capitalizations with 1974's The Sexorcist, aka L'Ossessa aka Enter the Devil). By this period, the provocative Italian subgenre was already well into its dog days, with imitators churning out murder mysteries imbibed with a healthy dose of pornographic soft-core elements. It would be unfair to rightly classify Gariazzo's film as classic giallo, a muddled narrative cramped significantly by enough naked women to rival Jesus Franco.
The sleazy Play Motel is a den of infamous iniquity, and wealthy businessman Rinaldo Cortesi (Enzio Fisichella) hires the voluptuous Loredana (Marina Frajese) for a kinky round of S&M. The next day, explicit pictures are sent to his office via registered mail in a bid to blackmail the married Cortesi. His wife Luisa (Patrizia Behn) discovers the photos and alerts Police Inspector De Sanctis (Anthony Steffen) to investigate, but without letting her husband know. Apparently, she's sleeping with his lawyer. De Sanctis discovers the identity of the woman in the photos and trails her to a porn hub known as Shamrock Editions just before she's murdered. Meanwhile, Luisa checks herself into Play Motel and is murdered by the same killer, her body dumped in a struggling actor's car, Roberto Vinci (Ray Lovelock). Roberto's girlfriend Patrizia (Anna Maria Rizzoli) convinces him they should get involved because inevitably they'll receive a bit of good publicity from the investigation.
The quite uncomplicated plot is actually difficult to follow since we spend more time in tangential, belabored sex scenes desperate to titillate. Moderately alarming role playing often accompanies these sexual gestures, like a man dressed in a red leather jump suit posing as Satan as he copulates with a woman in partial nun's habit. Or a woman who gets champagne poured into her vagina before the bottle makes its way to a morbid close-up of her expectant derriere.
Producer Armando Novello (his previous credits include the similarly titled Slaughter Hotel, 1971) seems to be pulling the same trick Bob Guccione and Tinto Brass did with that same year's infamous Caligula, interrupting its narrative utilizing actual actual actors (like Ray Lovelock and Anna Maria Rizzoli) with sexually complex sequences featuring porn stars Marina Frajese and Patrizia Webley.
Nearly all of the action takes place at the titular hotel, and it's made obvious quite early on that the man rebuffed by his gaggle of self-important nude models (who happens to be played by Mario Cutini, an actor significantly better looking than the wealthy johns being blackmailed) is involved in this rampage of murder. Literally, this all ends with a minor shootout, with Lovelock's actor turned sleuth actually announcing 'all's well that end's well.'
DVD Review:
It seems unnecessary to have such a vapidly disinterested film given such a vibrant digital restoration, but here it is anyhow. This was DoP Aldo Greci's final film, a man who worked on quite a few of these D-grade sexploitation efforts. He does get some nicely framed moments, like an aerial shot of Patrizia Webley splayed out on a circular bed shortly before Marino Mase molests her with a golden salamander. Several bonus features (including cut scenes) are included.
Midia's Touch:
An eighteen minute feature from Nocturno DVD finds Davide Pulici providing a verbal history of the production.
Hard Cut Scenes:
Seven minutes worth of more explicit sex sequences smudged out of the film's already significant scenes are included for those fascinated with seeing orifices only suggested previously.
Final Thoughts:
It's the type of premise that seems ripe for reconstitution in some pulpy, modernized yarn (though Sion Sono set his 2011 film Guilty of Romance in the realm of the love hotels), ultimately wasted on the tawdry silliness here. Fans of spaghetti western star Anthony Steffen may be interested in taking a look at his supporting role (Steffen was a 'Django' successor thanks to director Sergio Garrone, and also a figure in other notable giallos, like Emilio Miraglia's underrated The Night Evelyn Came out of the Grave, 1971). Giallo fans will most likely remain unimpressed though those without a significant interest in sexploitation may appreciate its pink tendencies.
Film Review: ★½/☆☆☆☆☆
Disc Review: ★★★/☆☆☆☆☆