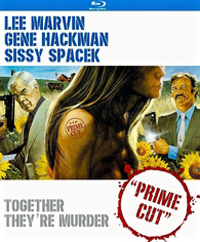 Lovers of odd and neglected vintage cinema can rejoice in the repackaging of Michael Ritchie's weird sophomore title, Prime Cut. With all the menace of a Dick Francis novel and a perverse comedic streak akin to the tastes of John Waters, this misbegotten feature hasn't received the notable following it deserves for one glaring reason—it's increasingly warped treatment of women, which may have seemed enlightened for the period, but eventually only adds to the problematic misogyny that never abates. As far as its handling of more sensational, exploitational elements, Ritchie and screenwriter Robert Dillon manage to smooth its edges with breakneck pacing, sarcastic repartee, and a handful of impressively orchestrated face-offs.
The head of the Irish mob in Chicago hires Nick Devlin (Lee Marvin), an enforcer, to travel to Kansas City and collect money he's owed by Mary Ann (Gene Hackman), the man who runs a slaughterhouse as a front for a drug and prostitution ring. We already witnessed the fate of the last enforcer, ground up into hotdogs in the plant by Mary Ann's brother, Weenie (Gregory Walcott). It seems Devlin already shares a sordid history with Mary Ann, the man who stole his past love interest, Clarabelle (Angel Tompkins). Once there, Devlin discovers Mary Ann is also selling doped up young women as prostitutes and he rescues the young, blonde Poppy (Sissy Spacek) when she asks for help.
Ritchie, a director of television until 1971's Robert Redford skiing film Downhill Racer, which also starred Gene Hackman, makes what may be his sordid film with this title. The remainder of the decade found Ritchie with a number of notable films on his hands, including The Candidate (1972), and other light sports related fare, such as The Bad News Bears (1976) and Semi-Tough (1977), an even keel interrupted by the ill-received adaptation of Peter Benchley's The Island (1980). Screenwriter Robert Dillon, fresh off penning fare for a wide-range of directors, from William Castle to William Asher, would go on to prove his considerable strengths in writing action sequences with a pair of John Frankenheimer titles (The French Connection II; the lesser known 99 and 44/100% Dead).
However, this film's embarrassing depiction of women as mere damsels in distress drain Dillon's provocative concept of a redneck pimp raising orphan girls as prostitutes. Sissy Spacek does make for a striking figure in this, her film debut, but is forced into demeaning sequences after being rescued from a cattle pen by the heroic enforcer played by Marvin. He buys her a fancy, see-through green dress and parades her around polite society for lunch, and insists on holding her hand a couple times when they're literally fleeing for their lives, even though it would make better sense not to do so. Worst of all, the film's clumsiest bit has Spacek explain her special relationship with fellow orphan Violet (played by a young Janit Baldwin, who looks eerily like Bud Cort in a wig), confessing they would pretend to touch each other naked in bed, as they fantasized men one day would.
On the other hand, Prime Cut has to be one of Lee Marvin's most deliciously underrated performances, delivering Dillon's one-liners with glee. Hackman makes for a wonderfully insidious rural mobster, sharing a few notable sequences with Gregory Walcott, portraying his brother. It's kinda sorta implied the brothers have an incestuous relationship, an interpretation which explains the narrative's focus on the misogyny born out of the repression of masculinity—but ultimately, this isn't clear enough.
Weird without being campy, and sporting some delicious bits, like Spacek and Marvin fleeing from a giant reaper in a wheat field, or an extended final shootout beginning in a field of floppy sunflowers, Prime Cut is deserving a better cinematic reputation.
Disc Review:
The packaging may be utterly plain, presented in 2.35:1 aspect ratio and sans any extra features (though someone out there surely would have been excited to talk about this strange throwback), but the transfer still manages to look quite impressive. Gene Polito's (Westworld, 1973) cinematography is striking, whether he's melding Marvin's white tufts with golden wheat, juxtaposing a bunch of sun bleached rednecks with wilting sunflowers, or capturing a crackling thunderstorm crawling off to the side of the screen in the finale, it's a grandly visual feature.
Final Thoughts:
Fans of Marvin, Hackman and Spacek should delight, as Prime Cut is weird, wicked, and a lot of fun.
Film Review: ★★★½/☆☆☆☆☆
Disc Review: ★★★/☆☆☆☆☆